Ian McShane Cast In Pirates Of The Caribbean: On Stranger Tides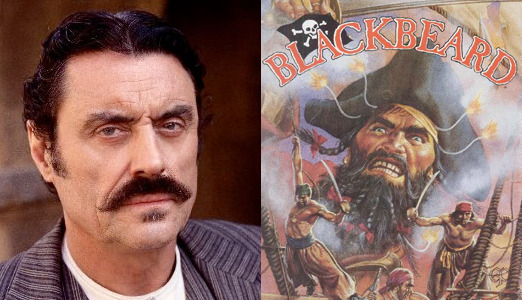 Ian McShane is in talks to play the villain in Rob Marshall's Pirates of the Caribbean: On Stranger Tides, the fourth installment of the Disney theme park ride turned movie franchise. McShane will play Edward Teach, better known as the legendary pirate Blackbeard, a notorious black-bearded pirate who operated around the West Indies and the eastern coast of the American colonies during the early 1700s, and famously piloted the ship Queen Anne's Revenge. McShane will join Johnny Depp, who is reprising his role of Captain Jack Sparrow, and the recently announced Penelope Cruz, who will be playing "Sparrow's foil and equal in many ways", whatever that means.
The fourth film will be based on Tim Powers' pirate novel On Stranger Tides which was optioned by Disney years ago. The novel tells the story of Blackbeard and the Fountain of Youth. Here's the plot of the novel:
Puppeteer John Chandagnac, bound for Jamaica to recover stolen money from his uncle, becomes Jack Shandy after pirates attack his ship and force him to join their crew. Shandy's struggle to accept his new life grounds the story for readers, even as Blackbeard and vodun magicians whisk everyone away to dreamlike lands where the Fountain of Youth itself awaits. The chaotic sea battles sing, though at times key events happen so quickly that they get lost in the shuffle as Jack tries to comprehend where he's going and what's at stake.
Terry Rossio and Ted Elliot wrote the screenplay.
source: THR