Cool Stuff: Babyface Toy Story Remote Control Toy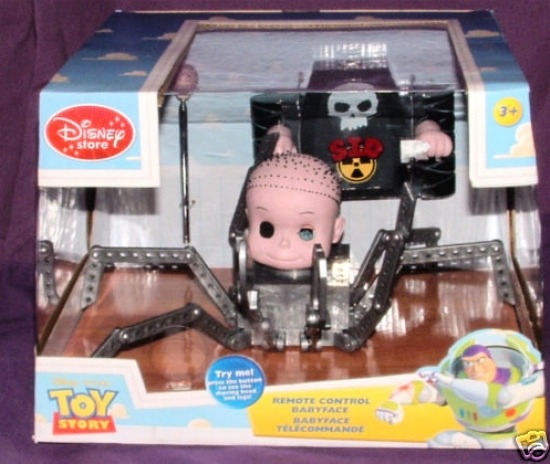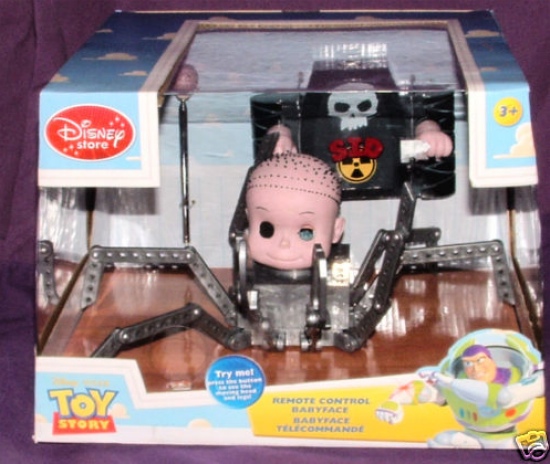 We may receive a commission on purchases made from links.
When Disney released Pixar's Toy Story, they almost didn't release a tie-in toy line. None of the toy manufactures wanted the license, so Disney ended up selling the worldwide master license to Thinkway Toys, a small Toronto-based company with a factory in China which mainly produced plastic banks in the form of film characters. Turns out, they were the only toy company that put in a real bid and could produce toys in time for the film's release. According to The Pixar Touch, John Lasseter pressed Thinkway to produce some of Sid's scary mutant toys, but the company was only interested in the film's main characters Buzz Lightyear and Woody. Of course, the film was a huge success, and Thinkaway eventually released toys of almost all the Toy Story characters, including some of Sid's mutant toys.
But with the new Toy Story 3 collection, Disney has released a remote control version of Side's toy Babyface, the bald one-eyed dollhead attached to mechanical spider legs. I ran across a video review of the toy by Mike Mozart, in which he lashed out against the parents that have been calling this toy a total FAIL, and declared that it is a Total Epic Win. And I have to agree. And before you comment telling me I'm insane, watch the video below. I'm surprised that Disney would even release such a scary fucked up toy like Babyface, and that's part of the reason why I think it's awesome. And I love the detailing on the remote control, which itself, is even composed of broken doll parts and feature's Sid's skull logo. The toy sells for around $40 in stores (only $19.99 on Amazon). Check out the video review I mentioned above, along with more information, after the jump.
Here is the official product description:
They'll enjoy hair-raising excitement with this Babyface Toy Story Remote Control. Created by Andy's evil neighbor Sid in Disney/Pixar's popular Toy Story, Babyface is the leader of the mutant toys, combining a one-eyed doll's head atop a spider made from an erector set. Using the doll arm levers of the mutant remote, you can make the legs of the Babyface toy move up and down as you steer it. It even includes a Babyface antenna topper. Imported. . Includes Babyface and remote controller . Plastic . Babyface: 4 1/4" H x 11" W x 10" D . Remote controller: 3 1/2" H (not including antenna) x 5 1/8" W x 3" D . Requires one 9V battery and two AA batteries, included . Ages 3+ . WARNING: CHOKING HAZARD – Small Parts. Not for children under 3 years.
FAIL Toy Video Review:
Another Review:
Cool Stuff is a daily feature of slashfilm.com. Know of any geekarific creations or cool products which should be featured on Cool Stuff? E-Mail us at orfilms@gmail.com.