Cool Stuff: Hot Toys Terminator 2 Sarah Connor Collectible Figure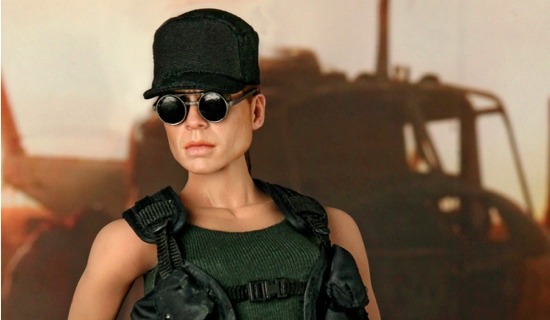 Hot Toys is releasing a Terminator 2: Judgment Day 1/6th scale Sarah Connor Collectible Figure as part of their Movie Masterpiece Series line. I'm always amazed at the detail that goes into these figures,
The movie-accurate Sarah Connor collectible is specially crafted based on the image of Linda Hamilton in the movie, highlighting the newly sculpted head and muscular arm, as well as detailed hair sculpture.
The figure is due out in the second quarter of 2010, and is now available for preorder on Sideshow Collectibles for $149.99. Check out a ton of additional photos, and more information about the figure and what is included, after the jump.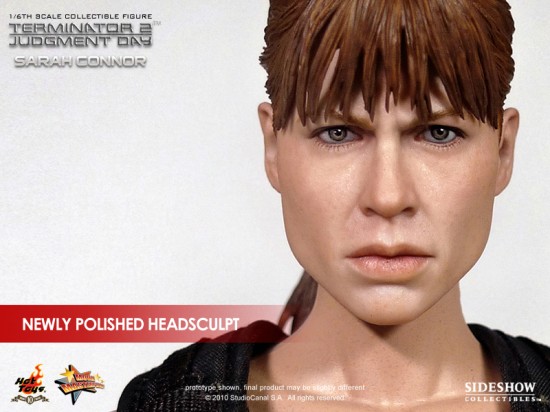 The 1/6th scale Sarah Connor specially features:
Authentic and detailed fully realized likeness of Linda Hamilton as Sarah Connor in the movie Terminator 2
Newly developed muscular rubber arm which enhances her forcefulness
Detailed hair sculpture divided into 2 parts (fringes and middle part with ponytail attached)
Two detachable and interchangeable fringes (one hanging over the forehand; another with middle borderline)
28 points of articulations
Two pairs of interchangeable palms (one pair of relaxed palms; one pair for holding guns)
Two extra right palms (one for holding knife and one for cigarette)
Each piece of head sculpt is specially hand-painted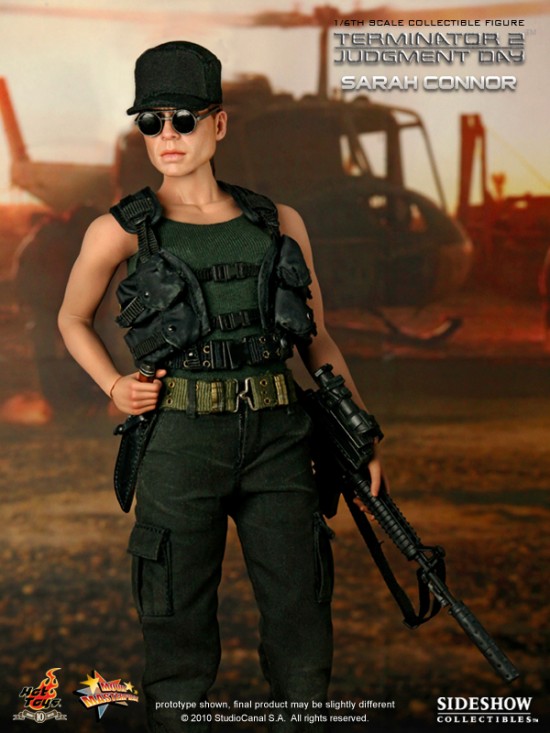 Costume:
Enhanced tactical load bearing vest with four magazine pouches
Pants with tactical belt and pouches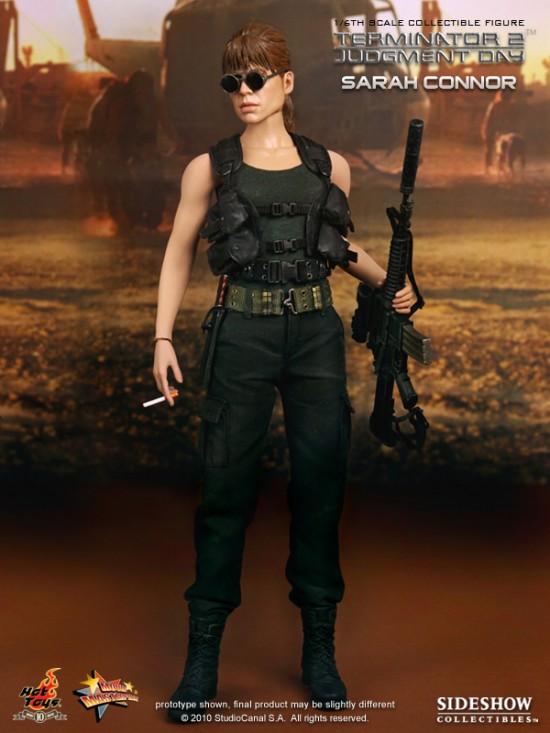 Accessories:
Figure base with Sarah Connor nameplate and the movie logo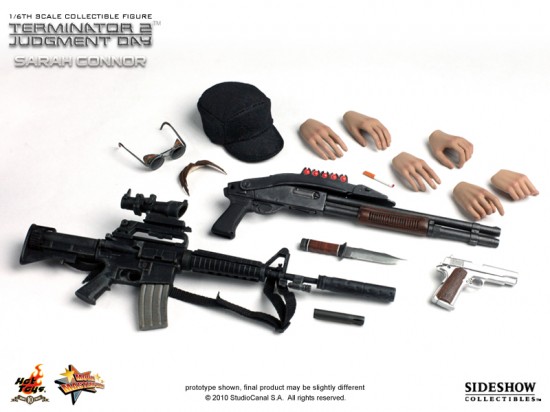 Weapons:
Assault rifle with silencer
Shotgun with folding stock
Combat knife with leather sheath
Full Photo Gallery:
Artists:
Head and Arm Sculpted by Yulli
Head Art Directed by JC. Hong
**Final product may slightly vary from the pictured prototype
Release date: Q2 2010