/Film UK - A Special Screening Of Moon, An Alice In Wonderland Controversy Exclusive, And Much, Much More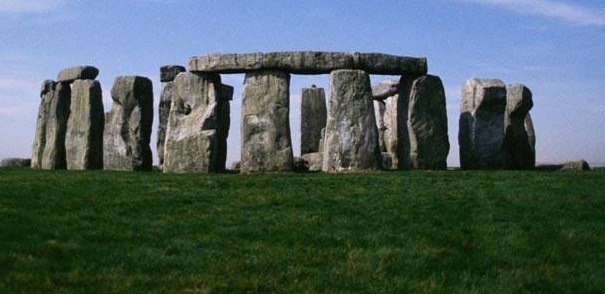 Coming to you weekly from my vantage point in good old Blighty, it's Slashfilm UK. Anglos and Anglophiles rejoice as every Friday I'll be bringing you a round up of news, links and coverage specific to the motion picture comings and goings here in the UK. Sometimes we'll be talking about films that have already played in the US, other times it will be films that won't make it to the US for a good while yet, and from time to time you'll read about films that will never make it to the US at all.
The UK Film Critics' Circle had their annual awards on Thursday night and while they've not updated their official page at the time of writing, they should have by the time you read this. I can tell you that this ceremony saw Kathryn Bigelow win Best Director, A Prophet win best Film and Duncan Jones win Breakthrough British FIlmmaker.
Meanwhile, Moon won the public vote to be selected as the Jameson Cult Film Club presentation on St. Patrick's Day. Here's a bit of blurb on what will make this a rather special screening:
Guests arriving will be greeted by an interactive Sci-Fi experience, taking a journey through the Royal Institution's futuristic world to the Space Bar, where you'll experience scenes and themes from the film. You can even see the actual space suit worn in the film as you enjoy complimentary Jameson cocktails and wait for the countdown until the film takes off.
There will be special surprises, linking back to the film, spread throughout the Royal Institution, so that on every floor you'll come across something that will get you in the mood for the film.
Here's hoping they've hired some twins, even triplets, to be on the staff. If you want tickets, they're free but move fast and book now and if you are going, then try and say hi to me while you're there.
Cribbing from my Twitter account, Bleeding Cool revealed where and when you'll be able to see the new Dr. Who trailer in either 2D or big-screen 3D. Here's the twist: the 3D trailer will show before 3D screenings of Disney's Alice in Wonderland and, as you've probably heard by now, there's going to be a marked shortage of cinemas playing the film.
Here's how that situation was standing one week ago:
It's looking like the three biggest cinema chains in the UK – Odeon, Vue and Cineworld – might just boycott Tim Burton's Alice in Wonderland. Why? Because Disney are planning to reduce their theatrical window from 17 weeks to 12 – which means the DVD will be on shelves less than three calender months after the film opens. After Disney threatened the same thing with Up a similar boycott was threatened, though it was Disney who backed down there. This time, though, they say they really won't.
Vue and Odeon have removed all Wonderland posters and standees from their cinemas and have stopped playing the trailers.
Since then, Disney have negotiated terms with Cineworld, so the film is back on for at least some of us. Your 3D options are now Cineworld and IMAX, I believe – though any independents with a 3D screen that will play host to the picture, please do let me know – and there are still negotiations ongoing with Vue and Odeon, so fingers crossed.
Here's a bit of a bombshell, however. This is a picture I took this week of promotional materials for the Alice Blu-ray and DVD, already on display in a branch of a well-known chain store. Just to be absolutely clear: this is a piece of marketing for the Bluray and DVD more than two weeks before the cinema release.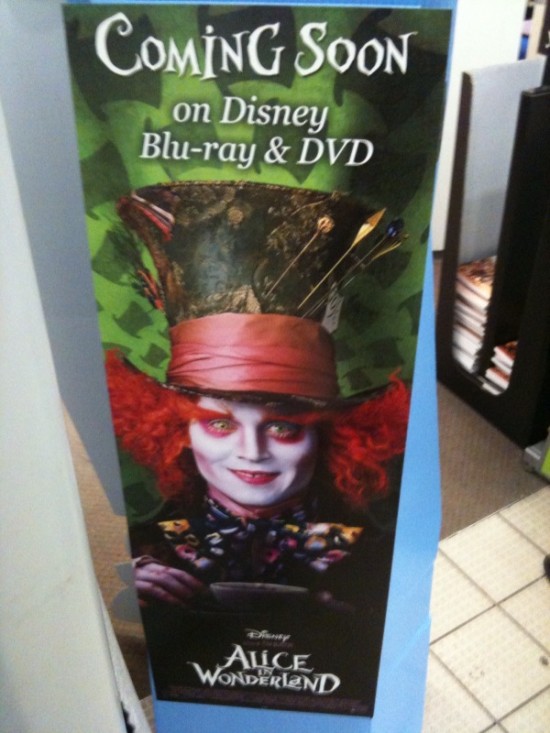 Makes a change from the old "Only in Cinemas" claim anyway.
This display would appear to be a mistake and the store probably shouldn't be doing this yet, but how come they've even got the materials on hand? Ooops. Somebody seems to have gotten something wrong.
Talking of 3D, Sky have commissioned one of their first 3D TV shows and it's going to be the series finale of Pineapple Dance Studios and, very possibly a Christmas special too. Broadcast also report that the entire second series of Got to Dance will be in stereovision too.
The BBC made the announcement at the Mobile World Congress this week that their iPlayer is coming to the iPhone and iPad. Hallelujah!
The BFI have posted eleven and a half minutes of their Philip Ridley Q&A online. Alan Jones is questioning the director about Heartless right after an early screening of the picture.
BBC Films are developing a picture on the Sebastian Coe and Steve Ovett rivalry – think Chariots of Fire but set in the 80s. Screen Daily quote producers Joanna Anderson and Vicky Licorish:
It is the British Olympic story which also gripped the US. You were either an Ovett person or a Coe person, and that's what makes it such a great character piece.
And yes, that is the same Vicky Licorish that you remember from kids TV.
Here's an exclusive deleted scene from Youth in Revolt, featuring Michael Cera, Zach Galifianakis and some animation.
Colin director Marc Price's next film is Thunderchild, a horror-war movie about airmen battling a beastie on their plane. Screen Daily report that production will begin in June.
Momentum have take the UK rights to Red Hill, an Australian revenge film that, unsurprisingly, has a reputation for being rather brutal. Here's the trailer.
Red Hill director Patrick Hughes also made the short film Signs, which is best viewed on his official site. He certainly seems to be a talent to watch.
Warner Bros. have signed a deal with Odeon and UCI cinemas to subsidise the roll out of digital screens in their sites across the UK.
As well as directing the first few Death Wish pictures and a whole load of other rubbish I could never enjoy, even ironically, Michael Winner is a supposed connoisseur of good food. His latest TV show will see him visiting members of the public and testing their cooking. Oh dear. Look out for the rat poison, Mike. The Daily Mail call him "the Simon Cowell of the kitchen" – sounds about right.
Here's just one page from Arrow in the Head's preview of the free Bub comic that will come packed with the new UK Day of the Dead Blu-ray that I've been banging on about.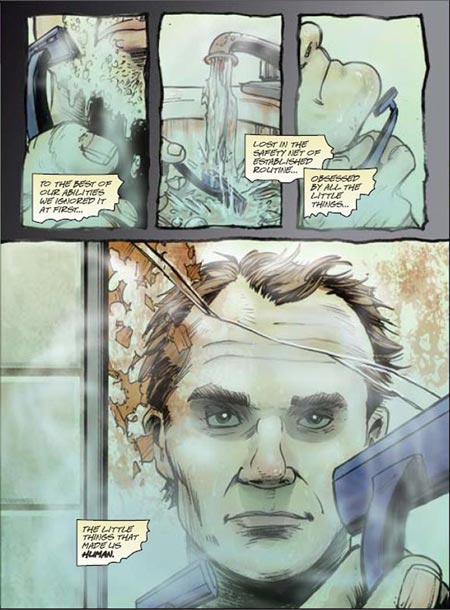 The UK 3D fantasy adventure Watchmen of Hellgate is in production now. Amongst the cast are Christopher Lee, Warwick Davis, Sylvester McCoy and Tom Savini. Quiet Earth scored some concept art, a little of which you can see below. Here's the official synopsis:
Watchmen of Hellgate shows the aftermath of a world in which Hitler won the war. The year is 2084, the place is London and a new big brother is watching. This is a totalitarian world where the Nazi Party rules. The new chancellor is guided by Hitler, who lives on as a computer program after his thoughts and ideas were downloaded.
A vigilante resistance unit called the Watchmen were born to subvert the state, lead by five common man heroes. From their secret hideout in the Hellgate Hotel, they orchestrate mayhem until their leader is captured. Then, they must enlist the help of Captain Nemo and the Nautilus in order to burrow underground in an attempt to rescue their Watchman leader.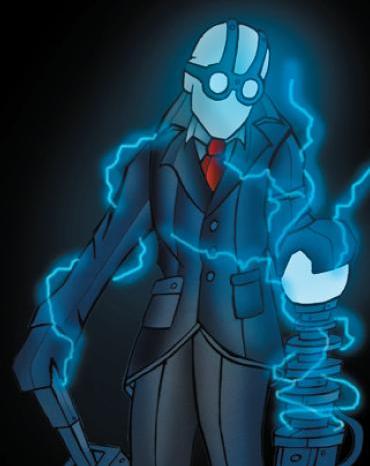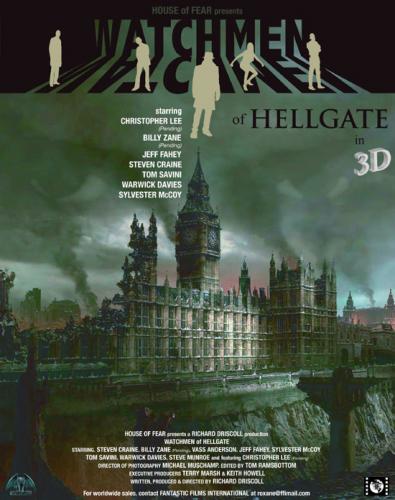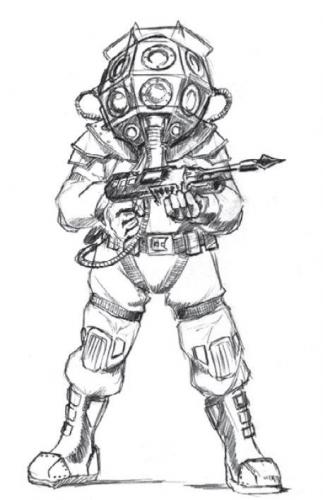 Amazing – it sounds like an epic mish-mash of dozens of fantasy tropes, many of them rather familiar to fans of Alan Moore. Hopefully it will have it's own ideas too...
The Telegraph have some on-location footage of Clint Eastwood and Matt Damon filming Hereafter at London's Charles Dickens Museum.
The UK Blu-ray and DVD of Paranormal Activity are significantly better dressed than the other editions already available around the world. As well as the ten short films that won the "Film Your Own Paranormal Activity" competition, as seen on the Prepare to be Scared YouTube channel, there's commentary tracks from Oren Peli on both the film and the alternative ending. The discs hit on March 22nd. I'll let you know if the Blu-ray is US friendly as soon as I find out.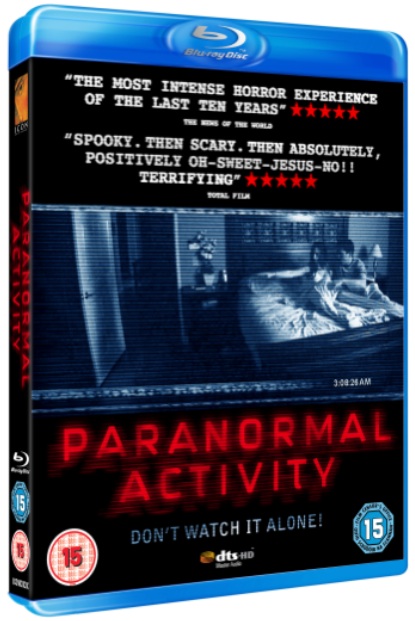 It would seem from the BBFC that Roman Polanski's new picture is going to keep the title of The Ghost in the UK, as per the original novel, and not become The Ghost Writer as in the US.
Eureka have announced that they will be releasing the newly revealed, restored version of Fritz Lang's Metropolis to UK cinemas ahead of a DVD and Blu-ray release on their astonishing Masters of Cinema label. Perfect – and I can't wait.
Kick-Ass has moved forward to March 26th in the UK, while the US release remains April 16th. Good for us! Meanwhile, if you want to win a one-of-a-kind Kick-Ass prize, then watch the following video for instructions.
Yep – you make like a real life Kick-Ass (well, to a safe and legal point anyway) and you get immortalised in a movie poster that stars a comic book version of you.
The mysterious submit button that the video refers to is on the Kick-Ass YouTube channel.
And, the round-out the week's discussion of Kick-Ass, here's the UK-exclusive Hit Girl poster.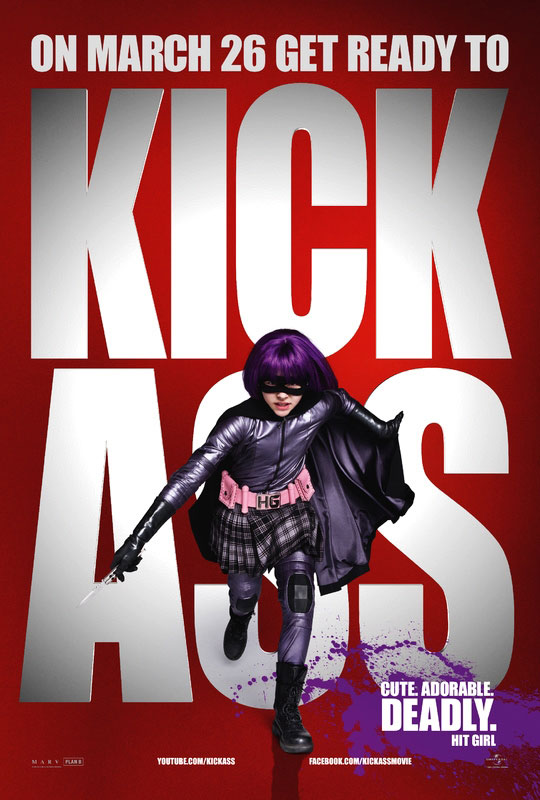 In case you missed the news earlier in the week, Irvine Welsh has cast Sean Bean and Dougray Scott in The Magnificent Eleven. The film will be:
A modernization of the classic western in which the Cowboys are a struggling local amateur soccer team, the Indians run a nearby Tandoori restaurant and the bandits are a group of menacing thugs led by a maniac known simply as 'Blonde Bob'.
Let's stick with Sean Bean for a moment. He's got a picture coming called Ca$h. It's a crime thriller in which he plays twin bad guys menacing a poor little couple played by Victoria Profeta and Chris Hemsworth, aka the man who will be Thor.
I'm giving you the chance to win one of five pairs of tickets to a screening of Ca$h on Monday March 1st. Brilliantly, the screening is taking place at the Odeon in Sheffield, so finally I can offer something to people outside of London.
To win, all you have to do is watch the following behind the scenes clip and tell me via e-mail what the director claims Sean Bean's accent would do the dialogue.
Obviously, you need to be able to attend the Sheffield Odeon on March 1st but you'll also have to be over 15 years of age to win.
The John Shuttleworth movie Southern Softies is headed to DVD on March 1st. Here's the official list of special features:
Trailer for Southern Softies narrated by Joan Chitty (4 minutes)
Pop Promo of I Can't Go Back To Savoury Now animated by Kevin Baldwin (3 minutes)
Photo gallery of at least 100 stills from the movie with pleasant musical accompaniment
A previously unheard Shuttleworth song – a plaintive ballad with rhythmic accompaniment courtesy of a clapping gorilla
I reviewed the film just ahead of it's limited theatrical release last year and rather liked it. The DVD will probably be worth it just for the unheard song.
Katalina Varga's writer-director Peter Strickland is planning a rather interesting-sounding horror fim set in an Italian recording studio. Screen Daily say:
The project, called Berberian Sound Studio, is being made through the UK's Illuminations Films and digital film studio Warp X. Illuminations' Keith Griffiths and Simon Field, and Peter Carlton and Robin Gutch from Warp, are producing the film. The Italian and English-language film is due to shoot later this year.
Another upcoming horror film from the UK will be The Ghost of Slaughterford. This will be directed by Ian D, Fleming, the second unit director on Centurion, and produced by that film's boss man Neil Marshall. The Hollywood Reporter describe the premise like this:
The story of a recently widowed novelist who retreats to a rented mansion in the village of Slaughterford to compose a new novel. She is met by local residents, who all warn her against staying in the house, but she resolves to stay before encountering a ghost. But the locals become the ones to fear.
The first Charlie Chaplin pictures to hit Blu-ray will be Park Circus' discs of The Kid and The Great Dictator, hitting UK shelves on May 10. I'll be interested to see the restoration work.
Currently shooting at Pinewood is the rather lush-looking historical drama Katharine of Alexandria. There are three trailers on the film's official site.
Here's the trailer for David Baddiel's The Infidel with Omid Djalali, Matt Lucas and Miranda Hart. It hasn't gathered as much hype and fuss as Chris Morris' Four Lions but it doesn't seem bad at all.
The film hits UK cinemas on April 9.
Remember the scenes in Edgar Wright's Spaced when everything went into Woo-motion for a gun-less gun fight, everybody shooting everybody else with their fingers? A Facebook community are planning a London Flash Mob to recreate the scene on an epic scale:
A re-enactment of the famous scene in Spaced. The flash mob will happen on March the 20th on a weekend and will be at a as yet unannounced location in Zone 1 (London)
Lets make this one to remember
PS: PLEASE DO NOT BRING PLASTIC GUNS/WEAPONS TO THE EVENT, WE DON'T WANT TO BE SURROUNDED BY ARMED POLICE.
My home viewing for the week has been Disney/Pixar's splendid Blu-ray of Up. With most movies it seems like Blu-ray offers the jaw-dropping showcase for the film itself, but with Pixar pictures it's almost like the opposite is true too. You haven't given your HD TV a proper work out until you've run Ratatouille, Wall-E or, now, Up through it.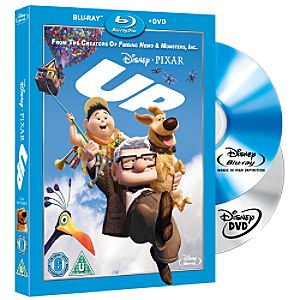 Like many recent Disney releases, the film comes on one Blu-ray disc and one DVD, meaning that you also have a standard definition copy for when you're on the go, or if you still need to take the leap into a HD set up at home. In many cases I suspect the DVD will be the version that the kids are allowed to play with while Mummy or Daddy keep the BD disc put away nice and scratch-free for themselves.
Reviewing the film at this stage is virtually pointless, though I have to say that I'm not convinced this is a major Pixar work. Widely acclaimed by many to be their best film to date, I'm thinking this reputation rests mainly on a few standout sequences. Most notable of these is the prologue at the beginning. Two bonuses with home viewing – one: you can watch this tremendously heart-breaking sequence over and over again, wailing like a baby; two: you won't be in public at the time.
Even a lesser Pixar, however, is a breathtaking work and the film is never less than gorgeously visualised.
The Cine-Explore feature on the BD shares the same commentary track as the plain audio supplement on the DVD, which is good for DVD users, I guess. Nonetheless, I miss the extended commentaries available on other Pixar BD discs.
During the Cine-Explore, the movie is overlayed with a series of picture-in-picture images and clips, including a great many concept drawings and several storyboard sequences. It goes some way to compensating for the lack of a meaty "Making Of" piece, but I'm still thinking both would have been ideal.
There's a rather appropriate Easter Egg hidden in the menus too. Called The Egg, it details an abandoned subplot that would have shifted the film's emphasis a little. We've discussed this excised bit of business before, but the Blu-ray feature obviously offers more information.
The best extra material, though, would be the short films. There's Partly Cloudy, which played before the film in cinemas, and also a special side-story in the vein of, say, Jack Jack Attack or Burn-E, that gives us Dug's Special Mission. It's a Roadrunner-esque gag piece that doesn't really live up to the better Looney Tunes but does still raise some laughs and then, when you're least expecting it, pay off with a beautiful, sweet conclusion that's surprisingly affecting. Well, for dog lovers at least.
Like almost everybody else on planet Earth, I strongly recommend snapping up an Up.
We'll end with a clip from Leap Year, one week away from UK cinemas. It's basically an important bit of set-up. Anybody else think it ends rather abruptly?