New Toy Story 3 Character; John Lasseter Talks About Totoro's Cameo In The Film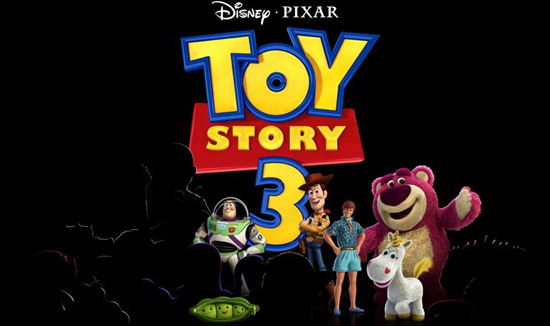 You've likely seen the latest Toy Story 3 trailer by now, which demonstrates that there will be a whole bunch of new characters populating the film. There are full-size character posters for two more of the new additions, each of which comes complete with an almost sickeningly cute name. One of the characters is actually new(ish). Get your daily plush overdose after the break.
We've already seen plenty of Lots-O'-Huggin'-Bear in the trailers, but not so much of Buttercup, the stuffed unicorn that may just become fodder for a little bit of great Legend/Toy Story 3 slashfic. (Maybe throw Blade Runner in there for good measure.) Ned Beatty voices Lotso, who seems to have a pretty prominent role in the film. The character smells like strawberries, according to the following ad copy/character description. I hear that was inspired by the actual scent of Ned Beatty. Jeff Garlin voices Buttercup.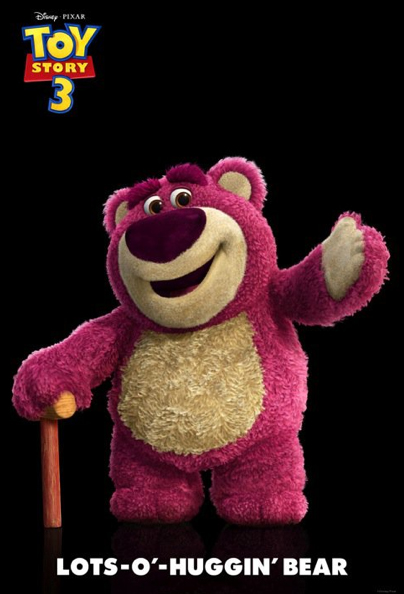 Lots-o'-Huggin' Bear is a jumbo, extra-soft teddy bear with a pink and white plush body and a velvety purple nose. This lovable bear stands fuzzy heads and shoulders above other teddy bears because he smells like sweet strawberries! With a smile that will light up your child's face and a belly just asking to be hugged, Lots-o'-Huggin' Bear is sure to become a bedtime necessity. Stain-resistant. Spot clean plush surface with a damp cloth.

Saddle up for fun and let Buttercup lead your child away on a magical adventure! This cuddly unicorn features velvety-soft, snow-colored fur with sparkly gold and pink accents. He sports a signature mythical golden horn and a fun-to-comb mane and tail. Buttercup's durable plastic eyes are both charming and scratch-resistant. Hypo-allergenic. Ages 3 and up.
Of more interest, to me at least, is a comment from John Lasseter about the cameo from Hayao Miyazaki's character Totoro, seen briefly in the last Toy Story 3 trailer. "We do little homages in our films," Lasseter told MTV, "and we thought it was a very appropriate homage to let [Miyazaki and his film company] Studio Ghibli know how much they mean to us."
Not a very interesting quote in and of itself, but it seems to suggest that we won't see much more of Totoro than was in the trailer. That's actually reassuring; while I loved seeing a stuffed Totoro as rendered by Pixar, doing too much more with the character would be presumptive. It's a fun easter egg for Miyazaki and fans, but shouldn't go beyond that.