Free Films: Criterion's Hulu Channel Debuts With Six Zatoichi Movies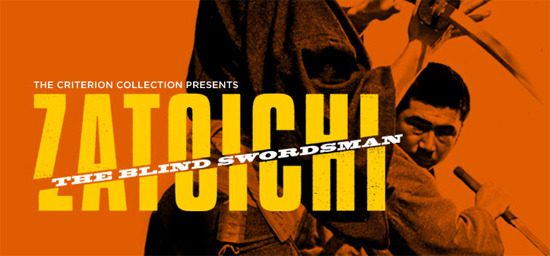 I love the Zatoichi movies. Love 'em. One of my shelves has a pile of Zatoichi DVDs thirty cases high. The tale of a blind swordsman with amazing moves and a penchant for gambling certainly has no shortage of material for the dedicated fan: it spawned twenty-seven films and a one hundred and twelve-episode TV series. Zatoichi is remarkable for many reasons, but primarily because actor Shintaro Katsu played the character in every screen appearance but one.
Now, thanks to a deal between Criterion and Hulu, you can watch six of the films, the first chapters in the long series, for free. This looks to be the first of a series of Hulu offerings from Criterion, and it's a great start. 
Hulu is streaming the first six films in the series, beginning with the black and white films The Tale of Zatoichi and The Tale of Zatoichi Continues, and then moving on to the first four color films featuring the character. The best-looking one in this batch may be the sixth film, Zatoichi and the Chest of Gold, which boasts really eye-catching super-saturated color, some great sets and staging, and a beautiful fight sequence set amid a set of paper lanterns.
The Zatoichi movies were generally formulaic, and featured the blind masseur traveling from town to town, where he is often recognized as the famed swordsman Zatoichi and recruited to defend innocents against injustice or battle greedy gangs. But within that formula was a huge playground for Katsu to create various sides of Zatoichi's persona and explore many different tales of revenge, crime, honor and family. One film unites Zatoichi with Toshiro Mifune, playing a riff on his Yojimbo character; sadly it isn't one of the series' best offerings.
The series has left a significant mark on other filmmakers. Among the most obvious references include Robert Rodriguez nodding to it in Once Upon a Time in Mexico, and a recent big studio movie (which I won't name to avoid spoilers) that definitely took inspiration from the movies as well.
Oh, and that one Zatoichi appearance that doesn't feature Shintaro Katsu? That's Takeshi Kitano's 2003 film, where he revived the character at the behest of one of Katsu's closest friends. I think the film is fantastic — it is to samurai movies what Death Proof is to Grindhouse films — and a very worthy successor to Katsu's collection.
I've embedded the first film below; sadly, as with all of Hulu's content, it is probably limited to US viewers. I can't do anything about that, but I'll apologize anyway.