Must Read: Vanity Fair Profiles John Hughes

The latest issue of Vanity Fair has an outstanding set of articles on the late filmmaker/screenwriter John Hughes, something I would say you can't afford not to read. Details after the jump.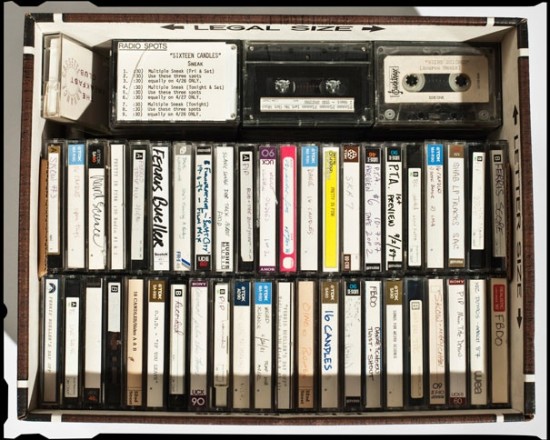 Photographer Dan Winters offers a peek into the director's archieves, including memorabilia and props from some of his films, scans of some of his pocket Moleskine notebooks from 2006/2008, and above is a box of demo tapes, some with temp scores, others with submissions from bands, which Hughes used to generate ideas for the soundtracks of his movies.
As part of his profile, Kamp interviewed some of the actors and actresses who worked with Hughes over the years: Molly Ringwald, Anthony Michael Hall, Matthew Broderick, and Edit McClurg. He published two pages of ranscripts from these conversations.
David Kamp's five-page profile is full of interesting information, for example how Hughes came up with the idea for Ferris Bueller one day, pitches it the next, and had the entire script completed seven days later.
Kamp talks with Hughes two sons about the director, why he decided to up and leave Hollywood forever, and more. John and James Hughes claim to have found, so far, "more than 300 pocket notebooks among their father's effects (some Moleskines, others Smythsons), and these are but a drop in the bucket of what Hughes left behind: archival papers, old correspondence, personal journals, thick binders containing works in progress, and gigabyte upon gigabyte of computer files." His sons say that in recent years, he worked in a variety of formats: "memoir, short fiction, and, yes, screenplays." While these screenplays were never meant for public consumption, I wonder if they will ever be made available for reading/learning purposes, or even adapted to the screen.
Did you know that actor Vince Vaughn was one of the few Hollywood friends Hughes had in his last few years?
Here are a few highlighted excerpts from the article:
John Hughes never stopped writing. He was notorious for this trait, especially in the 1980s, when he churned out screenplays faster than Hollywood could make them into movies. The script for Sixteen Candles came forth in a two-day burst during the 1983 preparations for The Breakfast Club, so impressing his studio overseers that it jumped the line to become Hughes's directorial debut, in 1984. By 1987, the year of Planes, Trains & Automobiles, Hughes had already written and directed the "teen trilogy" for which he would be most celebrated—Sixteen Candles, The Breakfast Club, and Ferris Bueller's Day Off—as well as a lesser teen comedy, Weird Science, and the movie that would actually come after Planes, Trains & Automobiles on the release schedule, the expressly post-teen She's Having a Baby. Somewhere in this time, he had also managed to write a further two teen pictures, Pretty in Pink and Some Kind of Wonderful, that were off-loaded to another director.
His iTunes library filled several hard drives, and he planned the playlists for his sons' weddings as carefully as he had the soundtracks for his movies. In recent years, he took to dispensing pre-loaded iPods to people he liked, much as he'd assiduously compiled mix tapes for Ringwald and Broderick in the old days. The last time he ever saw Hughes, in November 2008, Chris Candy, John Candy's 25-year-old son, was the recipient of such an iPod, "an incredibly eclectic four-gig, thousand-song mix tape, basically," Candy says. "I have a local radio show on a college station in L.A., and when John passed away, I just put that iPod on 'shuffle' and let it play as my tribute to him." It was this iPod, returned on loan, that the Hughes family used as background music for Hughes's funeral.
As the story goes, commercial considerations weren't the only impetus for Hughes's writing Sixteen Candles. While leafing through headshots in search of potential Breakfast Club cast members, he froze upon the glossy of a pale-skinned young actress with red hair and puffy, tired eyes—pretty, but not conventionally so. "From what I heard from him," says Ringwald, "he put my headshot on the bulletin board by his desk and wrote Sixteen Candles over a weekend. And when it came time to cast it, he said, 'I want to meet her: that girl.'"