Carla Gugino Replaces Salma Hayek In Faster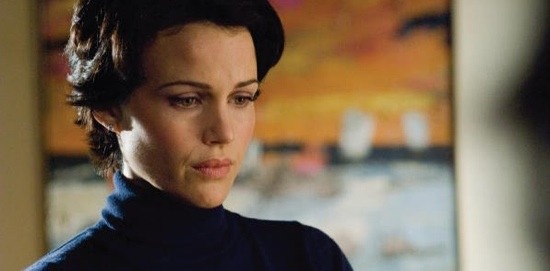 Carla Gugino (Watchmen, Sin City) has joined the cast of Faster, the George Tillman Jr.-directed revenge thriller starring Dwayne Johnson. It seems logical that Gugino is the replacement for Salma Hayek, who at the last minute (January 31st) dropped out of the project due to supposed "scheduling issues". If so, that is definitely a step-up in terms of acting talent, but a step down in terms of star value and marketability.
The film, which is currently in production, is about "an ex-con pursued by cops and killers as he sets out to avenge his brother's death." Gugino will play the detective in charge of the investigation, "hot on his trail and hell-bent on connecting the killings with a decade-old case." Also in the cast is Moon Bloodgood (Terminator Salvation) as Johnson's girlfriend; Oliver Jackson-Cohen, who will be one of the killers on the Rock's trail, and Maggie Grace (Taken) in an unspecified role.. Scripted by Joe and Tony Gayton.
source: Variety