Doug Liman To Direct Attica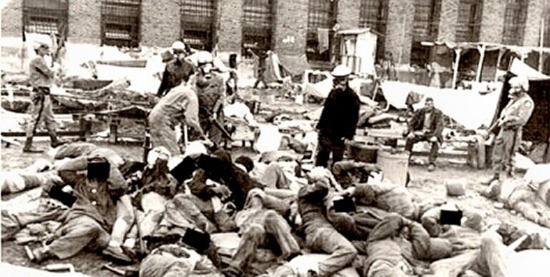 Doug Liman (Bourne Identity, Mr. and Mrs. Smith, and the upcoming Valerie Plame spy drama Fair Game) will direct Attica, an insider's view of the 1971 four-day Attica state prison rebellion from a screenplay written by Geoffrey Fletcher, the Academy Award nominated screenwriter of Precious. It is definitely a powerful subject, which is deserving of a big screen adaptation.
For those who don't know about the bloodiest prison riot in American history, here is some information from Wikipedia:
"The riot was based in part upon prisoners' demands for better living conditions. At the time, inmates were given one shower per week and one roll of toilet paper per month. On September 9, 1971, responding to the death of prisoner George Jackson, a black radical prisoner who had been shot to death by corrections officers in California's San Quentin Prison on August 21st while armed and attempting to escape, about 1,000 of the prison's approximately 2,200 prisoners rioted and seized control of the prison, taking thirty-three correction officers hostage. The State began negotiating with the prisoners. During the following four days of negotiations, authorities agreed to 28 of the prisoners' demands, but would not agree to demands for complete amnesty from criminal prosecution for the prison takeover, or for the removal of Attica's superintendent. Under order of then Governor Nelson Rockefeller, state police took back control of the prison. When the uprising was over at least 39 people were dead, including ten correction officers and civilian employees."
At least three made for television movies about the riot have been produced: 1980's Attica starring George Grizzard, 1994's Against The Wall featuring Samuel L. Jackson and Clarence Williams III, and 2001's The Killing Yard starring Alan Alda.Aticca is probably best known in pop culture from a scene from the 1975 film Dog Day Afternoon, where Al Pacino's character, Sonny, who is holding eight bank employees hostage, starts a chant of "Attica! Attica!" at the large group of police outside.
The project is said to be a deeply personal one for Liman, as his father was chief counsel to the New York State Special Commission on Attica Prison and co-authored the commission's report attacking then-Governor Nelson Rockefeller and the new york state prison authorities for their share of responsibility for the riot's 42-person death toll. CAA has packaged the project, which has yet to secure distribution.
source: Incontention