Helix Films To Build Erector Set 3D Movie Franchise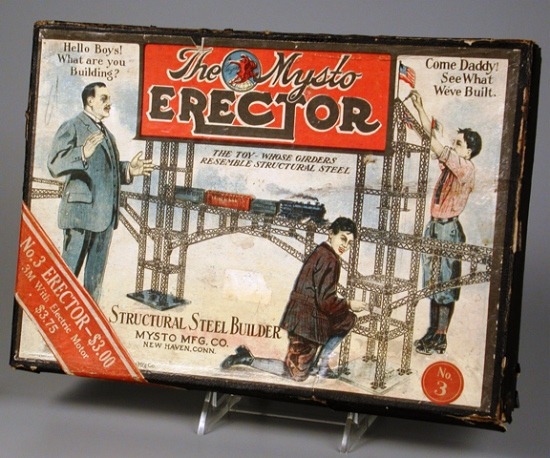 It seems like every week one of the Hollywood studios announces a new board game or toy movie adaptation that pushes the limits on believability. Some nights while I'm writing up news, I wonder if I'm actually a minor character in one of those Hollywood satires that paints Hollywood executives as bumbling idiots, trying to suck onto any idea that might have audience recognition and franchise potential. I would like to believe that the studio execs are much smarter than these type of films make them out to be. In fact, I know that, for the most part, they are much smarter than that. But every night a new new story hits my screen. Another news story that seems dumber than the one from the previous week, previous month. Stretch Armstrong, Candyland, Monopoly, Battleship, Asteroids, Viewmaster, and now a movie based on Erector Sets?
The Meccano Toy Company has announced a deal with independent production company Helix Films to make a 3D feature film based on their Erector Set brand of children's construction toys. You can read the official press release, after the jump.
Helix Films and Meccano Toy Company Join Forces to Build 'Erector Set' Toy Movie Franchise
LOS ANGELES, Feb. 16 — Helix Films, an independent production company, announced today that they have formed an exclusive partnership with Meccano Toy Company to develop an original 3D feature film based upon the iconic Erector Set brand of children's construction toys. The deal represents the first time Meccano has licensed film rights to their toys. Financial terms of the deal were not disclosed.
Helix is currently developing an original script with an eye towards creating a film franchise based on the Erector brand that could also expand to other entertainment platforms including television and video games. While details of the story are being kept under wraps, the film will be a family fantasy/adventure.
"The three partners of Helix Films all grew up playing with Erector Set toys but in different countries—Kevin Foo in Australia, Gaukhar Noortas in Kazakhstan and me and my brother Robert in the U.S.—so our partnership with Meccano is very personal, as well as exciting," said Steven-Charles Jaffe ("Ghost," "Star Trek IV," "Strange Days") of Santa Monica-based Helix Films. "We believe the iconic Erector brand offers generational appeal with global reach, providing a tremendous platform to create a thrilling film franchise that boys, girls and adults will all adore."
"The very core of Meccano/Erector is about creating educational toys that enable children and adults to imagine and create completely new worlds," said Michael Ingberg, CEO of Meccano Toy Company. "It's perfect for a film franchise as it is certain to entertain but also stimulate creativity and imagination as the Erector toy system has done around the world for nearly a hundred years."
Invented in England by Frank Hornby in 1901, Meccano was conceived as a model toy construction system comprising re-usable metal strips, plates, angle girders, wheels, axles and gears, with nuts and bolts to connect the pieces. The toy has sold under the "Erector Set" brand in the U.S. since 1913. Erector sets enable the building of working models and mechanical devices and have inspired countless engineers, designers, architects and creative minds of all ages. Modern versions include new technologies to accelerate construction for even the youngest children. Meccano/Erector set toy products are currently sold in more than 80 countries.
About Helix Films
Helix Films was founded in 2008 by a seasoned team of film producers and business executives Steven Charles Jaffe, Gaukhar Noortas and Kevin Foo to develop and produce feature motion pictures. With an emphasis on story and character-driven projects, Helix projects cover a broad range of genres including animation, psychological thrillers, science fiction and comedy. Helix has two projects currently in production, including a thriller "I'll See You Again" and a 3D animated feature adaptation of Gahan Wilson's "Eddy Deco." For more information about Helix Films, please visit http://www.helixfilmsinc.com/.