Dean Koontz's Frankenstein To Be Developed As Film Series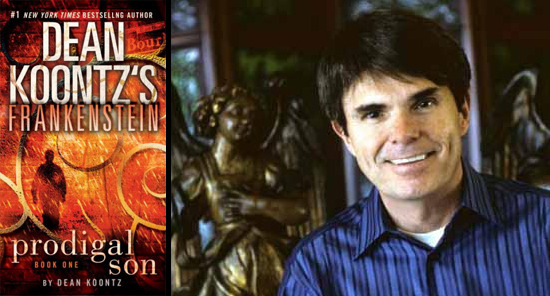 Author Dean Koontz has penned a series of books presenting a revisionist take on Frankenstein, which places the monster in modern New Orleans and incorporates some elements from Poe and detective fiction. (Or: he's partially penned a take, as the first book was co-written with Kevin J. Anderson and the second with Ed Gorman, though those credits don't seem to be on current editions of the books.) Now the books may be used as raw material to spawn at least one feature.
Variety reports that Ralph Winter (X-Men, Fantastic Four and Planet of the Apes producer) and Terry Botwick are developing Koontz's take on the monster through 1019 Entertainment. They're thinking "franchise" as the author has three Frankenstein books on shelves already, with a fourth on the way this year and two more planned.
The project actually has an odd history. With Kevin J Anderson, Koontz developed the idea as fodder for a series on USA, with a pilot movie directed by Marcus Nispel (Friday the 13th, Conan) and produced by Nispel and Martin Scorsese. But Koontz didn't like the direction the series was headed, so he bailed and set his own book series in motion based on his original ideas. Such as they are, anyway — doctor Frankenstein is now Helios, the monster is now Deucalion (named after the son of Prometheus) and there's a serial killer running around. Here's the synopsis of the first book:
Dr. Frankenstein has survived into the 21st century, masquerading as biotech tycoon Victor Helios. Helios wants to replace flawed humanity with his New Race, people born and fermented in pods, their personalities programmed by him, their imperfections removed in the lab. But at least one of his creations has become a serial killer, trying to assemble the perfect woman from parts of many. Like expert plate-spinners, the authors set up a dizzying array of narrative viewpoints and cycle through them effortlessly. These include one of Victor's creations who suffers from autism and is trying to understand it; a cloned priest who serves as a clandestine member of Helios's army; Helios's custom-made wife, unique among his creations in that she's allowed to feel shame; and, tying it all together, a classic buddy-cop set of homicide detectives who slowly come to understand that the butcher they're chasing isn't quite human.
Here's a trailer (in Lithuanian, oddly) for the USA network pilot that was produced. You can see a non-embeddable English version here.