This Week In DVD & Blu-Ray: Law Abiding Citizen, Black Dynamite, Cabin Fever 2, And More
We may receive a commission on purchases made from links.
This Week in DVD & Blu-ray is a column that compiles all the latest info regarding new DVD and Blu-ray releases, sales, and exclusive deals from stores including Target, Best Buy and Fry's.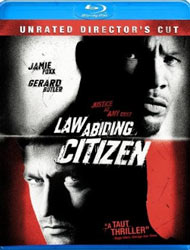 LAW ABIDING CITIZEN
Logic and subtlety are the last things viewers should expect from Law Abiding Citizen, an absurdly enjoyable B-movie thriller that critics made the mistake of trying to take seriously. The film is disposable low-brow entertainment, no question. The unfolding of the plot doesn't yield a single unanticipated turn, nor does it fail to act on a convenient cliché when one is available—and there are many available. Rarely, though, does a thriller embrace its R-rating as fully as this one. It's amusing how quickly Gerard Butler's introduction as the sympathetic anti-hero is tossed aside in favor of full-on deranged villainy—even more so when you realize how much more fun it makes the movie. The gleeful maliciousness that the film displays as it continually cranks up the violence is a little disturbing, but it's in that gratuitous carnage that Law Abiding Citizen earns its place amongst the rest of the compulsively watchable trash that cinema has to offer.
Available on Blu-ray? Yes.
Notable Extras: DVD – An audio commentary, and behind the scenes featurettes. Blu-ray – Includes everything on the DVD, as well as an exclusive unrated director's cut.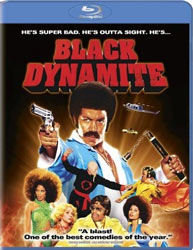 BLACK DYNAMITE
Parodying a genre that's basically self-parody already is a self-defeating premise. As a send-up of '70s blaxsploitation, Black Dynamite makes an admirable attempt to overcome that inherent obstacle by perfectly balancing its Airplane!-esque lampooning with an affectionate and impressively authentic recreation of the stories and visual stylings of the genre. It would've been easy for co-writer/director Scott Sanders to over-do the intentional badness of the filmmaking, but instead he downplays it, and in doing so, provides the movie with a deadpan charm that fully enhances its diversions into outright silliness. And it's really, really funny.
Available on Blu-ray? Yes.
Notable Extras: DVD & Blu-ray – Filmmaker/cast commentary, deleted & alternate Scenes, a making-of featurette, and a Comic-Con Experience featurette.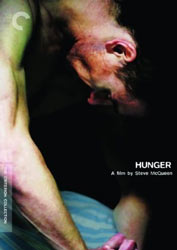 HUNGER (CRITERION COLLECTION)
It's all in the details—those little subsidiary additions to the story and the visual/aural framework that complement the narrative as a whole. That's what turns a movie like Hunger, a tale that very easily could've amounted to nothing more than another flat, conventional depiction of a historical event, into a cinematically rich, rewarding and unforgettable experience. Viewers looking to be educated on the facts surrounding the 1981 Irish hunger strike and the ordeal that lead to it will be left mostly in the dark here, but those looking to experience the horror for themselves will be greeted with an immersive, up-close-and-uncomfortably-personal insight. Co-writer/director Steve McQueen harnesses astonishing control over the material, and the result is a film that will challenge your senses and haunt your psyche. It's probably not a movie you'll want to experience more than once.
Available on Blu-ray? Yes.
Notable Extras: DVD & Blu-ray – Interviews with director Steve McQueen and actor Michael Fassbender, a 13-minute making-of documentary, "The Provo's Last Card?" (a 1981 episode of the BBC program Panorama), and a booklet featuring an essay by film critic Chris Darke.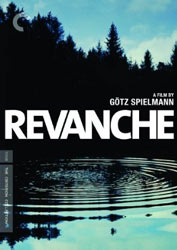 REVANCHE (CRITERION COLLECTION)
Revanche, a Best Foreign Film contender at last year's Oscar race, is a revenge tale unlike any that we're generally accustomed to seeing. Here, the desire for revenge exists not so the audience has a hero to root for while bad guys are disposed of, but so that we can examine these very real characters and the conflicts of their lives, and the ways in which those conflicts intertwine. The film takes its sweet time telling its story, and the deliberate pacing gels comfortably with the atmospheric visuals (contrasting seedy urban decay and placid countryside). It's simplistic in narrative, but complex in its emotional deconstruction of its characters. The film's pat resolution, while perhaps anticlimactic, is satisfying in how uniquely thoughtful it is. Worth watching.
Available on Blu-ray? Yes.
Notable Extras: DVD & Blu-ray – Interview with director Götz Spielmann, a 30-minute making-of documentary, and an essay by critic Michael Wood.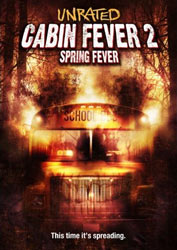 CABIN FEVER 2: SPRING FEVER
Reading up on the post-production fiasco behind Cabin Fever 2: Spring Fever—which lead to director Ti West requesting that he have his name removed and listed under the classic Alan Smithee pseudonym (to no avail)—is even more frustrating once you've seen it. Having recently viewed Ti West's brilliantly directed ode to '70s horror The House of the Devil, it's startlingly obvious where the disconnect between director and producer lies throughout. To some degree, West's vision remains intact; the film is very clearly an homage to '80s high school sex farces—star wipes and all—and is as gruesome and bloody as horror movies get. It's in the sloppiness of the execution (read: editing, added sequences) that it becomes clear why West abandoned the project. Certain details are delightful, such as the splattery bus intro/title card, the animated opening credit sequence, and an uncomfortably intimate bathroom blowjob. Others are less so, such as several trying-too-hard gross-out moments and the entirety of the film's ending (no resolution to main story, unfunny tacked-on closing sequence, and another much lousier animated sequence). Guess which additions belong to whom.
Available on Blu-ray? No.
Notable Extras: An audio commentary with actors Mark Borchardt and Giuseppe Andrews, a "blood gag" reel and a special effects makeup featurette.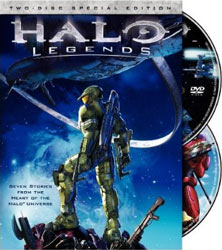 HALO LEGENDS
(DVD available as single-disc and 2-Disc Special Edition)
Set in the same format as The Animatrix and Batman: Gotham Knight, Halo Legends is a collection of seven animated short films exploring the mythology of the Halo universe. I have absolutely nothing interesting or insightful to say about it. It's Halo. Until it was announced that Halo might be turned into a movie, I forgot that the games even had a story—or single-player campaigns, for that matter.
Available on Blu-ray? Yes.
Notable Extras: 2-disc DVD & Blu-ray – An introduction to Halo Legends followed by a making-of segment for each episode, commentary with Frank O'Connor and Joseph Chou on each episode, and a Halo: Gaming Evolved featurette.
*Does not include 2-Disc Edition, which costs $17.99 at Target, $18.99 at Best Buy and Amazon, and $19.77 at Fry's.
EXCLUSIVE DEAL:
What? Steelbook packaging on 2-disc DVD and Blu-ray, PLUS Mini-Encyclopedia.
Where? Best Buy.
EXCLUSIVE DEAL:
What? Exclusive film cell.
Where? Target.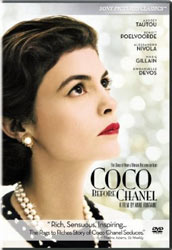 COCO BEFORE CHANEL
The title of this movie sounded intriguing before I took a moment to comprehend what the film was about. In context, it doesn't sound as cool. Silver lining: it does my job for me by summarizing the plot of the movie.
Available on Blu-ray? Yes.
Notable Extras: DVD & Blu-ray – Commentary with writer/director Anne Fontaine, a Coco Avant Chanel: La Rencontre feature, a Historical Reconstruction featurette, and a Walking the Red Carpet: From Los Angeles to New York featurette.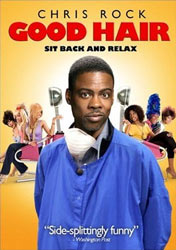 GOOD HAIR
Chris Rock examines the cultural relationship between African Americans and their hair in this seriocomic documentary. The topic seems shallow and esoteric. The glowing reviews suggest otherwise.
Available on Blu-ray? No.
Notable Extras: Audio commentary by Chris Rock and executive producer Nelson George, and deleted scenes.
Other noteworthy DVD (and Blu-ray) releases this week...
Women in Trouble [DVD / Blu-ray] – Lola Montès (Criterion Collection) [DVD / Blu-ray] – Clint Eastwood: 35 Films 35 Years – Dirty Harry Collection [DVD / Blu-ray]
Noteworthy Blu-ray-specific releases this week...
Cabin Fever (Unrated Director's Cut) – The Ladykillers – Contempt – Ran – Goodfellas (20th Anniversary Edition)

NOTES: Some deals may be in-store only. All deals are for DVDs unless otherwise noted.

$9 – Up, Star Trek, Monsters vs. Aliens, The Hangover, Terminator Salvation, Harry Potter and the Half-Blood Prince, Transformers: Revenge of the Fallen, and more...

$9.99 – Fringe (Season 1), Supernatural (Season 4), and more...
$14.99 – Blu-ray sale: Watchmen (Director's Cut)

$14.99 – Blu-ray sale: Observe and Report, Body of Lies, Get Smart, Gran Torino, Rocky, Carrie, Hoosiers, and more...
$19.99 – Dragon Ball Z (Season 1 – 9)