WTF: Nick Cave And Andy Serkis Making Mo-Cap Threepenny Opera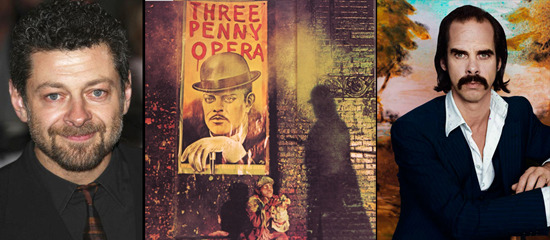 OK, I'm stunned. What is there to possibly say about the news that actor Andy Serkis and multi-hyphenate Nick Cave are planning a motion-capture version of The Threepenny Opera? It's an idea that sounds so mad and so perfect I can't imagine not rushing out to see it. But mo-cap? Granted, if that's the technique at hand then Serkis is obviously the go-to performer, but still. Berlin has been a source of crazy stories in the last few days, but this one sounds like it is actually happening.
Screen Daily reports the announcement, but doesn't have any further details. The news comes from the Berlinale, where Serkis is on hand to promote the Ian Dury biopic sexdrugs&rock&roll. One Polish report suggests that Cave will be responsible for the music, which is easily the quick assumption to make. As he's also an accomplished screenwriter, will he pen the screenplay as well? And who directs? What house does the digital heavy lifting? Who the hell is going to pay for this? Questions, questions.The Threepenny Opera, penned by Bertold Brecht with music by Kurt Weill, opened in Berlin in 1928. It takes place in Victorian London (or a stylized facsimile thereof) and follows Macheath, aka Mack the Knife, as he marries Polly Peachum and subsequently deals with the wrath of her father, who attempts to use his control over London's beggars to have Mack hanged. The original musical was a capitalist critique, which could make for an interesting thematic basis for what must be a fairly expensive project.
The music is an odd combination of Teutonic stylings and early jazz. As is, it would sound fairly out of date in a mocap musical. Lotte Lenya makes 'Mack the Knife' work, but I'd guess Nick Cave will do a little re-tuning. Or perhaps not, as his own version of 'Mack the Knife', below, is pretty straightforward.
On a more or less unrelated note, as long as famous and creative names are putting together Brechtian mocap films, can someone throw The Tiger Lillies some scratch to make an animated film of Shockheaded Peter?