Danish Oscar Submission Terribly Happy To Be Remade In English...by The Original Director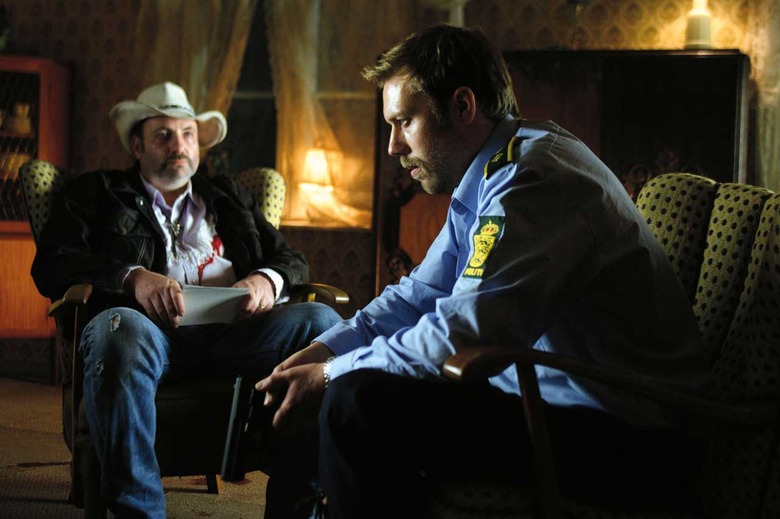 Remakes, remakes remakes...but is it a different scenario when the director of an acclaimed foreign film signs on to remake his own movie for English-speaking audiences? That's what's happening with Terribly Happy, the dark, Coen Brothers-flavored Danish film that cleaned up at the major Bodil Awards in 2009 and is Denmark's submission for the Foreign Language Oscar this year. Henrik Ruben Genz will remake his own film in English, giving him an opportunity to play with a bigger budget and take the story in new directions.
Gentz was also the co-writer on the first version of the film, which is adapted from the novel of the same name by Erling Jepsen. (Well, the novel is called Frygtelig lykkelig, which is also the untranslated Danish name of the film.) The US version is being written by Howard Rodman, and producer Carol Polakoff says that this is a chance to approach the material from "an entirely different point of view." Genz is quoted by Screen Daily saying "I felt I wasn't finished with the material and wanted to explore it further. When the opportunity for a remake came up I felt I couldn't let go of this curiosity and energy that bound me to the material."
I'm interested in this, certainly. As long as it doesn't end up like the rather bad version of The Vanishing, that is. In that case, the US remake was directed by George Sluizer, who also directed the impressive original version of that kidnapping tale. His first take was a killer; the remake was flat and didn't work well at all.
Looking at the trailer for the film, you might easily think it's a weirder, Danish version of Hot Fuzz. There's an element of that in there, definitely, but there's a lot more and far weirder stuff in the film, which gets pretty dark as it goes.
Robert Hanson (Jakob Cedergren) is a Copenhagen police officer who, following a nervous breakdown, is transferred to a small provincial town to take on the mysteriously vacated Marshall position and subsequently gets mixed up with a married femme fatale. Robert's big city temperament makes it impossible for him to fit in, or understand the uncivilized, bizarre behavior displayed by the townspeople. Quickly spiraling downward into an intense fable reminiscent of the Coen Brothers' BLOOD SIMPLE and NO COUNTRY FOR OLD MEN, TERRIBLY HAPPY displays a unique, often macabre vision of the darkest depths to which people will go to achieve a sense of security and belonging.
Here's an English-subbed trailer for the original, which Oscilloscope (that's Adam Yauch's company) is releasing in the States in a limited run. There are New York City and California theaters now; expansion dates and cities are available here.