Casting Notes: Russell Brand Coaches Soccer; New Films For Jeffrey Dean Morgan And Taylor Lautner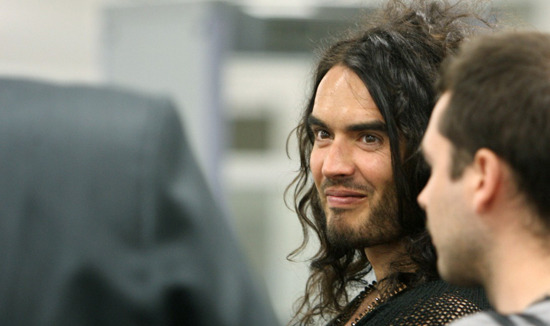 I seem to be one of the few who didn't think that yesterday's Get Him to the Greek trailer was the funniest thing since 'Man Getting Hit in the Groin by Football,' but that doesn't mean I don't have a soft spot for Russell Brand. After Forgetting Sarah Marshall, how could you not? So I'm happy to see that Warner Bros. has pieced up a pitch by William and Scott Bindley that may well star Brand as a David Beckham-type soccer star who ends up coaching a high school soccer team in West Texas.
Having gone to high school in Midland, one of the very "Friday Night Lights towns" referenced in the source article, I like this idea a lot. If the comedy can get the regional stuff down, something the feature Friday Night Lights more or less managed, this could be a great little comedy. [DHD]
After the break, Jeffrey Dean Morgan works with the Solomon Kane director, and Taylor Lautner gets yet another bloody movie.
Jeffrey Dean Morgan has signed to star in Unblinking Eye, which will be directed by Solomon Kane helmer Michael Bassett. The director also wrote the script. Morgan will play homicide detective John Callisto, "now a retired recluse after being nearly murdered by a serial killer, [who] is tracked down by a relentless journalist. As the two confront each other, dark secrets from both their pasts come to light." Morgan was one of the best parts of Watchmen and looks like the highlight of The Losers, so bring this one on. [THR]
Finally, Taylor Lautner has yet another film in development. It would be a Bourne-styled action film called Abduction, about "a teen who has long felt disconnected from his parents, and figures out why. That unleashes a chain of violent events."
Two studios are reportedly bidding on the film. The kid cannot be stopped. As I've asked before, shouldn't we see if he can really float a non-Twilight movie before locking him to star in ten others? Oh, what do I care? It's not my money behind these pictures. [DHD]