30+ High Resolution Photos From Kevin Smith's Cop Out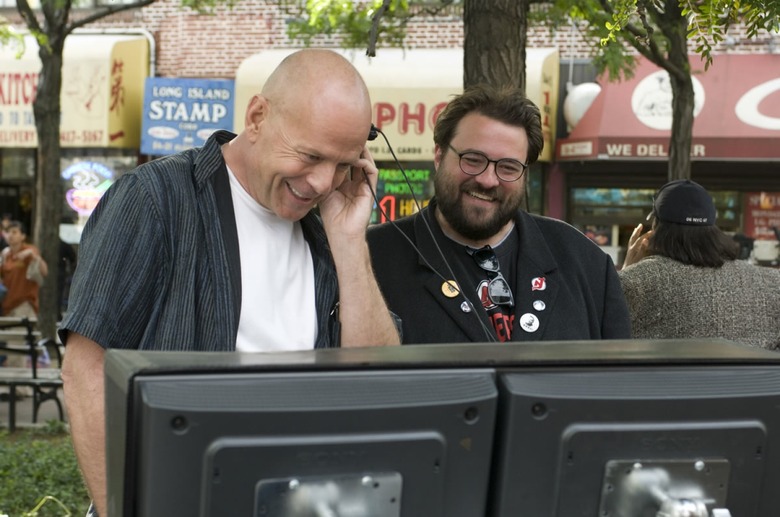 Warner Bros Pictures has released 30+ high resolution photos from Kevin Smith's buddy cop comedy Cop Out, starring Bruce Willis, Tracy Morgan, Adam Brody, Kevin Pollak, Guillermo Diaz, Ana de la Reguera and Seann William Scott. Check them out after the jump, along with the production notes from the film. Click on any of the images to enlarge.
Official Plot Synopsis:
Directed by Kevin Smith, "Cop Out" features two longtime NYPD partners on the trail of a stolen, rare, mint-condition baseball card who find themselves up against a merciless, memorabilia-obsessed gangster. But before they can recover the prized `52 Pafko, they must first rescue a Mexican beauty who holds the key to millions of dollars in off-shore bank accounts–and who has already witnessed one high-profile murder because of them.
Veteran detective Jimmy Monroe (Bruce Willis) needs to cash in on his perfect Pafko in order to pay for his daughter's upcoming wedding, but in the tradition of everything that can go wrong...it's pilfered before he has a chance to collect. Paul Hodges (Tracy Morgan) is Jimmy's "partner-against-crime," whose preoccupation with his wife's alleged infidelity makes it hard for him to keep his eye on the ball, or his mind on the crime. Already in trouble and with nothing left to lose, Jimmy and Paul will have to break all the rules–including enlisting the aid of stoner thief Dave (Seann William Scott), who's working Paul's last nerve as Paul and Jimmy try to work the case.
Warner Bros. Pictures presents, A Marc Platt Production, "Cop Out," directed by Kevin Smith from a screenplay by Robb Cullen & Mark Cullen, and starring Bruce Willis, Tracy Morgan, Adam Brody, Kevin Pollak, Guillermo Diaz, Ana de la Reguera and Seann William Scott. The film is produced by Marc Platt, Polly Johnsen and Michael Tadross. Adam Siegel, Robb Cullen and Mark Cullen serve as executive producers.
The behind-the-scenes team includes director of photography David Klein, production designer Michael Shaw, costume designer Juliet Polcsa and Academy Award®-nominated composer Harold Faltermeyer. As he frequently does, Smith serves as his own editor on the film.
"Cop Out" will be distributed worldwide by Warner Bros. Pictures, a Warner Bros. Entertainment Company.
The film is rated R by the MPAA for pervasive language including sexual references, violence and brief sexuality.
The film is rated R by the MPAA for pervasive language including sexual references, violence and brief sexuality.Production Notes:
The Production
CAPTAIN ROMANS
"There's a right way to do
police work, and a wrong way.
Then there's the way you two do it."
"Cop Out" stars action favorite Bruce Willis and comedy king Tracy Morgan as Brooklyn-based NYPD detectives Jimmy Monroe and Paul Hodges, partners on the trail of a stolen piece of valuable memorabilia...and this time, it's personal: the collectible, a rare baseball card, belongs to Jimmy, and is his only hope to pay for his daughter's upcoming wedding. Along the way, however, the duo stumbles into the path of a seriously dangerous neighborhood gang leader looking to expand his trade.
From director Kevin Smith, "Cop Out" is in many ways a throwback to the classic buddy cop movie–one of cinema's most popular film genres–with Smith's own slightly skewed view. Directing for the first time from someone else's script, Smith's initial reaction to the screenplay was that it was "steeped in movie cop heritage. When I read it, I thought, 'Wow, if I'd ever written a buddy cop movie, it would be like this.'"
States producer Marc Platt, "One of the things Kevin does so well in his films is the relationships, particularly between the guys. There's an honesty to it, a relatability to it, they feel like guys that we all know."
Producer Michael Tadross agrees. "Bruce, as Jimmy, is the straight man and Tracy, as Paul, is this crazy guy, and it just works."
"The script just made me laugh out loud when I read it," says Willis. "It was really funny...the kind of film you tell your friends to go see."
Having previously worked with Smith nearly a decade ago, Morgan says of the director, "He knows it, he gets it. He's a comedian's comedian. He directs in a way where you think you know the scene, but he'll say, 'Yo, do this or do that, say this or say that,' and it gives it a whole different spin. I love the way he directs."
"Kevin has a rapport with his audience that is magic," states producer Polly Johnsen. "His films allow viewers to relate to the characters as the funnier versions of themselves, and take them along for the ride. It's an awesome entertainment experience. I want to come back in my next life as Kevin Smith."
Teaming Willis and Morgan, Smith notes, "My forte is really two dudes talking to each other," says Smith. "This film has that, plus more action than anything I've done before. Though there are no action figures for this one...yet. I'll find a way," quips the director, who is also famous for being a collector.
Smith continues, "For me, the biggest influence I drew from in making 'Cop Out' was Abbott and Costello. This is very much like an Abbott and Costello movie...with guns. If I made this movie, and my father was still alive and saw it, he'd say, 'You do make movies! I just thought it was you and your friends running around with a camera talking about not being able to get laid, but this has a plot, there are guns...Bruce Willis is in it!' He would've been so proud."
Combined with Smith's subversive comic talent and skill for improvising while shooting, and the fast and very real dialogue written by Mark Cullen and Robb Cullen, who also serve as executive producers, the result is, according to Smith, "exactly the kind of movie my dad would've taken me to see when I was 13."
The Cullen brothers, who penned the script, have known Smith for a while. "The second we met him, we loved him," says Mark. "He's the smartest, sweetest guy I know."
Adds Robb, "There was no better choice for us than Kevin, because when you talk about funny and dark and wonderfully mean-spirited, there's probably nobody funnier, darker, more wonderfully mean-spirited than Kevin Smith. So, it was a natural for us; our senses of humor and our sensibilities are very similar."
"I instantly fell in love with the chemistry on the page between the two characters," Platt says. "Their relationship as cops and their friendship–they were instantly relatable as guys going through their own stuff at home, and trying to be good cops at the same time. But it was their friendship and loyalty in spite of their sort of personal differences that really made me root for them."
The film is set in the New York City boroughs of Queens and Brooklyn, where the NYPD is dealing with the steadily increasing violence and robberies coming largely from the Mexican drug cartel gangs. The writers spent many hours with contacts at the LAPD, which gave them insight into the real problems police and detectives face in their line of work as they developed the narrative flow of the storyline.
"Some of the things that we kept on hearing, beyond the challenges of the job, were, 'Oh, we're getting divorced, my wife's cheating on me, I'm cheating on my wife,'" says Mark. "It's a recurring theme among cops because of the hours they spend away from their families. It's a very hard job to have and keep a relationship going, because you're risking your life every second of the day, then going home. And you don't want to talk about how your day was, 'cause it's horrifying. All you want to do is just decompress."
The writers wanted to create a humorous base for the action to play off. As Robb describes it, "Funny is funnier coming out of something tragic or painful."
Tadross reveals that the secret of portraying a cop in a comedy is to take it seriously. "You have to first have respect for the cops going in, whether you're a writer or an actor. Then you can play them in a comedic sense, and it's humorous. If you're going to write a goofy cop role, like the Cullens did with Paul, or play a goofy cop, like Tracy does, you still have to show respect for the job. Then it's believable. Then it works."
PAUL
I'm gonna be the bad guy.
JIMMY
No. Not again. Last time
you screwed it all up.
PAUL
I've been working on it...
In front of the mirror. I have
a whole back story and everything.
In "Cop Out," Smith takes on both high comedy and high action, and lets them play off each other as equal partners. Paul and Jimmy, partners on the police force for nine years, are like an old married couple: they bicker, they gripe, they disagree just to disagree. But they are in synch working together, know each other's families, and are like family themselves. The pairing of quintessential, rough-edged-but-wry action hero Bruce Willis with the zany nuttiness and sensitivity of consummate funnyman Tracy Morgan seemed almost too good to be true.
Tadross, who produced two of the "Die Hard" movies, asserts, "I jumped at the chance to work with Bruce again. The man is brilliant, he knows what he wants and he's a friend, so it's always a pleasure to be around someone like that. Put Bruce Willis, Tracy Morgan and Kevin Smith in the same room? I couldn't wait to see what would come out of that. Those three guys are at the top of their game."
Tadross was not the only one who'd worked with Willis on a "Die Hard" film. Offers Smith, "I'd worked with Bruce as an actor on 'Live Free or Die Hard,' and he called me at one point and said, 'I'm an actor, you're a director, we're both from Jersey...we should do something together some day.' So when Marc Platt said to me, 'Hey, there's a chance we can get Bruce Willis,' I thought that would be amazing."
Platt concurs, "Bruce Willis is iconic in any kind of action movie. Casting him as Jimmy was a tremendous coup."
"Jimmy is a cranky, irritable cop with a wisecracking sense of humor," offers Willis. "He shoots first, asks questions later, and cracks jokes whenever he can."
Says Smith, "During production, I sat around set all day and watched the movie in a little monitor, as directors do, seeing what the camera sees. So in reality, I sat there all day watching a Bruce Willis movie, which is what I do at home anyway for free."
The Cullen brothers describe Willis' character, Jimmy, as someone who's been a detective for over 20 years, is divorced and somewhat lonely. "He hasn't gotten the breaks to move ahead in the department. He's more like the gunslinger of the old West, who has his own code of conduct," says Mark.
Robb adds, "Jimmy's very conflicted because his ex-wife has married up and is doing very well, his daughter now is participating in that wealthy lifestyle, and he's still living in an apartment by himself. And, on top of that, his daughter's insufferable stepfather is practically shaming Jimmy into letting him pay for his daughter's wedding. I think all of that is adding up to making him feel less of a man at times."
Not about to be upstaged at his own daughter's wedding, Jimmy has made the decision to cash in his priceless '52 Pafko baseball card to pay for something even more priceless–his daughter's happiness. However, mid-sale, the Pafko becomes the "victim" of a robbery, right under the not-so-watchful eye of Jimmy's partner, Paul. Paul is in the midst of his own family drama...even if it is of his own making. In addition to trying to catch criminals, he is also trying to catch his wife in the act with another man.
Tracy Morgan, who plays the role of Paul, says he was drawn to the project because "the script was hilarious, and I loved the character. I took to him like a fish to water. Paul has some insecurities, deep down. 'Is she cheating, is she not cheating?' He loves her, but he just takes it too far."
Says Platt, "Tracy Morgan is just so hilarious and his mind works in such a random fashion–the dots don't always seem like they'll connect, but the way they ultimately do is part of his comedy."
"People kept asking me, 'Is Tracy really that crazy?' and I just said to them, 'Crazy like a fox.' He knows how to use it selectively," relates Smith. "He's acting. Anybody can stand out there and say goofy things, but Tracy can sell it. It's a gift, and he came into this role loaded for bear."
"The fact that Kevin allowed him to go there created just the kind of comedy that is very unique to Tracy, but also gave Bruce something to play off of and react to," adds Platt.
"The chemistry's there," states Smith. "The Bruce-of-it-all gives you the gravitas; you add Tracy and that's funny, that's fresh, that's different."
"It was impossible to know what was going to come out of Tracy's mouth. Much of the comedy was derived from that improv and from the kind of environment Kevin fostered between all of the actors on the set," says Platt.
"We started with a great script, and had brilliant ad-libbers in the cast. We always knew there'd be the scripted take, and then the takes where we would deviate and see where it went," says Smith. "Some of the coolest stuff in the movie is the flights of fancy that happened on set."
One of the best ad-libbers turned out to be Seann William Scott, who plays Dave, the accidental third stooge in the Jimmy-Paul partnership and a thief who employs the physical discipline of Parkour as one of the tools of his trade...and who makes off with Jimmy's precious baseball card.
"Seann had the role of Dave," says Smith. "It's just a great, enjoyable part and I think Seann made it a pitch-perfect, 21st-century version of a kind of Bugs Bunny: he's both charming and an instigator. Of course, Seann is the first to say that he's not a comedian, he's just cast in comedic parts. But I've seen Seann's movies and his performance in this flick, and if he's not a comedian I don't know who is. Like Bugs, he's effortlessly charming."
"Dave's just a really fun, really weird guy," says Scott. "It's a character I love because he's different from other characters I've played. He's not this jock jerk frat boy, but he's still inappropriate, and just as nuts."
"In a way, Dave is to Paul what Paul is to Jimmy, so Jimmy kind of loves Dave, because he frustrates Paul so much," Smith grins.
Jimmy and Paul's unorthodox style of nailing perps like Dave has two other detectives in their precinct, Hunsaker and Mangold, thinking they're a little too independent for the greater good. They are cut from a different cloth and think that they are smarter, better cops who do things the right way–by the book.
Kevin Pollak plays the role of Hunsaker, something of a mentor to the greener Mangold. "Our characters think they are the ones who are doing everything correctly, and that Jimmy and Paul are wildly wrong, and we take a lot of pleasure in telling them so. When Jimmy and Paul are suspended for ridiculous behavior unbecoming an officer, Mangold and Hunsaker relish the opportunity to rub their faces in it."
Adam Brody, who plays Mangold, agrees. "It's a competitive thing. I don't think that deep down Hunsaker and Mangold hate them. I think they're all brothers on the force, if you will. But I do think that they're competitive and fancy themselves as the better cops, absolutely. They're not fans of sloppy police work. Those guys don't even file a report. They just do what they want."
Pollak, who has made four films with Willis, offers, "I enjoy it each and every time, even a little bit more each time. It's always like playing in the big leagues. Everybody's bringing the best they have at all times. And any time that sort of talent creates that sort of energy on the set, it gets a lot more exciting."
According to Brody, Pollak himself brought a lot of entertainment to the set. "Offstage, Kevin doesn't shut up," Brody smiles. "He walks around doing impressions all day. He does everyone from Alan Arkin to Christopher Walken. He's hilarious."
Brody garnered a lot of attention during production, as well, though of a different sort, according to Tadross. "I'd walk down the street with him and young girls were all over him," he recalls. "He pretended not to notice but I told him, 'Hey, they're not looking at me.'"
Brody's character, however, is not quite so humble. "A guy like Mangold has more ambition than a bagful of boy scouts, and that's his downfall, but it's also what got him where he is," observes screenwriter Mark Cullen.
Jimmy and Paul and Hunsaker and Mangold end up on the trail of one man: murderous Mexican gang leader Poh Boy, played by Guillermo Diaz. "He's a mobster who's making a lot of money running drugs and running this corrupt business that he has, but he's also a guy that's completely obsessed with baseball."
"I really wanted Guillermo for the part of Poh Boy," says Smith. "He's so talented. He's always doing something out of the ordinary; he never makes the obvious choice. He's such a good bad guy."
"I think there's something off about Poh Boy," notes Diaz. "He's got what I call a crazy eye–I got a crazy eye when I played him, or at least I feel like I did. He just had something about him that was really interesting to play."
Diaz is no stranger to villainous roles. "I love it," he continues. "I feel like it's a form of therapy, in a way, when I'm playing a hard ass. I go home calm and mellow, not angry at all. I've gotten it all out. And Poh Boy, he was just so mean and angry and he did a lot of yelling and he was killing people. So I felt great at the end of the day."
One thing Poh Boy's got his crazy eye on is Gabriela, a Mexican beauty who has something the gangster wants, but who isn't eager to give it up–and it's not what one might think. When Jimmy and Paul stumble upon her, however, there isn't much she can tell them about her troubles. Ana de la Reguera, who plays the role, explains, "Gabriela doesn't speak a word of English, and Paul and Jimmy don't speak a word of Spanish." One thing the cops do know is that she's in a lot of trouble. "They take Gabriela to see a buddy of theirs at a Mexican restaurant, so he can translate," adds the actress.
Smith declares, "Ana not only looks amazing, but she is so talented and she brought so much humor to the role." The director reveals that even he took awhile to catch on to just how creative the actress was. "After about a week of working with her, I pulled her aside and said, 'I have a theory that your portrayal is a subtle homage to Diane Franklin in "Better Off Dead,"' and in a perfect imitation she said, 'Eet ees.' It rocked! I could see it. She found her own `80s homage to include in our homage to `80s buddy cop movies, and she played Gabriela with spine and with sass. It was a delight to have her around."
Of course it isn't just the wily thieves, drug cartels, competition on the force and language barriers that are giving Paul and Jimmy headaches in "Cop Out." On the home front, Paul is convinced his beautiful wife, Debbie, played by Rashida Jones, is having an affair. Meanwhile, Jimmy needs to come up with some fast cash to pay for his daughter Ava's wedding. Ava, played by Michelle Trachtenberg, needs a cool $48,000 for the nuptials, and Jimmy's at risk of losing out on the opportunity to cover the cost to ex-wife Pam, played by Francine Swift, and her wealthy, obnoxious second husband, Roy, who has offered to pay for the wedding in full...if only to see Jimmy fail to deliver. The role of Roy, one of several cameos in the film, was filled by veteran Smith star Jason Lee, who has appeared in nearly every feature Smith has directed.
Smith appreciated what his entire "Cop Out" cast brought to set. "They all came to elevate, not just execute."
JIMMY
"10-34, shots fired, eighteen hundred
block of Linden Avenue. One man down–"
"Cop Out" is set in various parts of Brooklyn and Queens, and shot in both of those boroughs, as well as in Yonkers. "We interacted with the people of the city on a regular basis, and they embraced us and we embraced them right back," remembers Smith. "There's nothing like making a movie in New York. The city was so good to us."
Production designer Michael Shaw received very specific instructions from Smith at the beginning of the project. "The first thing that Kevin said to me is that he wanted everything to be real so the comedy and action would play against a very authentic palette, and be grounded in reality. That's always an interesting challenge because your work has to be invisible."
Being set in Brooklyn and Queens, "Cop Out" gave Shaw the opportunity to work with one of the most familiar skylines in the world, New York City. "It's not as often you do the boroughs," said Shaw, "and we kept saying, 'This is where Jimmy grew up, this is where Paul grew up, this is where they work and this is where they live,' and we wanted to capture that."
"We were so happy to make an outer boroughs movie," says Smith. "Everybody romanticizes Manhattan, but how many people romanticize Queens?"
Notes Shaw, "Queens and Brooklyn are working-class neighborhoods. We wanted it to feel like you always were aware of the Hudson separating you from Manhattan. There were a lot of locations that incorporated bridges and skylines so that you always see that the center of the city is really in the distance, and that we are in the heart of a different environment."
Shaw and his team scoured to find locations in the boroughs that had that sense of authenticity Smith requested. "Big Al's Card Shop is our neighborhood card shop, but we wanted it to feel a little bit like a fly-by-night operation. Chris Hyannis, the set decorator, found a wonderful collectibles shop in Brooklyn and we modeled a lot of our look on that. The pizzeria is actually a place that detectives and cops go to all the time in Brooklyn, and we liked the idea that it was a real place; we didn't do anything to it."
While much of the visual look of the film is based on reality, there were two specific scenes where Shaw was able to enjoy considerable creative freedom: Poh Boy's memorabilia room and his batting cage in the basement. "Poh Boy, we assume, has been collecting since he was a little boy and he's got a fixation with baseball memorabilia. In this rundown house, the room has a pristine, museum-like quality to it. So here is somebody who is clearly ruthless and rough, but at the same time he's taking care of all of these priceless possessions. It's a quirky quality."
Before he could create the room, Shaw needed to do his homework. "We did a lot of research in order to be as authentic as possible. We probably spent six weeks seeing what collectors collect, and how they preserve their collectibles." The items in the room itself were all created by the art department. Shaw continues, "We had to buy new jerseys that looked old-fashioned and then we had to age them. We used a lot of our own creative license with all of it. And Major League Baseball gave us permission to use some of their stuff, but much of it we just created. I think it looked pretty convincing from afar, but if a real collector got close to it, he could tell that it's not the real thing."
One item that would be seen up close was Jimmy's cherished `52 Pafko card. For this prop, Shaw sought advice from an unexpected source. "I didn't know anything about Andy Pafko," says Shaw, "but my nine-year-old son is a huge baseball fan so he kind of helped fill me in on a lot of this. He was very excited that I was doing this project, so I told him he could be an advisor to us. He was thrilled to come in and look at the memorabilia room. He was a true critic, telling me what looked real and what didn't. We created a lot of cards with different names and pictures and stats. The Andy Pafko card was the only one that we had to get permission to use because he was an actual player."
Says Smith, "Poh Boy's trophy room was kind of our showpiece, essentially a little Cooperstown in the middle of this tenement house they run their gang out of. Michael Shaw and the art department did a wonderful job. I had one major request for them: I said, 'Do me a favor, make me a giant painting of Jesus teaching little Poh Boy how to bat.' And out of a 12-second conversation, they did it perfectly."
"It's a wonderful thing to work with a director who's so encouraging," says Shaw. "We painted a portrait of Poh Boy as a kid playing baseball with Jesus, and that kind of gives you an idea that he's a genuine fan."
JIMMY (CONT'D)
"–Suspect, Hispanic male, black T-shirt,
blue jeans. Undercover officer dressed
like a giant cell phone in foot pursuit."
Like he did with Shaw, Smith wanted costume designer Juliet Polcsa to keep her designs very real. "When we talked about Bruce and Tracy's characters," recalls Polcsa, "we knew they'd be casual. They're undercover, and we didn't want anything spectacular about them; we didn't want them to be GQ cops. So they had a very kind of normal, everyday guy look."
On the other end of the fashion spectrum were Hunsaker and Mangold, detectives who take their image a little too seriously. "These guys had a bit more of the suit-and-tie look going on," she continues. But there was one distinct exception. "I had Kevin Pollak in a sport coat, but he decided he wanted Hunsaker to wear cowboy boots, no tie."
Once Pollak got Polcsa on board with the boots, they took on a life of their own. "At first it was just boots for Kevin Pollak's character, but the younger guy, Mangold, who is a 'striver,' looks at those and of course thinks, 'I want to do that,' but he completely gets it wrong. So we decided to completely get it wrong in the most obvious way. I found this boot store in Brooklyn called Zapateria Mexico, and they speak absolutely no English, but they have these great cowboy boots. I went in there, and I can't even tell you how few words of Spanish that I know, but somehow I pulled it off," she laughs.
Polcsa found her research for this film particularly fascinating. To clothe the wrong side of the law, she says, "We contacted a New York City corrections officer who also teaches about gangs; he came and did a PowerPoint presentation for us that just kind of blew us all away. When I really looked at their clothing, one of the things that was clearly important was having a specific gang color."
The designer went to Smith to establish the color choice for Poh Boy and his "crew." "I felt we should choose from the Mexican flag: red, white or green. He chose green, but it was harder than I thought to find green stuff out there, where red and blue are readily available," she observes.
Perhaps the most memorable costume in the film took the form of a giant, foam cell phone, donned by Tracy Morgan's character during an undercover operation. It was also one of Polcsa's biggest challenges.
"The hardest thing about the cell phone was that Tracy had to be able to move. He had to be able to ride a bike, he had to run, and it was going to be hot in there as well. So, those are the things that I really had to think about and then make it look like a cell phone costume that somebody made up. We decided that it needed to be a flip phone, because that way I could have a hinge so he could bend, and the key pad could be around his crotch, where when he gets kicked." Movement and a minimal amount of targeted protection weren't her only concerns. "He gets attacked in the arm by a pitbull while he's in this costume," continues Polcsa, "so I talked to the animal trainer about what kind of padding we would need, and it was huge. Up until then, I had him in a tight sleeve, but for those scenes we would have to use this thick protective sleeve, so I had to make the sleeves big and massive throughout. It was such a comical costume, it looked quite Gumby-ish," she smiles.
Once the costume designer hit upon the prototype and tested it, her crew had to make 16 of them. "It's perfect in the first scene, and in the next he's tripped up a little, and so on so that by the time he's done, the whole thing was really dirty and falling apart. Luckily I have a wonderful costume maker who I've worked with before and she just thrives on making odd, weird things, so it worked out really well."
Morgan confesses he did quite a bit of preparation for the scenes in which he would wear the suit, with great results. "I sat by the phone a lot, I opened a couple of them up, and then I just channeled a phone. Everybody watching us film loved the phone, but I don't want the phone to be the star of the movie," he deadpans.
Willis did not envy Morgan's time in the heavily padded costume. "Those were a few very hot days for Tracy," the actor recalls, "but he was still hilarious. That was one of the many times you could hear the crew laughing, which is generally a pretty good sign."
DAVE
"Knock knock."
While the cast and crew of "Cop Out" were making a buddy movie, they were becoming good buddies themselves. Offers producer Michael Tadross, "From the bottom of my heart, I've never had a greater, more wonderful experience than I had on this movie. I was so sad when it ended. Kevin Smith is brilliant and just the nicest man, and everything about making this movie excited me and made me want to see it on the screen. I think it's hysterically funny, and it's got a lot of action. We laughed every day and I hope that the audience will, too."
Producer Marc Platt agrees. "I think that the relationship between Bruce Willis and Tracy Morgan, the diversity in the cast, the sheer fun everyone's having in this movie added to the film. I know when I watch the film, remembering the ride I took with those characters and the cast, and especially Kevin Smith, is exciting to me."
"I felt like I used different muscles directing 'Cop Out' than I do on the movies I normally write and direct," declares director Kevin Smith. "It's like I've been training my whole life to make this movie–it was a genre I grew up watching, I've seen all of these types of films multiple times. And I think enough time has gone by since this kind of movie has been made, that we got a chance to kind of reinvent it...well, not so much a reinvention as homage, total homage."