/Film UK - The Crazies Preview Tickets, The Exiles On DVD, Alice In Wonderland Boycott By Most UK Cinemas And Much More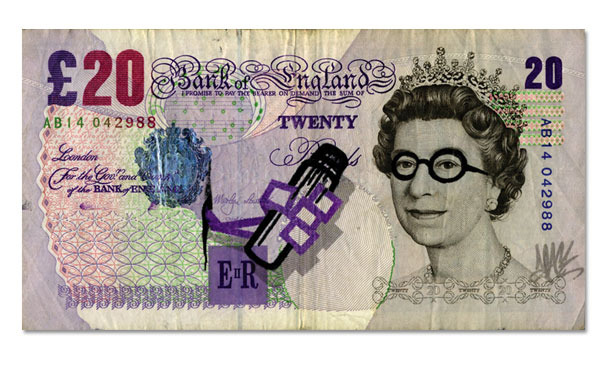 Coming to you weekly from my vantage point in good old Blighty, it's Slashfilm UK. Anglos and Anglophiles rejoice as every Friday I'll be bringing you a round up of news, links and coverage specific to the motion picture comings and goings here in the UK. Sometimes we'll be talking about films that have already played in the US, other times it will be films that won't make it to the US for a good while yet, and from time to time you'll read about films that will never make it to the US at all.
Talking of which, here are the details of that Meet-Up again:
Tuesday February 16th. The function room of The Master Gunner, 12a Finsbury Square, London, EC2A 1AN
Unlike in the US where the film has been cut to get a PG-13 rating, Neil Jordan's Ondine will be hitting UK cinemas intact. Even certificated 12A the sex scene will play undoctored. Here's the BBFC's description of said material, as well as their discussion of drugs and 'improper language' in the film:
The film also contains a discreetly portrayed and relatively short sex scene, as well as non-sexualised brief partial breast nudity. We also see what resembles an unlit joint in the hand of a drunk woman, but it is not specifically referred to or used. Two uses of 'spaz' are heard in an exchange between children, but the boy who uses it first is immediately challenged and corrected by a girl, although he is then called a 'fecking retard'.
They also discuss some acts of violence in the film, but not without entering spoiler territory. Don't say I didn't warn you.
Momentum are releasing Cash with Sean Bean and Chris Hemsworth to DVD in the UK on March 1st. The trailer is viewable at Twitch but it is not embeddable, yet. As a vehicle for Bean, this looks like fun.
Below are a trailer for The Last Seven with Danny Dyer, followed by a Dyer-centric clip from Harry Hill's TV Burp. I know which one I enjoyed more. The Last Seven appears to admit it's influences openly – tags on this trailer's YouTube page include 28 Days Later, I Am Legend, The Mist, ID4 and Doghouse. Cheekily, they include Will Smith too.
The UK DVD and Blu-ray of New Moon will apprently contain a UK exclusive Q&A with Robert Pattinson, Kristen Stewart, Taylor Lautner and Chris Weitz as well as the-first-ever-anywhere unveiling of footage from Eclipse. I can hear the cash registers ringing from way, way over here in Never-Gonna-Buy-It-Ville, Population Pretty Much Everyone Reading This.
The premiere of Danis Tanovic's Triage, with Colin Farrell and Christopher Lee, is to take place at the ICA on March 20th as part of the Human Rights Watch Festival.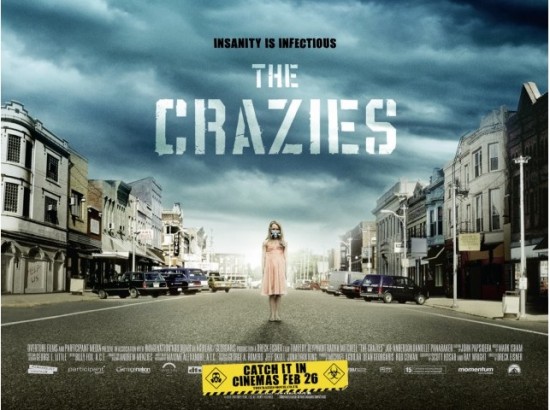 If you want to see an early screening of The Crazies this Monday night, February 15th in central London, and for free of course, all you need to do is the following:
Follow me on Twitter. Tweet the following link – http://bit.ly/slashfilmuk and include both the word Crazies and @brendonconnelly in your Tweet. Then, if you are randomly selected, I'll follow and DM you and confirm your tickets.
Can't wait for The Hobbit? Think those 2D films just won't be 3D enough? There's a touring stage version making it's way across the UK, if you fancy it.
UK HD Freeview launches next month. That's HD TV via a Freeview set-top box, so no sub necessary, no cables, nothing more than a half-decent aerial. Variety report a price of around £130 for the boxes, though I've seen a wider range of tags elsewhere.
The woman who first brought Harry Potter to producer David Heyman has been given the reigns of the UK Film Council's newly unified fund for development and production, says DHD. At a reported £150,000 Tanya Seghatchian will still apparently taking a 'substantial' pay cut. You could make one and a half 'Microwave' films, as per Shifty or Mum and Dad, for that amount.
It's looking like the three biggest cinema chains in the UK – Odeon, Vue and Cineworld – might just boycott Tim Burton's Alice in Wonderland. Why? Because Disney are planning to reduce their theatrical window from 17 weeks to 12 – which means the DVD will be on shelves less than three calender months after the film opens. After Disney threatened the same thing with Up a similar boycott was threatened, though it was Disney who backed down there. This time, though, they say they really won't.
Vue and Odeon have removed all Wonderland posters and standees from their cinemas and have stopped playing the trailers. What's more, I tried to call my local Vue to prebook, just to see what would happen, and while I couldn't do so, it genuinely seemed like the staff member speaking to me had no idea of the scenario unfolding at all.
I fully expect the cinema chains will fold this time. They might not do it right away, though, and you might find Wonderland comes to your local cinema a little later than the scheduled 5th of March. Disney are the ones with the real power here, by my reading. I think the theatrical window is going to keep shrinking, and quickly.
Oh, and by the way, the release window has been shortened in the US too, with no news yet of any boycotts. Tell me – who is playing this right? UK cinemas or US ones? And do you support Disney's decision?
The Guardian's Best First Film Award has been given to Gideon Koppel's sheep farming documentary Sleep Furiously. The judging panel consisted of Peter Bradshaw, Xan Brooks, Catherine Shoard and film director Joanna Hogg so the result, frankly, isn't anything of a surprise. Here's the film's trailer:
And, yes, they could have chosen Moon – or District 9, or Synecdoche NY or any number of other films.
Product placement has finally been made legal for British TV with exceptions in content – alcohol, tobacco products, junk food , and in context – news and current affairs, religious programs, kids TV and consumer watchdog type shows. Will TV benefit from a new influx of cash? Or suffer from a desire to focus on these 'placed products'?
The Evening Standard Film Awards saw Andy Serkis deservedly recognised for his turn in the frankly shambolic Sex & Drugs & Rock & Roll and Anne-Marie Duff, who is similarly wonderful, receive an award for her turn in the rather anodyne and dull Nowhere Boy. Best film was given to Fish Tank, while Terry Gilliam presented Sacha Baron Cohen the Peter Sellars Award for Comedy.
With echoes of Chan Wook Park in the title and the Spierig Bros. in the premise, Thirst: The Last Sin is to be a Vampire sci-fi film set in the far future, after the vampocalypse. It's going to be filmed in the UK later this year. Here's an excerpt or two from the official press release:
What happens when a simple group of Hunter-Gatherers decide to shift gears, take a bite of the forbidden fruit, and start farming? And what if these simple peoples aren't your typical innocent aboriginals?
That's the question Tony Todd will face in his newest role in Thirst: The Last Sin. Set hundreds of years in the future where only Vampires roam the earth. They built an empire, and squandered their only resource; man. Now, most of these immortal beings live out eternity in an abject state of unquenchable thirst, while a few cling to some pathetic remains. This is the allegorical story of the rise and fall of an empire, and lessons not learned.
Here's the trailer for Zonad, John Carney's follow-up to Once. It's a kind of comedy about a man who isn't actually an alien but acts like he is – think K-Pax but alcoholic and Irish. I'll be interested to see if this is half way decent. By my thinking, Once pretty much rested on the shoulders of Glenn Hansard.
There's a series of open auditions next week for Andrea Arnold's film of Wuthering Heights. They're looking for "Young Heathcliff" and "Young Cathy", so I dare say they'll be looking for at least vague looky-likeys of the lead Heathcliff and Cathy actors. Arnold says she has a picture on her cell-phone of at least one of the leads she's considering, but she's not saying who. Effectively, that means attending these auditions might be a complete waste of your time if you've got the wrong bone structure or features, and there's no way of actually knowing yet what the right bones or features would be though Arnold herself does.
YOUNG HEATHCLIFF (Male)
Description: 16-21 years old.
Genuine Romany Gypsy / South Asian/Mediterranean / Indian / Mixed Race appearance.
Ideally from Yorkshire.
No experience necessary.
YOUNG CATHY (Female)
Description: 15-21 years old.
Pale-skinned, fair-haired, feisty.
Genuine Yorkshire actresses preferred. Light Yorkshire accent required.
No experience necessary.
Audition Dates & Locations:
15th February 2010:
Jurys Inns Sheffield , 119 Eyre Street
10:30 – 14 – 16 Year Olds
2.30 – 17 -21 Year Olds
16th February 2010:
Jurys Inns Leeds , Kendall Street
10:30 – 14 – 16 Year Olds
2.30 – 17 -21 Year Olds
17th February 2010:
The Royal York Hotel, Station Road, York
10:30 – 14 – 16 Year Olds
2.30 – 17 -21 Year Olds
Edgar Wright is presenting Death Wish 3 at the Curzon Soho on Friday 19th Feb, as part of their Midnight Movies strand. Below is the poster. I know Death Wish 3 is quite funny in places, but overall isn't it just a tedious load of rubbish? Maybe the audience dynamic will change that completely. I do still wish he'd just chosen something actually really good instead.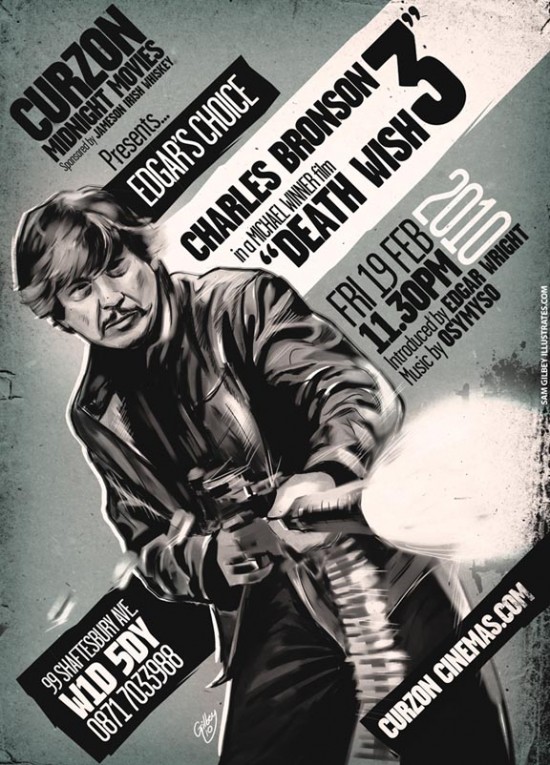 Available on DVD next Monday, February 15th, is the BFI's 2-Disc edition of Kent Mackenzie's The Exiles. This film was the first of it's kind in 1961, and sadly, still belongs to quite a select group: feature films about Native Americans and their communities. At release it only played festivals and very select bookings, never getting a wide release and has only been able to develop it's reputation worldwide since being remastered and rereleased in very recent years.
Having said that, it follows that I'd expect this BFI DVD to have exemplary picture and sound quality in keeping with other recently remastered works and, happily, my expectations were not only met but surpassed. This is a vivid, beautifully well judged transfer, textured most appropriately and pitched at . Of course, had the remastering happened even more recently the film could well have ended up on Blu-ray though, for now, it seems we'll have to "make do" with this gorgeous DVD version.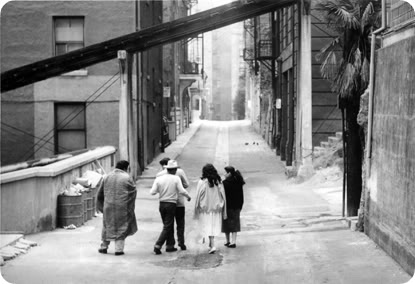 The film has several shifting perspectives, rooted in voiceovers derived from recorded interviews with young Native American folk from the Bunker Hill community in LA. This material, which was essentially documentary in nature, anchors the staged drama of the movie. All of the events portrayed are arranged into a condensed twelve hour weave that I'd be reluctant to call a plot. The characters do have arcs, though, however minor some of them may seem. Essentially, though, Mackenzie is looking to reflect as much human experience as he can, as quickly as he can – it's a miracle, I suppose, that he didn't end up with something like a soap opera.
Largely due to the relative plotlessness and shooting style, but also the frank depcition of a marginalised community, I'd say that comparisons to John Cassevetes' Shadows are inevitable. The film also shares some spirit with early Charles Burnett pictures, such as The Killer of Sheep or My Brother's Wedding. Burnett himself makes an appearance in the special features and, as a great fan of his films, found his perspective on Mackenzie's work particularly fascinating.
/Film readers will likely recognise Commanche by The Revels on the film's soundtrack as it was later used in Pulp Fiction (if this film doesn't provide one of Tarantino's favourite depictions of LA, I'll eat his boots). There's a bunch of other Revels tracks in the film too, providing great drive and energy and helping us surf to the end of the film's brief 70 minutes all too quickly.
Note that The Exiles was a student film and Mackenzie's Masters Thesis is included on the disc as a PDF – one of the most unexpected yet illuminating special features I have ever witnessed.
Here's the full list of supplements:
Four shorts by Kent Mackenzie: Bunker Hill 1956 (1956), A Skill for Molina (1964), The Story of a Rodeo Cowboy (1962) and Ivan and His Father (1970)
Extracts from Thom Anderson's film Los Angeles Plays Itself (2003)
Last Days of Angels Flight (1969): a short film by Robert Kirste
White Fawn's Devotion (1910): a short film by James Youngdeer, thought to be the first directed by an American Indian
2008 theatrical trailer
Feature commentary by Sherman Alexie and Sean Axmaker, plus audio interviews with Charles Burnett and a panel discussion with the cast and crew
Downloadable PDF files (DVD-ROM) of Kent Mackenzie's scripts, Master's thesis, press kits and much more
You can buy the disc directly from the BFI online store – where they have it categorised as a documentary. Hmmm. How very Flaherty of them.
Talking of the BFI, the full programme for their Lesbian and Gay film festival has been unveiled. Faith Trimel's Family has a great premise – on a hunch, I'll name it my early pick of the bunch. "African American lesbian drama in which a group of women decide they will all come out in the next thirty days" – sounds tense and has great scope for some good drama. The BFI note that is funny and surprising too, which sounds even better.
Here's the UK poster for Roman Polanski's The Ghost, hitting British screens on April 16th.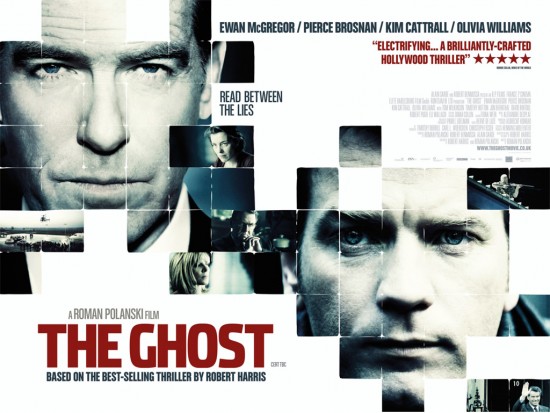 Absolut UK are hosting free screenings of Spike Jonze's robot-love short I'm Here later in the month. They'll even give you free vodka at the screenings. Register quickly on their site for the last remaining tickets.
Here's a trailer for another short film – the BAFTA nominated The Man Who Married Himself, with Richard E. Grant.
Steve Coogan has told the BBC that it's make or break time for the Alan Partridge movie and that a decision will be made this month.
The BBFC have details of all of the special features on the UK Imaginarium of Dr. Parnassus DVD and Blu-ray and there appears to be some Brit-only material in a 12-minute featurette from the film's London premiere.
Aardman have revealed more details of the upcoming Wallace and Gromit TV show:
World of Inventions will be a light-hearted and humorous look at real-life contraptions, gadgets and inventions.  Wallace, the master of innovation, will be sending live action camera crews around the world to capture the real but mind-boggling machines and inventions (and the inventors behind them) that have influenced his illustrious inventing career.  You'll not be surprised to hear that Gromit is already playing a very large part in holding the show together.
Nope, not surprised at all.