Killers Movie Trailer: Why Reboot Mr. And Mrs. Smith When We Have This?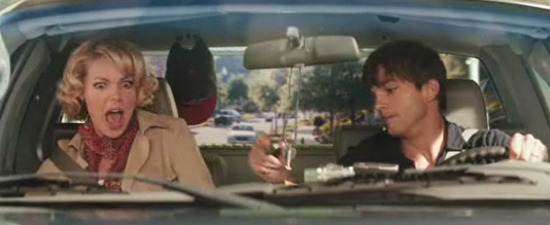 It was just a few days ago that we heard a prequel/reboot of Mr. and Mrs. Smith is under consideration. But why bother, when there's Killers, a movie about a woman who marries a seemingly perfect guy, only to discover that he's a government operative/assassin? Of course she gets in on the action, turning this into another buddy movie like Mr. and Mrs. Smith; i.e. one where the buddies in action could actually make out.
Oh, and the couple in question are Katherine Heigl and Ashton Kutcher. Maybe we do need that Smith reboot after all.
I don't think there's anything inherently terrible about putting Katherine Heigl and Ashton Kutcher in movies, but this trailer suggests that throwing them into something together is a disastrous idea. There isn't a whiff of chemistry on display between them. Kutcher looks like he's got more in ties to the car seat he slices up than he does with his onscreen wife.
(The positive notes: I do like some of Heigl's oversized screwball comedy facial expressions, and seeing Tom Selleck graduate to 'crotchety old dad' status could be a good thing. That's all I got.)
Killers director Robert Luketic previously directed Heigl in The Ugly Truth, and has also helmed Legally Blonde, Monster in Law and 21. I'll leave it up to you to decide (or pre-judge, as the case may be) whether that helps make this trailer make more sense. One possible saving grace: Ted Griffin did a script rewrite, so perhaps some of his sensibility will end up on screen.
I know you're dying to know more about this movie, and may be curious to know why it was originally called The Five Killers, and in fact why the hell it is still titled Killers, which really doesn't seem to make any sense. This synopsis may clear some things up, though it probably won't make the current title seem all that suitable after all.
Spencer Aimes is just your average, undercover, government-hired super-assassin accustomed to a life of exotic European locales, flashy sports cars and even flashier women. But when he meets Jen Kornfeldt, a beautiful, fun-loving computer tech recovering from a bad break-up, he finds true love and happily trades international intrigue for domestic bliss.Three years later, Spencer and Jen are still enjoying a picture-perfect marriage; that is, until the morning after Spencer's 30th birthday. That's when Spencer and Jen learn he's the target of a multi-million dollar hit. Even worse, the hired killers have been stalking the happy couple for years, and could be anyone: friends, neighbors, the grocery store clerk, even that crabby old guy shuffling across the street. Now Spencer and Jen are on the run for their lives. As their suburban paradise turns into a paranoid game of dodge-the-bullet, they must find out who wants Spencer dead and why, all the while trying to save their marriage, manage his pain-in-the-ass in-laws, keep up neighborly appearances and just plain survive. And you thought suburban life was easy.
Yahoo has this painful experience in HD, should you be so inclined.