Toy Story 3 Trailer #2: So Many Toys!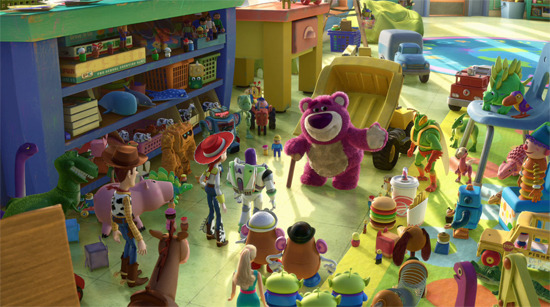 The second and final full trailer for Pixar's Toy Story 3 has been released online via MySpace. It is packed with new characters and detail, and suggests that the scope of this film might be a lot bigger than I think some of us were expecting. Check it out after the break.
The first full trailer for Toy Story 3 set up the basic story, in which Andy's toys are boxed up and donated to Sunnyside Daycare, where the returning characters meet a bunch of new toys and eventually try to escape.
This trailer doesn't even bother with most of the preamble. Instead, it goes almost straight to Sunnyside, where a whole slew of new characters are introduced. There's a full-scale toy society at Sunnyside, complete with some playthings whose intentions towards Woody, Buzz & Co. may not be quite friendly.
We see Ken (Michael Keaton), who acts as a sort of real estate manager by day, conspirator by night.  And while he looks like he stepped right out of The Birdcage, his scene in the trailer suggests that he's not going to be the first openly gay character in a Pixar movie. And when Woody and friends finally make their escape, there's a hint that the film turns into a full-on action movie, at least for a minute.
And yet my favorite thing about this trailer? Without a doubt, it's seeing the guest appearance from Totoro at about 0:49.
Toy Story 3 hits theaters in Disney Digital 3D on June 18, 2010. Check out the trailer below,  and see it in HD at MySpace.