Casting Notes: Three For Salvation Boulevard; Susan Sarandon Revives A TV Western; Jaime King Romances A Journalist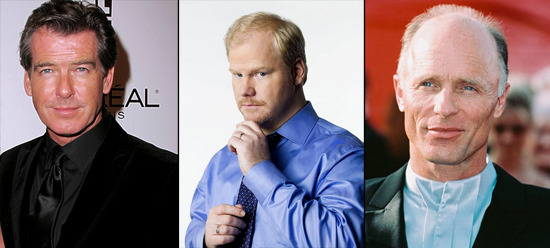 The indie comedy/thriller Salvation Boulevard got an interesting trio of actors today: Pierce Brosnan, Ed Harris and Jim Gaffigan have all joined the cast. What's the story? The film "is set in the world of mega-churches in which a former Deadhead-turned-born again-Christian finds himself on the run from fundamentalist members of his mega-church who will do anything to protect their larger-than-life pastor."
Having lived in a couple areas spotted by mega-churches I kinda love this. George Ratliff is directing from a script he co-wrote with Douglas Stone, based on Larry Beinhart's novel Salvation Boulevard. I didn't much like Ratliff's last film, Joshua, but this cast is great and the story sounds like a good time. [Variety]
After the break, Susan Sarandon and Jaime King land new roles.
Susan Sarandon is looking at the matriarch role in a revival of The Big Valley, an 1870s-set TV western that ran from 1965-69. She'd play Victoria Barkley, the head of the Barkley ranch in the San Joaquin Valley, which was originated by Barbara Stanwyk in the TV series. But will this be better than watching her using a ruler to spank a guy in a pig costume? I'm betting no. [THR]Jaime King will be the object of affection in Journies, a film about an online journalist who scores a one on one interview with an actress only to have it turn into a date with the woman. Grant Boucher writes and directs. IESB's Robert Sanchez is producing, and if I didn't know he was happily married this would sound like classic Hollywood wish fulfillment in action. King and her husband Kyle Newman (Fanboys) are producing as well. "It's Notting Hill with a touch of Entourage for the younger, hipper, Comic-Con crowd," Sanchez said of the script. Might be the first time I've ever been asked to think of the Comic Con crowd as 'hip', but OK, why not? [THR]