The Hughes Brothers Negotiating Deal To Direct The Live-Action Akira Remake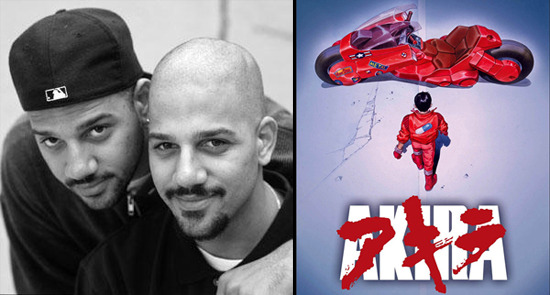 This is unexpected. Evidently Warner Bros. really liked what Albert and Allen Hughes did with The Book of Eli, because the brothers are reportedly finalizing a deal to direct the long-discussed live-action adaptation of Katsuhiro Otomo's manga Akira. Originally floated in early 2008 as a two-part film to be directed by Ruairi Robinson, the films were put off by the WGA strike, then the scripts took forever to crack and the project was reported dead. In September of last year the Akira remake was said to be alive and well, and that brings us to this interesting point. Did the Hughes Brothers show the proper chops in The Book of Eli to pull this off?
Vulture has the news, and says that the plan is once again to make two films, the better to cram in all of the six-volume graphic novel's complexity. (Recall if you will that the animated film was produced and released before the serial manga had finished publication, and was written with a different final act.) Vulture says the first film is due out next year, which is a quick turnaround for what seems like a huge project.
Last time we heard about the current screenplay, it was set in New Manhattan. The original manga and movie were set in Neo-Tokyo. The city is a new megalopolis built decades after the destruction of the original Tokyo in what seemed to be a nuclear attack, but was actually the manifestation of psychic power in a young boy named Akira. When similar powers awaken in Tetsuo, the runty member of a scrappy motorcycle gang, a new wave of massive conflict and destruction is set into motion. I'm wildly curious to read this script and see how it manages all the details.
Looking back, I suppose it isn't totally out of left field that the Hughes Brothers would get this gig. Their Book of Eli screenwriter Gary Whitta was working on the first Akira script for Appian Way and WB, and while he isn't the writer now (Mark Fergus and Hawk Ostby are writing) that connection can't be discarded.
Are the Hughes Brothers the right guys for this job? I'm not sure. They took Eli a lot more seriously than I think the script called for; had it been make as a slightly less self-important story it could have been a great b-movie. I thought the result was a bit dry and plodding, and given all the complexity of Akira 'dry and plodding' is certainly a massive risk. (One that Katsuhiro Otomo didn't manage to sidestep when he directed the anime of his own manga.) They'll also have to hone their eye for mainstream casting. Mila Kunis, so great in a movie like Forgetting Sarah Marshall, was a big mistake for Eli. Making a similar mistake in Akira will be costly. The characters have to carry the audience through a lot of complex plot, so any miscasting will have dire effect.