New Toy Story 3 Characters Revealed; Final Trailer Tomorrow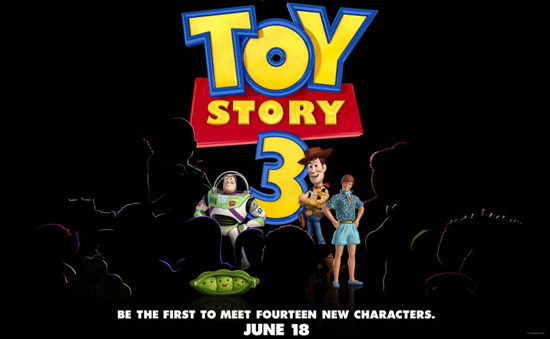 Expect to see many posters showing off newToy Story 3 characters before the film opens this summer. The image above teases a bunch of the new characters to debut in the sequel, and shows two new characters, Peas-in-a-Pod and Ken, the latter voiced by Michael Keaton. (Expect questions about Ken's sexual orientation in 3..2..1..) We've already seen another new guy, the Timothy Dalton-voiced Mr. Pricklepants, in a featurette. Here's how Peas-in-a-Pod is (are?) described, though I'm not sure if this is in-movie character stuff or real world ad copy for the inevitable plush toy.
Peas-in-a-Pod will quickly become a parent's favorite on-the-go toy. The soft, plush pod secures the happy peas inside with a durable metal zipper, making it perfect for the car or stroller. The Peas-in-a-Pod plush toy also develops fine motor skills by catering to a child's natural grab instinct. Pulling the three peas out of the pod will provide repeated enjoyment for infants and toddlers, and soon they'll learn to put them back in! Machine washable. Not for human consumption.
ComingSoon has the full poster for these lil' guys. Head over there to see a big character poster of small peas, and see a larger version of the character tease after the break. Finally, keep an eye open for the final Toy Story 3 trailer, which hits tomorrow.