Geek Deal: 25% Off Skywalker Ranch Wine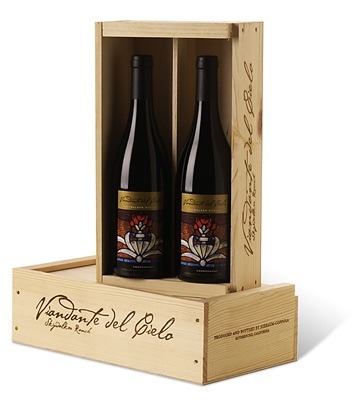 Francis Ford Coppola Winery is offering a 25% off coupon code for a couple of the Skywalker Ranch Wines: 2006 Merlot and 2006 Chardonay. The coupon Code is "THEFORCE" and is valid until February 15th 2010. For those unfamiliar with the origins of this wine, Viandante del Cielo is made by the winemaking team at Rubicon Estate for filmmaker and friend George Lucas from fruit (ie grapes) grown at Lucas' Skywalker Ranch in Marin County. More information after the jump.
Inland from the northern Pacific coastline and nestled between a small range of hills lies Lucas Valley and the vineyards of Skywalker Ranch. It is an area renowned for having exceptionally long, cool growing conditions, which contribute to mature fruit, profuse aromas, and complex flavors – perfect conditions for this style of Chardonnay.
The Marin County AVA is very special, made up of only 86 acres of vineyards. It is bordered on three sides by the cold waters of the Pacific Ocean and San Francisco Bay. In this colder climate, Pinot Noir makes up the bulk of the planting, so a Marin Merlot is a rare treat.
Skywalker Ranch is located on Lucas Valley Road in Marin County. According to wikipedia, the $100 million ranch contains "a barn with animals, vineyards, a garden with fruits and vegetables used in the on-site restaurant, an outdoor swimming pool and fitness center with racquetball courts, the man-made "Lake Ewok", a hilltop observatory, a 300-seat theater called "The Stag" as well as multiple theater screening rooms, and parking that is mostly concealed underground to preserve the natural landscape. Skywalker Sound was moved onto the ranch in 1987, now occupying the Technical Building. The Main House has a company research library under a stained-glass dome. Skywalker Ranch has its own fire station, which is part of the Marin County Mutual Aid system, and is often called on to assist firefighters in nearby Marinwood."
via: RebelScum