Casting Notes: New Talent For Drive Angry 3D, Bad Teacher And The Descendants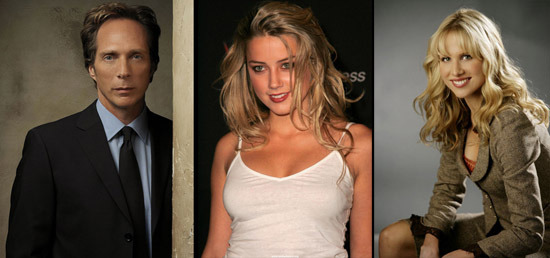 Good news for Drive Angry 3D, the new film from Patrick Lussier that already starred Nicolas Cage and, one would presume, a lot of cars: William Fichtner and Amber Heard are both joining the cast. The appeal of both should go without saying; too bad All the Boys Love Mandy Lane hasn't had a proper US release, so most of you will have to think of Heard's zombie appearance in Zombieland and her largely un-clothed work in the utterly awful The Informers.
What's Drive Angry 3D about? Cage is a man "driven by rage who is chasing the people who killed his daughter and kidnapped her baby. The vendetta/rescue spins out of control as the chase gets bloodier by the mile, leaving bodies strewn along the highway." Sounds like a feature-length expansion of the amazingly well-staged highway sequence from Final Destination 2. In 3D. You make the call about whether that's good or bad. [B-D]
After the break, Lucy Punch joins Bad Teacher and Shailene Woodley joins The Descendants.
Based on the fact that Jake Kasdan is directing I'm curious about Bad Teacher, the comedy featuring Cameron Diaz as "a foul-mouthed, conniving seventh-grade teacher who pursues a colleague after being dumped by her sugar daddy." We'd previously heard that she went after her school's model teacher but now it seems like she goes after a new guy, which "brings her into conflict with Amy Squirrel, the school's model teacher." Lucy Punch will play Amy Squirrel, and we've heard that Bradley Cooper and Jason Segel are in the running to be the main romantic interest. [THR]
Finally, Shailene Woodley will be the oldest daughter of George Clooney's character in The Descendants, the new film from Alexander Payne.
The film will adapt the novel by Kaui Hart Hemmings, which follows Matt (Clooney), a "besieged and wryly introspective attorney" who "wrestles with the decision of whether to keep his swath of valuable inherited land or sell it to a real estate developer." But Matt's wife is in an irreversible coma, and Matt and his two daughters travel to deal with her illness and other issues. Woodley will be the "fresh from rehab" 17-year old named Alex. [Variety]