Alice In Wonderland Superbowl TV Spot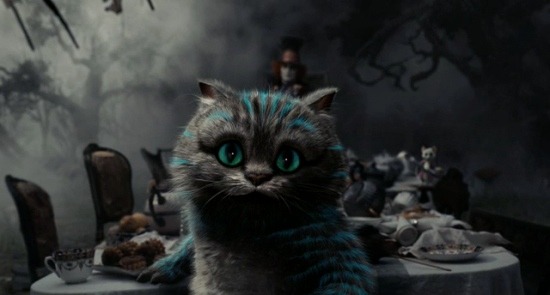 Walt Disney Pictures has released a new superbowl television spot for Tim Burton's Alice in Wonderland. You can watch it now, embedded after the jump. As always, leave your thoughts in the comments below.
[flv:http://media2.slashfilm.com/slashfilm/trailers/aiwsuperbowl.flv 550 230]
OFFICIAL SYNOPSIS
ALICE IN WONDERLAND (In Disney Digital 3D™ and IMAX® 3D)
WALT DISNEY PICTURES
Website: Disney.com/wonderland
Become a fan on Facebook: www.facebook.com/AliceInWonderland & www.facebook.com/madhattersubjects
Follow us on Twitter: www.twitter.com/importantdate
Genre: Fantasy Adventure
Rating: PG
Release Date: March 5, 2010
Cast: Johnny Depp, Anne Hathaway, Helena Bonham Carter, Crispin Glover, Matt Lucas, Marton Csokas, Tim Pigott-Smith, Lindsay Duncan, Geraldine James, Leo Bill, Jemma Powell, Mairi Ella Challen and Mia Wasikowska as Alice
Voice Cast: Alan Rickman, Stephen Fry, Michael Sheen, Timothy Spall, Christopher Lee, Paul Whitehouse, Barbara Windsor
Director: Tim Burton
Producers: Richard D. Zanuck, Joe Roth, Suzanne Todd, Jennifer Todd
Co-producers: Katterli Frauenfelder, Tom Peitzman
Executive producer: Peter Tobyansen, Chris Lebenzon
Screenplay by: Linda Woolverton, based on the books "Alice's Adventures in Wonderland" and "Through the Looking-Glass" by Lewis Carroll
From Walt Disney Pictures and visionary director Tim Burton comes an epic 3D fantasy adventure ALICE IN WONDERLAND, a magical and imaginative twist on some of the most beloved stories of all time. JOHNNY DEPP stars as the Mad Hatter and MIA WASIKOWSKA as 19-year-old Alice, who returns to the whimsical world she first encountered as a young girl, reuniting with her childhood friends: the White Rabbit, Tweedledee and Tweedledum, the Dormouse, the Caterpillar, the Cheshire Cat, and of course, the Mad Hatter. Alice embarks on a fantastical journey to find her true destiny and end the Red Queen's reign of terror. The all-star cast also includes ANNE HATHAWAY, HELENA BONHAM CARTER and CRISPIN GLOVER. The screenplay is by Linda Woolverton.
Capturing the wonder of Lewis Carroll's beloved "Alice's Adventures in Wonderland" (1865) and "Through the Looking-Glass" (1871) with stunning, avant-garde visuals and the most charismatic characters in literary history, ALICE IN WONDERLAND comes to the big screen in Disney Digital 3D™ on March 5, 2010.
Notes:
· Director Tim Burton and actor Johnny Depp reunite for this new adventure. The pair first worked on the 1990 hit "Edward Scissorhands," and quickly became close friends. Together they continue to create extraordinary and unusual films including "Ed Wood," "Sleepy Hollow," "Charlie and the Chocolate Factory," "Corpse Bride" and "Sweeney Todd: The Demon Barber of Fleet Street."