Universal Casts Taylor Lautner In Stretch Armstrong 3D. Seriously.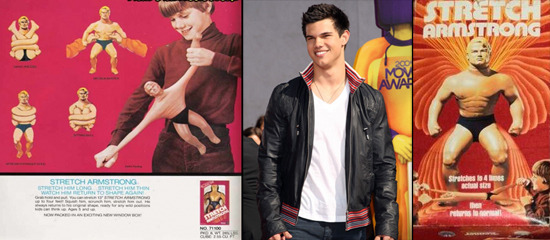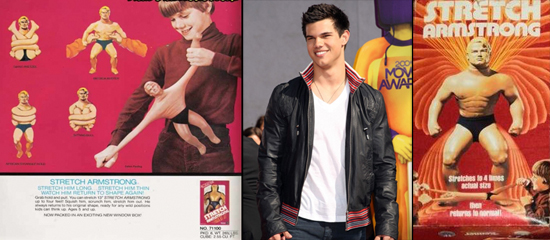 Yeah, you read that headline correctly. Somehow it makes sense that the kid who was in one of the early unnecessary entries of the current wave of 3D movies, The Adventures of Sharkboy and Lava Girl 3D, will now topline one of the latest unnecessary entries in the current wave of 3D movies. But while Taylor Lautner starring in a 3D Stretch Armstrong film may make a vaguely weird sort of sense from that slim perspective, we don't have to like it.
What's the plot? Lautner would be Armstong, "an uptight spy who stumbles across a stretching formula, which he takes and must now adjust to in everyday life and when fighting crime." Yep. When I see Lautner, I definitely think 'uptight spy.'
Aside from the addition of Lautner, the rest of the core creative team hasn't changed since we last checked in on the film. Steve Oedekerk's screenplay is still the basis and Brian Grazer is still producing. Those two make such a weird pair. Grazer has made many notable movies while Oedekerk has written a lot of movies notable for being crap. (He's got a bunch of In Living Color writing credits, which count for something, but they might not outweigh all those thumb movies.) We don't know who is directing. Ron Howard's name has been floated, but not confirmed.
The great part about THR's report is the quote from Universal's co-chairman Donna Langley, who said, "In the past two years, Taylor has emerged as a real star at the global boxoffice." Since Lautner was a small part of the first Twilight, the sequel New Moon is the only success that could peg him as a 'star'. In that case, she's banking on the appeal of a star who hasn't been proven to have a draw outside the goliath Twilight films, and who may not be able to draw an audience if he keeps his shirt on.
I'm not even knocking Lautner; the kid has presence and charisma, and was certainly the best of the core trio in New Moon. But there are a lot of people banking pictures without much inherent value (Max Steel, Cancun, this one) on the reception given to a single performance.
Editor's Note: Read the full press release below:
TAYLOR LAUTNER TO PLAY STRETCH ARMSTRONG AS UNIVERSAL POSITIONS TWO MAJOR EVENT RELEASES FOR 2012
Battleship Set for Global Memorial Day Weekend Release and Stretch Armstrong Will Be Made in 3-D
UNIVERSAL CITY, Calif., Feb. 5 — Universal Pictures announced breaking news about two of its upcoming event films based on popular Hasbro brands, Stretch Armstrong and Battleship.  The announcements were made today by Universal Pictures Chairman Adam Fogelson and Co-Chairman Donna Langley.
Taylor Lautner (the Twilight saga) will play the title character in the upcoming 3-D superhero adventure Stretch Armstrong, to be released in 2012.
The epic action-adventure Battleship has moved its release to May 25, anchoring the Memorial Day weekend of 2012.
"Universal has put all the elements in place to successfully launch two of our classic Hasbro brands on the big screen," said Brian Goldner, President and CEO of Hasbro, Inc.  "The addition of Taylor Lautner and the 3-D twist to Stretch Armstrong, in addition to giving Pete Berg and the filmmakers the extra time and resources to make Battleship an even bigger summer blockbuster, is sure to pay dividends when the film is released in 2012."
Peter Berg (Hancock, The Kingdom) came aboard in Fall 2009 to produce and direct Battleship, which will unfold as a massive Naval adventure across the seas, in the skies and over land as our planet fights for survival against a superior force.  Originally slated for release in July 2011, the film was moved to give it the time and resources to thoroughly realize its huge-scale ambitions and position it for Memorial Day weekend in 2012.  Scott Stuber (The Wolfman, Couples Retreat) is producing Battleship through his Universal-based Stuber Pictures, and Sarah Aubrey (The Kingdom, upcoming Dune) is producing with Berg for Film 44.  Brian Goldner and Bennet Schneir are producing for Hasbro.
"We believe in Pete Berg and the incredible vision that he and the Battleship team have for this film," said Fogelson.  "We're honored that Hasbro is partnering with us to turn one of its landmark properties into a huge summer box-office hit."
Stretch Armstrong is moving to 2012 to allot time to shape the project into a 3-D superhero adventure and to accommodate Lautner's existing commitments.
"In the past two years, Taylor has emerged as a real star at the global box office.  He brings the perfect balance of energy and athleticism to the role of an unlikely super hero with a fantastic super power," said Langley.  "We couldn't be more pleased that he has agreed to be our Stretch."
Stretch Armstrong is based on the iconic action figure made popular around the world beginning in the 1970s and re-launched in the 1990s.  Academy Award®-winning producer Brian Grazer (A Beautiful Mind, 8 Mile, American Gangster) will team with Hasbro to bring Stretch Armstrong to life.  Steve Oedekerk (Bruce Almighty) has written the screenplay, and Hasbro's Goldner and Schneir also produce.