Sundance Buys: IFC Takes Joan Rivers Doc; Catfish Bought By Relativity Media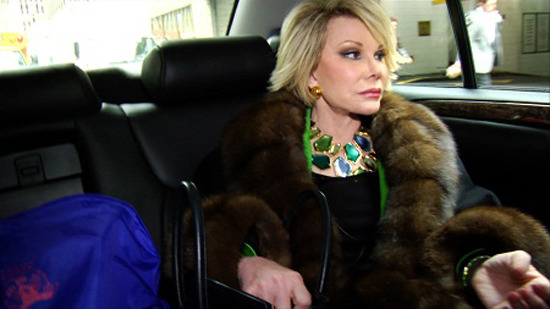 UPDATE: IndieWire reports that The Weinstein Company picked up The Tillman Story today. The company has been the frontrunner to buy the film for the past week. Original article follows.
Purchases at Sundance didn't come fast and furious this year — do they ever anymore? — but in the wake of the festival a few high-profile films have been fairly swift to land distribution deals. The docs Catfish and Joan Rivers: A Piece of Work have both secured distribution in the US. A few other films will probably be picked up soon: The Tillman Story, Animal Kingdom and Welcome to the Rileys are all close to having deals, but for now we'll focus on the two docs.
Joan Rivers: A Piece of Work got great reviews at the fest for being an even-handed portrait of the firebrand Rivers, who is depicted over the course of a year. Not having seen the film I'll crib from EW's Owen Glieberman, who said "What's inspiring is that while so many fearless comedians were consumed by their demons, Rivers is just the opposite. Letting her demons run wild is what saves her, every day. Her comedy prickles and stings because, as you get to know her, you can see that she is, above all, a compulsively frank and honest person."
The film got the Documentary Editing award at Sundance, and IFC will now give it a theatrical release later this year. [THR]
Meanwhile, the deal I talked about a couple of days ago, where Brett Ratner was teaming with Ryan Kavanaugh and his company Relativity Media in an attempt to purchase rights to the minor Sundance sensation Catfish, has gone through. Relativity took US, UK and Canadian rights to the documentary film that follows a young photographer as he befriends an odd family in the midwest and eventually learns there is more (or less) to the fam than he imagined. Rogue Pictures, owned by Relativity, will release the film with help from Universal. [Screen Daily]