Bill Condon Creating Tilda, An HBO Series About A Hollywood Movie Blogger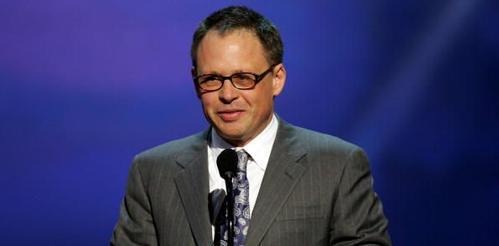 Too bad Russ has already filled the week's /Film: The Movie quota, because this post is writhing on the floor for our fave bad joke. Director Bill Condon (Dreamgirls, Kinsey) is developing and writing a proposed half-hour series for HBO set in the hectic and catty world of Hollywood movie blogging. If the network takes the next step forward, THR reports that Condon would direct the pilot episode, in addition to being the series' executive-producer.
Oddly titled, Tilda, with no relation to the ivory actress, the lead character is said to be a female, take-no-prisoners veteran writer/blogger, which automatically conjures Deadline's L.A.-based Nikki Finke, followed by the less polarizing and /Filmcast-friended Anne Thompson. I checked and was disappointed to find that Finke has not yet commented on the series using a characteristic "TOLDJA!" and complimentary clip art of a monitor and a steaming cup of joe.
Sharing writing and producing duties on Tilda is Cynthia Mort, who worked on Will & Grace and created the sexually provocative, short-lived HBO series (and Adam Scott-starrer) Tell Me You Love Me. Regarding Tilda, it could offer a field day for insidery jokes and awkward sweatshirt-clad cameos from West Coast peers. Further blending the worlds of film and high-concept teevee, Condon recently helmed the pilot for Showtime's cancer-topical comedy series The C Word.