/Film UK - Exclusive Tony Clip, Details Of A Movie Geek Meet-Up And Much More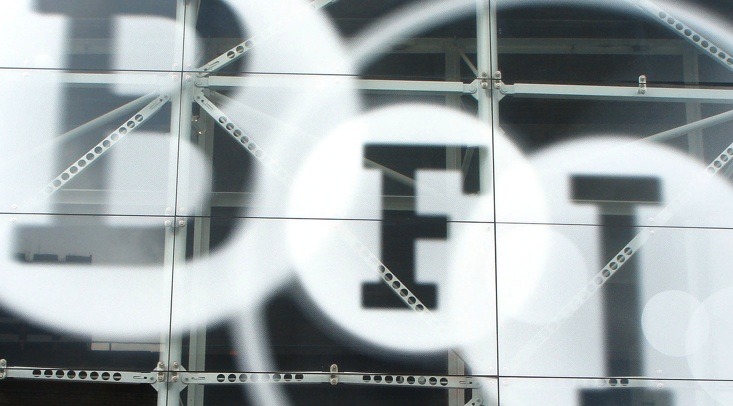 Coming to you weekly from my vantage point in good old Blighty, it's Slashfilm UK. Anglos and Anglophiles rejoice as every Friday I'll be bringing you a round up of news, links and coverage specific to the motion picture comings and goings here in the UK. Sometimes we'll be talking about films that have already played in the US, other times it will be films that won't make it to the US for a good while yet, and from time to time you'll read about films that will never make it to the US at all.
Empire got the exclusive first look at a UK quad poster for Kick-Ass. Here it is.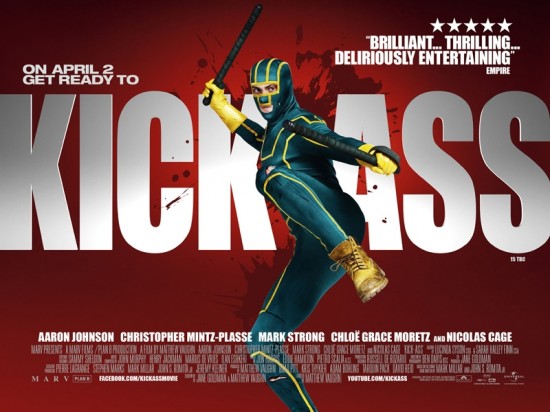 By the way, I've seen Kick-Ass but I'm under embargo.
Red Riding: 1974 director Julian Jarrold is moving on to a Boy George biopic. Broadcast reveal that Worried About the Boy will star Douglas Booth as Boy George and feature appearances from "Mathew Horne as Culture Club drummer Jon Moss, Marc Warren as Visage frontman Steve Strange and Mark Gatiss as music impresario Malcom McLaren."
The Movie Geeks of London are having a meet-up next Tuesday, February 16th. I'm going. Coming along too? Let me know via Twitter. We'll be in the function room of The Master Gunner. Here's the address:
12a Finsbury Square
London
EC2A 1AN
Here comes the trailer for Irish apocalypse drama Ditching, courtesy of Quiet Earth:
Fantasy action film Dragon Fire is to be the first production from Cinedome, Metrodome Distribution's fledgling attempts to actually make pictures. Screen Daily had this funny quote from Metrodome CEO Peter Urie:
We have had quite a bit of success, on the distribution side, with fantasy films based around dragons, and for some reason the British public seems to like dragons.
Do we really? More than other nations? I wonder. The myth of St. George may be the blame, I suppose.
Anyway – Dragon Fire. Danny Glover and Vinnie Jones are starring, it's shooting now in Utah and based upon Moby Dick. Acccording to The Hollywood Reporter the cost will be just $5 million – so either expect some astonishingly clever FX work on a budget, or an ugly film hanging on a chewed up shoestring. Just recently Moon showed how wonderfully the former could be attained, so I'm not giving up hope.
The Guardian quote creative media training body Skillset as saying 34% of directing students in the UK are female – so why isn't this translating into more women making feature films? I can talk to this from personal experience as most – though not all – of my most accomplished students have been girls. From their feedback, it would seem that any lack of success won't be want of trying. Maybe there's a clue to the underlying issue in all of the reports about Kathryn Bigelow that stagger back in amazement, blown away that a woman would become an action film director.
Hammer Films have employed Kick-Ass and Stardust scribe Jane Goldman to script and James Watkins to direct their new big screen adaptation of Susan Hill's The Woman in Black. The stage version of this truly classic ghost story has been a long-running favourite in London. I've heard people absolutely screaming their lungs out during performances, which is always fun. Neither Screen Daily or Variety mention it, but according to Bloody Disgusting the film is going to be in 3D.
Ridley and Tony's production company
Scott Free
have announced new hires Surian Fletcher-Jones and Jack Arbuthnott who we can expect, as per
Screen Daily
, to expand on the company's British productions and bring a "dynamic and fresh approach ... across feature filmmaking and television drama"
The 54th London International Film Festival will take place between October 13 and 28 this year. The deadline for submissions will be June 25 for shorts and July 9 for features.
All City Design are showcasing their unused designs for the poster of Philip Ridley's brilliant Heartless. Below is one of my favourites, and then the trailer which Russ also wrote about this week.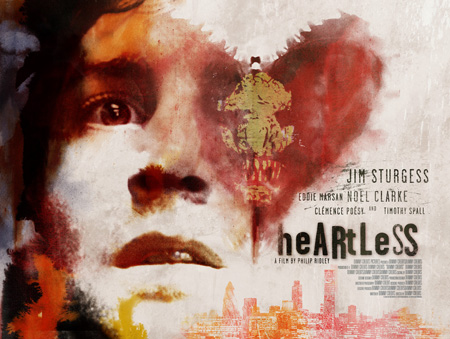 Does the UK want a Hollywood-style walk of fame? Apparently so – The Guardian quote a statistic from The Performing Rights Society for Music that claims 76% of the UK backs the idea. Their journalist Michael Billington doesn't agree, and calls the plan "one of the daftest ideas I've ever heard". Which, of course, it patently isn't. Personally, I don't think we need anything of the sort, though I wouldn't oppose one and if there was one, I'd probably go take a look at it. Once.
According to NESTA research published by Screen Daily, 89% of people who have attended a cinema for a live-link up with a stage production at the National Theatre have said they'd do so again. I guess that means there will be enough cash in this to keep it going, and ultimately, Danny Boyle's stage production of Frankenstein actually will end up in cinemas – at least as a live broadcast.
Here's a new poster for Brendan and the Secret of the Kells (as I believe it will be called in the UK) from Total Film. The film is an Irish-French-Belgian co-production with those roots really taking hold in Ireland's Cartoon Saloon.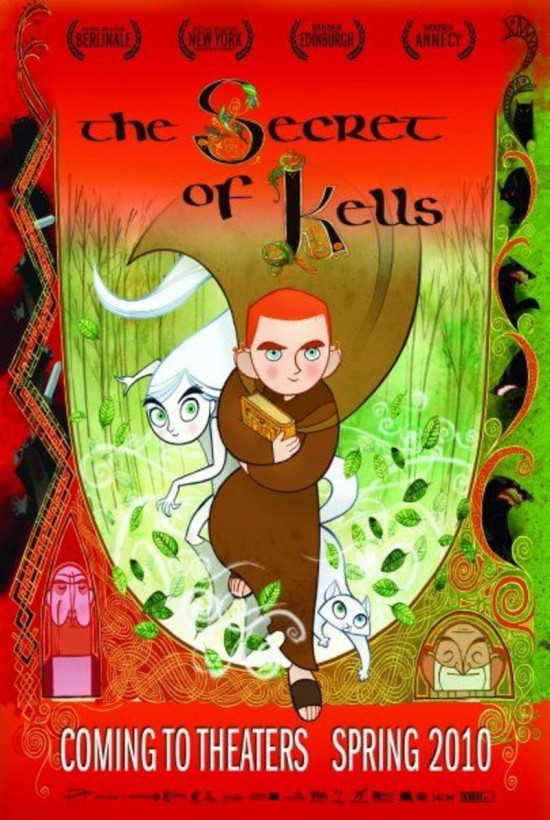 Here's a little burst of Dr. Who business -
First, Bill Nighy is to appear in the Richard Curtis scripted edpisode as a Vincent van Gogh expert who, according to Digital Spy, dresses like The Doctor.
Next, there's an auction going down at Bonhams on February 24th in which you'll be able to bid on your own Dalek or Cyberman, on Captain Jack's Range Rover or maybe Kylie Minogue's waitress outfit – more details at the BBC.
Finally, and again from Digital Spy, are the first three episode titles for the new series. The Eleventh Hour and The Beast Below are the openers, written by Stephen Moffat and then, part three will be Victory of the Daleks, script by Mark Gatiss.
Here's the trailer for Shank, the UK future-gangs movie I seem to write about every week.
Last weekend, Precious pulled in a UK screen average of £5,552. This was behind Avatar, say The Guardian, but more than double of any other film in the top 10. What it wasn't behind – and which they didn't make clear – was Disney's astonishing and beautiful The Princess and the Frog, playing on only one screen and netting £15,651.
For the record, I absolutely hated Precious. Despised it. Indeed, it's been a couple of years since I've seen a film that angered and annoyed me so much. Please don't think it's the content I'm angry about – in the sense of the story the film attempts to tell, or the milieu or the characters it tries to paint – but the sheer inarticulacy of it's horrid aesthetic. It was an indulgent, arrogant, unseemly spectacle of bad taste and monumental hubris. I hope Lee Daniels never, ever gets to waste another dollar on one of his repugnant festivals of stylistic scrap metal.
And relax.
Now, a film I enjoyed considerably more was Gerard Johnson's Tony, identified on the poster or DVD case as Tony London Serial Killer. The evocation of Henry is fairly apt.
Here's a clip from the film, which I'll then place in context a little.
So, I'm sure you can already tell that scene isn't going to end well. Hopefully you also caught on to the pitch-black sense of humour that pervades many of the film's sequences.
Peter Ferdinando's performance as the lonely and pathetic killer is definitely the film's strongest weapon, though director Gerard Johnson does a pretty good job in weaving sadness, unease and dark comedy together. A lesser lead performance and a weaker grip on the tone would have let the film slip too far and succumb more fully to its narrative shortcomings – ie. what is supposed to feel like a plotless week-in-the-life actually has some pretty transparent plot maneuvers going on.
Tony opens in UK cinemas and on VOD today, with the DVD launching on Monday. The DVD has a commentary track and two shorts which, alongside the feature, reveal quite clearly how much of an influence Alan Clarke has been on Gerard Johnson.  Your VOD options include iTunes, Filmflex Sky Box Office and Love Film so, frankly, there's little excuse. If you're in the US, you'll have to wait until April.
Expanding nationwide across the UK today is The Princess and the Frog, Disney's astonishing and beautiful return to hand-drawn animation. Over the weekend we'll be publishing a frankly epic series of videoblogs that I filmed when at Walt Disney Animation Studios. Please try to stop by and see them because I'm very proud of the material I was able to gather and of the great interviews I was able to conduct.