Jake Scott's Sundance Guest Blog #4: The Dust Settles
Editor's Note: Filmmaker Jake Scott has been blogging his Sundance experience on /Film. You might not know 42-year-old director Jake Scott yet, but you will. You definitely know his father Ridley, the filmmaker behind such films as Alien, Gladiator, and Blade Runner (Jake worked in the editing room during the school holidays). Chances are, you've probably never seen Jake's directorial debut was a 1999 British historical action comedy titled Plunkett & Macleane. He's directed iconic music videos for REM's Everybody Hurts, Radiohead's Fake Plastic Trees, The Cranberries' When You're Gone, as well as videos for Soundgarden, The Smashing Pumpkins, Live, Blind Melon, Tori Amos, Lily Allen, The Strokes, The Verve, and U2. Jake's second feature film, Welcome to the Rileys premiered in Sundance's US Dramatic competition. The story follows a damaged man on a business trip to New Orleans who is seeking salvation by caring for a wayward young woman. The movie stars James Gandolfini, Kristen Stewart, and Melissa Leo.
You can read Jake's first blog post here,  his second here, his third blog post here, and his fourth and final post, after the jump.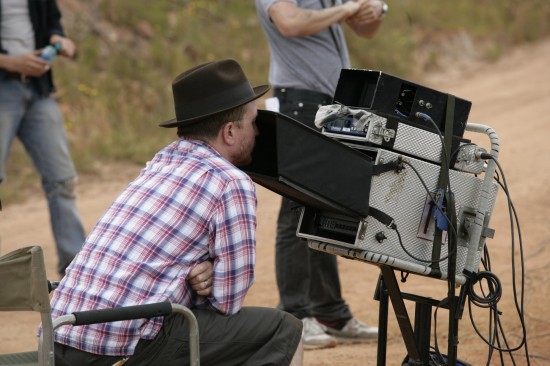 Working hard on my latest project in South Africa
Well, that was quite a week. Saw some incredible films, especially an Estonian movie called 'The Temptation of St. Tony' written and directed by Veiko Ounpuu. Quite the most riveting thing I got to see. There were many walk outs but this is not a film for everyone. It's about one man's moral confusion in a world turned upside down. It's an odyssey through hell. I felt the same way when I first discovered Tarkovsky or Bela Tarr and clearly this director is influenced by them both. The sound design and stark, sooty black & white photography are superb.
A film called 'Winter's Bone' won the festival and deserved to. It's a sensitive, very real rites of passage about a girl living in the Ozark Mountains. It's astonishing to think that communities like this still exist in modern America, so intact and so outside contemporary society. An amazing journey. I couldn't help thinking of another favourite film "Ratcatcher" by Lynn Ramsay.
The World Dramatic Competition was won by an Australian director, David Michod, with a film called "Animal Kingdom". I didn't get the chance to see this but I heard it was incredible. It's essentially a revenge tale set in the Melbourne Underworld.
'Welcome To The Riley's' got some great press and a few offers of distribution, so we're deep in negotiation which I'm very happy about. I'm back in Los Angeles finishing my Philips short film "The Hunt" which you'll be able to check out with all the others very soon. They're pretty amazing films I have to say.
I'm off to the Berlin Film Festival in about two weeks to show my film there and hopefully meet some more great filmmakers.
Oh and my wife's short 'Logorama', directed by H5 got nominated for an Oscar, which has done wonders for our sex life!
Stay creative, smile at adversity and grumpy people and try to be kind, the world's a better place that way.
Namaste!
JX