Cool Stuff: Two Wolfman Posters And One Very Limited Soylent Green T-Shirt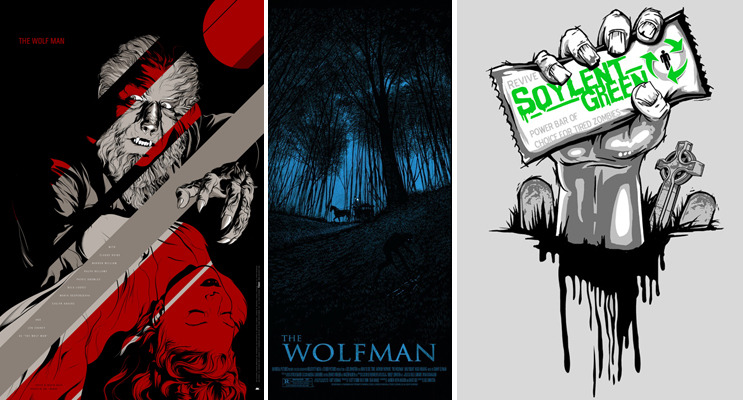 I'm bunching up two different Cool Stuff posts here, but just as I was about to highlight the two great new Alamo Drafthouse posters for The Wolf Man and The Wolfman I saw this tasty little Soylent Green t-shirt that I thought folks might get a kick out of. And because the shirt is from TeeFury it is available today only — about ten more hours, to be exact. Then again, the two posters might not last much longer than that. Hit the break for details on all of them.
First up are the two posters made for Alamo Drafthouse showings of the classic The Wolf Man and Universal's remake The Wolfman.
(Click either image to see a large version.)
MondoTees is selling Martin Ansin's 24"x36" poster for the classic The Wolf Man for $45; there's also a variant with glow in the dark ink that sells for $80. Meanwhile, Daniel Danger's image for the new The Wolfman is 12"x24" and runs $40. Sadly, Mondo's deal with Universal prohibits these being sold to buyers outside the United States. If you can't connect to Mondo now, keep trying; they've been hammered with traffic while selling these and had to switch servers.
Between the two designs I prefer the one for the classic film. Daniel Danger's is good, too, but to be honest I always look askance at his stuff because it seems like he's just appropriated the style of fellow poster artist Dan McCarthy. The two artists apparently have no beef with each other (they've done shows and interviews together) but the similarity still bugs me. Danger's stuff is pretty, though, and this poster is solid.
Finally, there's the Soylent Green shirt from TeeFury, with the titular subject of the oft-quoted 1973 Charlton Heston film turned into a power bar for zombies.
If I have to explain why Soylent Green is the ideal substance of choice for a zombie power bar then...well, I don't know what I'll do. Be sad, I guess. The shirt is fun, though. I haven't ordered from TeeFury before (this will be my first) but I like the idea that they do a new design every day. For $11 shipped, I'm willing to check it out.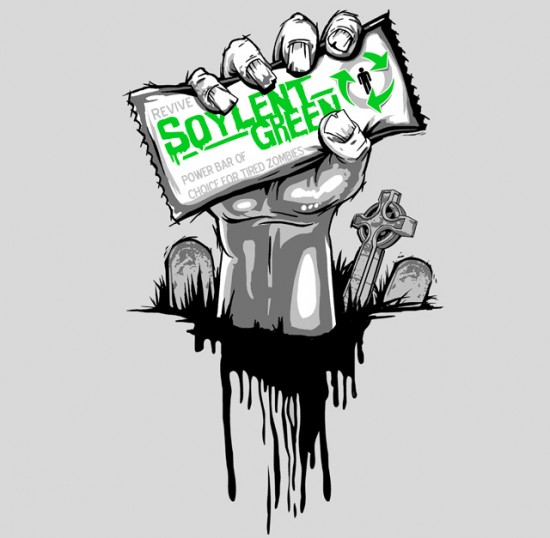 Cool Stuff is a daily feature of slashfilm.com. Know of any geekarific creations or cool products which should be featured on Cool Stuff? E-Mail us at orfilms@gmail.com.