Exclusive Clip From The Red Riding Trilogy, Britain's Ambitious Serial Killer Epic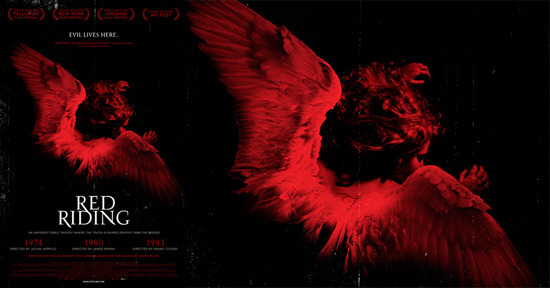 Our stateside readers who dig serial killer procedural-thrillers in the vein of Zodiac and Silence of the Lambs should make a blood-scrawled note of Britain's Red Riding Trilogy. This Friday, the epic triptych begins a one week run at IFC Center in New York City, complete with two intermissions and a free popcorn (caution to the hemoglobin phobes, the elderly, and flatulent ). I recently attended all three entries, titled 1974, 1980, and 1983, and definitely recommend the five-hour experience, both for the project's interconnected, serpentine plotting and to contrast the clear stylistic and tonal differences between the three directors.
Below is an exclusive Slashfilm clip from 1974, which I felt in my review is the superior entry thanks to the charged noir vision of director Julian Jarrold (Brideshead Revisited) and a star-making performance by Andrew Garfield, as a young journo submerged in idealism, booze, and mutton-chopped pheromones. Garfield's conveyed arrogant dissonance seethes through in this excerpted scene, and the actor is set for a high profile 2010 with upcoming roles in David Fincher's Facebook drama The Social Network and Mark Romanek's mysterious Never Let Me Go. He also participated in Spike Jonze's short film and /fave, I'm Here...
[flv:http://media2.slashfilm.com/slashfilm/trailers/redriding1974.flv 550 366]
Without spoiling the film, here's context for the above scene: Garfield's character, Eddie Dunford, hungry for his big break and his mum's approval, is researching and investigating the fresh case of a missing girl in Northern England. In the cig-smoke clouded office of his newspaper, Dunford's equally clouded by older, world-weary cynics. In this particular scene, Dunford is adamant that the recent arrest of an alleged abductor is bullocks. At clip's conclusion, he finds a suspicious card on his boss's desk, evidently filled with warm-sentiments from a shady developer named John Dawson (the unseen Sean Bean in a sleazy role that rivals Garfield's in arrogant machismo).
Dawson's card is just further proof that the media is in bed with shady elites who are in bed with the cops—all the while nobody seems to give a shit that young girls—those eluded to in the trilogy's title—are being picked off the street by a madman (men?). Yorkshire in the '70s, evil was a fan. Also, note the presence in the scene of the always-good Eddie Marsan, who adds a wild-and-defeated-eyed unpredictability to the film(s)—a familiar gift to anyone who saw him in last year's Happy-Go-Lucky.