First Photo Of Jeff Bridges In Tron Legacy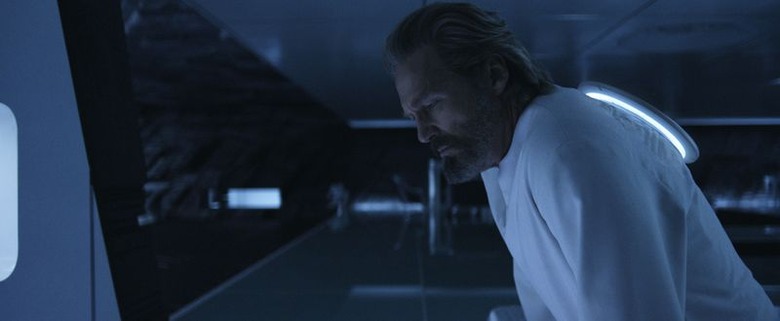 Hey, I didn't know Jeff Bridges was in a remake of Logan's Run! He looks really awesome in this first image from...oops. That's Bridges in Tron Legacy, isn't it? And is that a disc attached to his back, or is he just happy to have an Oscar nomination? Refresh yourself on details about the dual characters for Bridges and get a high-res version of the image after the break.
I like that this first real image of Bridges calls back to the Comic Con teaser, aka the VFX Concept Test footage. That stuff isn't actually going to be in the film, remember. It was just created as proof of concept. But looking at this, it seems that the test footage is very similar to stuff that will be in the final film.
When we last heard from Tron director Joseph Kosinski, he said that Bridges would be playing two characters: the 'real world' Kevin Flynn and a new version of his digital character, Clu. "I'd say he's Clu 2," the director said. "There was a Clu in the first film who looked like Jeff but was very simple in terms of his abilities. He's very stiff. Clu 2 is a second incarnation of Kevin's avatar. He doesn't only look like Jeff, but he can think like him too. So it's a whole new level of artificial intelligence." So which one is this? The disc suggests Clu, but we don't know for sure.
Click the image below to see a larger size.
The official synopsis reads like so:
TRON: LEGACY is a 3D high-tech adventure set in a digital world that's unlike anything ever captured on the big screen. Sam Flynn (GARRETT HEDLUND), the tech-savvy 27-year-old son of Kevin Flynn (JEFF BRIDGES), looks into his father's disappearance and finds himself pulled into the digital world of Tron where his father has been living for 25 years. Along with Kevin's loyal confidant Quorra (OLIVIA WILDE), father and son embark on a life-and-death journey of escape across a visually-stunning cyber universe that has become far more advanced and exceedingly dangerous.