Kick-Ass International Trailer: "With No Power Comes No Responsibilities"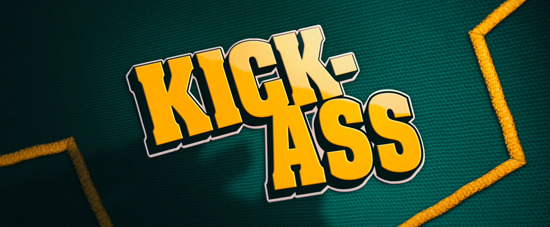 Oh, hello there, new international red-band Kick-Ass trailer. Want to know a little more about the world of Matthew Vaughn's new 'realistic' superhero movie, based on the comic of the same name by Mark Millar? This tasty little clip will probably do the trick. It's a nice combination between the Hit Girl red-band clip and the last story-oriented trailer. Plus, there's a good dollop of new footage to tide you over until Lionsgate opens the movie in April.
There's a great gag at the end of this trailer that I really want to spoil, but I won't do it. I'm nicer than that. I do think this might be the best clip about the movie yet, because it puts everything in perspective: the comedy, the violence, the superhero geekery, and the diminutive Chloe Moretz spouting obscenities. And it's all summed up in one easy line: "With no power comes no responsibilities."
What's the film about? Watch the trailer, or read the handy synopsis.
Kick-Ass tells the story of average teenager Dave Lizewski (Aaron Johnson), a comic-book fanboy who decides to take his obsession as inspiration to become a real-life superhero. As any good superhero would, he chooses a new name — Kick-Ass — assembles a suit and mask to wear, and gets to work fighting crime. There's only one problem standing in his way: Kick-Ass has absolutely no superpowers.
His life is forever changed as he inspires a subculture of copy cats, is hunted by assorted violent and unpleasant characters, and meets up with a pair of crazed vigilantes, including an 11-year-old sword-wielding dynamo, Hit Girl (Chloe Moretz) and her father, Big Daddy (Nicolas Cage).
Here's the new trailer, which based on some cussin' is considered red-band. Guess that means NSFW, depending on where you work. But if a teenage girl saying 'c**k' isn't allowed where you work, might want to think about finding a new job. I don't care how crappy the market is these days.