The Secret Of Kells Trailer: Refresh Yourself On The Surprise Oscar Nominee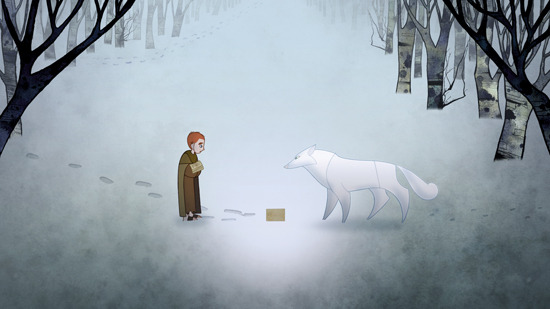 In November, when the twenty films submitted for the Best Animated Film Oscar were submitted, we noted a couple of titles that might have been unfamiliar to readers. One of them was The Secret of Kells, which we introduced as "an interesting hand-drawn film about a ninth-century boy who rebels against his guardian's orders and helps to illuminate a famous Irish manuscript."
The film has already been released internationally, and at the time we ran that piece, the handful of commentors who had seen it were very enthusiastic about the film. I want to take this chance to run the trailer again so that those who've never heard of the film get an idea of how it landed the nomination.
First up, there's a short trailer to get across the idea of the film's basic aesthetic, which is a gorgeous example of how classic hand-drawn animation can be equally informed by modern graphic design ideas and classic iconography.
Co-directed by Tomm Moore and Nora Twomey, the film is based very much in the visual style of medieval art, because at the story's core is The Book of Kells, the illuminated text containing the four Gospels of the New Testament. Brendan, the hero of the film, is a young monk with a great gift for illumination, who is being raised by Cellach, the Abbot of the town of Kells. Cellach is less interested in artistic gifts and more concerned with building a wall to protect Kells from encroaching Vikings. The story eventually contains threads of magic, a were-girl named Aisling, and violent flashes of Norse incursion. Evan McGuire voices Brendan, and Brendan Gleeson voices Cellach. Cristen Mooney voices Aisling.
The Secret of Kells had a brief Oscar qualifying run in December, and is planned for a US release this March, just after the Academy Awards are handed out. Here's a longer promo clip for the film.