This Week In DVD & Blu-Ray: Zombieland, The House Of The Devil, Ong Bak 2, And More
We may receive a commission on purchases made from links.
This Week in DVD & Blu-ray is a column that compiles all the latest info regarding new DVD and Blu-ray releases, sales, and exclusive deals from stores including Target, Best Buy and Fry's.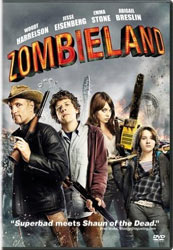 ZOMBIELAND
The zombie film's usual affixation to the horror genre has been broken. Even Shaun of the Dead acknowledged the unfortunate realities of a zombie outbreak, and in turn, its latter half yielded numerous intense and teary scenes. Zombieland is the first zombie film to not concern itself with such issues, exclusively embracing the fun side of the apocalypse. There's an element of wish fulfillment to it, as the young, awkward protagonist finds himself—for the first time ever, and as a direct result of the aforementioned "atrocities"—in a position to lock down some hot poon. And you know, build a meaningful relationship and stuff. Moreover, the characters engage in frequent acts of gift store destruction, mansion plundering, and undead obliteration–all things that, putting aside the likelihood of your whole family being dead and all, would make living in a zombie-infested world pretty damn enjoyable. We may not get to experience the thrill of those experiences for ourselves, but coupled with the film's energetic and stylish directional flair, it's a joy to watch.
Available on Blu-ray? Yes.
Notable Extras: DVD – Audio commentary with actors Woody Harrelson & Jesse Eisenberg, director Ruben Fleischer, and writers Rhett Reese and Paul Wernick, featurettes ("In Search of Zombieland", "Zombieland is Your Land"), deleted scenes, Visual Effects Progression Scenes, and a Woke Up Dead Episode ("Up and At 'Em"). Blu-ray – Includes everything on the DVD, as well as a "Beyond the Graveyard" Behind the Scenes Picture-in-Picture Track, and a digital copy of the film.
EXCLUSIVE DEAL:
What? Exclusive 2-Disc DVD ($22.99) and Blu-ray ($24.99) "Nut Up or Shut Up" Edition, includes bonus DVD featuring "Shootin' Zombies with Ruben Fleischer" and behind-the-scenes footage.
Where? Best Buy.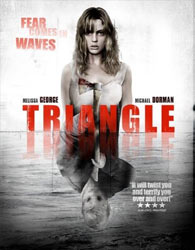 TRIANGLE
Don't be deceived by the shoddy, second-rate cover art. One glance at that, and you'd be forgiven for dismissing the film as bottom-of-the-barrel DTV horror garbage. In actuality, Triangle is far and away one of the coolest thrillers I've seen in a long while. In the creativity department, it one-ups even Timecrimes, a similar film that I enjoyed greatly but ultimately found too lacking in genuine surprises to muster the same enthusiasm expressed by others. In many ways, Triangle promises a similar fate, but the puzzle eventually reveals itself to be far more complex than it initially appeared. Those not invested in the story (which I'll avoid elaborating on for fear of spoiling the experience) may find its need for repetition punishing; others will find themselves gleefully yet mostly predictably rewarded as the pieces fit neatly into place, only to find said pieces completely upended in the third act. The ending lends the film a harrowing poignancy, enhanced by the refusal to bluntly spell out an explanation that attentive viewers will surely figure out for themselves. Frustrated viewers accusing the film of suffering holes in logic would do well to give it a repeat viewing, this time paying close attention. If it weren't for its brilliant climax, Triangle would merely be a "must see"—a smartly-constructed psychological horror tale that provides equal parts slasher film thrills, The Shining-esque chills, and a whole lot of eerie atmosphere; with it, the film advances to a "must buy", paying off on the build-up of the film's troubled lead character and putting the emphasis on her emotionally devastating realization, acceptance and defeat. It's a hell of a ride.
Available on Blu-ray? Yes.
Notable Extras: DVD & Blu-ray – Cast and crew interviews.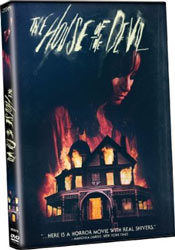 THE HOUSE OF THE DEVIL
Already know about the film? Have even the slightest bit of interest in seeing it? Heed this advice: stop reading, see the movie. The less you know about the film, the better. The unconvinced and weak-willed may read on...
Observe the mesmerizing poster for The House of the Devil, taking note of the playful, clever tagline. The tagline is more than amusing wordplay though; it's basically a plot summary. As such, most unsuspecting viewers will likely find themselves in a state of languid disbelief at the film's lack of narrative momentum, and although the complaint is understandable, it ignores the deliberate pacing the film is trying to achieve. Horror films of the '70s and '80s (specifically those of the Italian variety) had a certain style, a certain visual aesthetic and atmosphere conjured not just by the masterful coalescing of music, cinematography, and sound design, but also the slow-burn build-up. In The House of the Devil, Ti West seeks to faithfully and authentically recreate that style, and the extent to which he succeeds is remarkable. Say what you will about the meandering narrative, Ti West's work here as a director is equally as deserving of accolades and awards—a 'Best Director' Oscar nom even—as any of '09s other major contenders. Had the film been called The House of Sunshine and Farts, these stagnant sequences might not lend the same unsettling effectiveness, but because of its deliberate titling, there is the lingering promise of a certain young lady's impending doom. And we experience the build-up to it in, essentially, real time. If there's an area where the film missteps, it's in its payoff. The finale attempts to punctuate an otherwise quiet, calculated film with an impactful burst of overwhelming intensity–an approach I 100% commend—but sadly, the routine unfolding of events left me unsatisfied and wanting. The saving grace of the film's underwhelming outcome is its lingering final shot, a freeze frame that teases a sinister ambiguity when put in context with a seemingly irrelevant scene glimpsing a roommate's peevy boyfriend. Just as satisfying is another scene early on, thrusting you face-first into the madness and ensuring that you are on edge and awaiting the unexpected for the duration of the film's runtime. Truthfully, what diminishes the suspense is going into it with the preceding knowledge that not much is going to happen. So, uh... Shit. Sorry about that.
Available on Blu-ray? Yes.
Notable Extras: DVD & Blu-ray – Audio commentary with writer/director/editor Ti West and actress Jocelin Donahue, a second commentary with Ti West, producers Larry Fessenden and Peter Phok, and sound designer Graham Reznick, two featurettes ("In The House of the Devil", "Behind the House of the Devil"), and deleted scenes.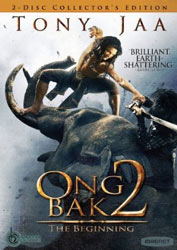 ONG BAK 2: THE BEGINNING
(DVD available as single-disc and 2-Disc Collector's Edition)
I wasn't blown away by the first Ong Bak. Drudging through the goofy storyline in order to get to the action was a grueling experience, and though the stunts themselves were absolutely stunning, the badassery was lessened a tad by the distracting staginess of each successive feat. (If I wanted to watch a montage of a guy showing off his skills, I'd go to YouTube—where I can see displays of athleticism that really matter.) Even so, at no point while watching Ong Bak did I think to myself, "This would be greatly improved by extensive childhood flashbacks, a fixation on Thai myth & mysticism, and self-indulgent dance numbers." And yet, for better or worse, that's precisely what the follow-up delivers. Picturing itself a historical epic of sorts, Ong Bak 2 is a self-important sequel/prequel/fuck-if-I-know that is heavy on incomprehensible plotting, and thankfully, equally heavy on impressive-as-all-hell fight sequences. Like the first film, the martial arts combat is free of CGI, wires and stunt doubles, and also like the first film, it has a bone-crunching ferocity that's cool enough to give your eyeballs mini orgasms. But whereas Ong Bak was an unapologetic showcase of Tony Jaa's talents and nothing more, Ong Bak 2 takes its story very seriously, and as a result, that aspect of the film rises to a new level of tediousness. Tony Jaa's overbearing direction doesn't help matters.
Fun Fact: Tony Jaa lists Ong Bak as one of his favorite movies because, and I quote, "...it's the movie that introduced the world to Tony Jaa."
Available on Blu-ray? Yes.
Notable Extras: Single-disc DVD – HDNet: A Look at Ong Bak 2, Ong Bak 3 Exclusive Footage, Behind-the-Scenes featurettes ("Capturing a Warrior", "The Kingdom", "The Community"), Making of Ong Bak 2 featurettes ("The Story and Character of an Epic", "Revealing the Majesty", "The Art of War"), and interviews with cast & crew including co-director/actor Tony Jaa. 2-disc DVD & Blu-ray – Includes everything on the DVD, as well as a Bonus Alternate Cut of Ong Bak 2 (which is 10 minutes shorter).
*Does not include 2-Disc Edition, which costs $14.99 at Amazon, $17.99 at Best Buy, $23.29 at Target, and $24.99 at Fry's.
EXCLUSIVE DEAL:
What? Buy both Ong Bak and Ong Bak 2 and save... DVDs: $5, Blu-rays: $10
Where? Best Buy.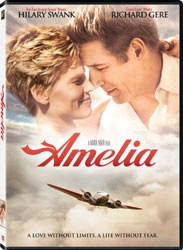 AMELIA
I fell asleep during the trailer, so I can't imagine how I'd fare during the actual movie... But something tells me not very well.
Available on Blu-ray? Yes.
Notable Extras: DVD – Deleted scenes, and 3 featurettes ("The Power of Amelia Earhart", "Making Amelia", "Movietone News"). Blu-ray – Includes everything on the DVD, as well as 2 additional featurettes ("The Plane Behind the Legend", "Re-constructing the Planes of Amelia"), and a digital copy of the film.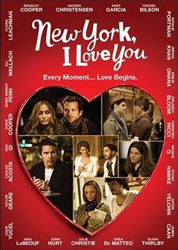 NEW YORK, I LOVE YOU
With Paris, je t'aime, there were 18 short films occupying the omnibus love letter to the world's most romantic city, packing in a powerhouse of creative voices: the Coen brothers, Alexander Payne, Tom Tykwer, Gus Van Sant, Alfonso Cuarón, Wes Craven and Vincenzo Natali. Which prominent filmmakers does New York, I Love You feature, you ask? Drumroll, please...
Brett Ratner.
If that's all the support they could muster for New York, I'm not sure that I care to go there. Where's Woody Allen when you need him?
Available on Blu-ray? Yes.
Notable Extras: DVD & Blu-ray – Two never-before-seen segments directed by Scarlett Johansson and Andrewy Zvyaginstev, and interviews with 5 of the directors.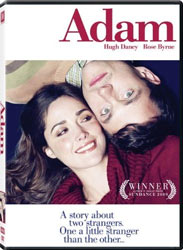 ADAM
This film tells the tale of Adam, a lonely man with Asperger's Syndrome who develops a relationship with his attractive female upstairs neighbor. That this mostly well-received movie exists is upsetting to me, due in large part to the fact that I don't recall ever selling anybody the rights to my life story. Ha, just kidding. I've never had a relationship with an attractive woman.
Available on Blu-ray? No.
Notable Extras: Writer/director and producer commentary, deleted scenes, an alternate ending, and cast and crew favorite scenes.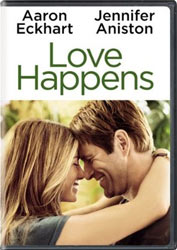 LOVE HAPPENS
The cover of this DVD looks like a Valtrex ad. I am in awe that it's real; somebody was paid to design this. I mean, my god, just look at it. It isn't unusual for graphic design snobs to suggest a particularly bland/ugly/lazy image might've been the result of a 10-year-old dabbling in MS Paint, but in this case the assertion isn't hyperbolic. Throw in a quick Google search, and a 10-year-old could literally design this using MS Paint. Oh, and the movie looks shit, too. The title is hilariously matter-of-fact, as if to answer a question that you had only asked mockingly (HEY GUYS, WHAT DO YOU THINK HAPPENS IN THE FILM?). If I hadn't already been aware of the movie's existence, I honestly would've seen the cover & read the title and assumed somebody had crafted a simple yet brilliant parody of vapid Hollywood romance films. But no, this movie is not a joke. I wasn't convinced at first, but there are even reviews to prove it.
Available on Blu-ray? Yes.
Notable Extras: DVD & Blu-ray – An audio commentary, a featurette ("Giving Romance a New Look"), and deleted scenes.
Other noteworthy DVD (and Blu-ray) releases this week...
Universal Soldier: Regeneration [DVD / Blu-ray] – Planet Hulk [Single-disc DVD / 2-Disc DVD / Blu-ray] – Doctor Who: The Complete Specials [DVD / Blu-ray] – More Than a Game
Noteworthy Blu-ray-specific releases this week...
Fear and Loathing in Las Vegas – Walk the Line – Mystic River – The Last King of Scotland – Ong-Bak: The Thai Warrior – The Music Man – Gangs of New York (Remastered) – The Godfather (Coppola Restoration) – The Godfather: Part II (Coppola Restoration)

NOTES: Some deals may be in-store only. All deals are for DVDs unless otherwise noted.

Exclusive: Planet Hulk comes with Exclusive Digital Comic.
$9.99 – Taken, Slumdog Millionaire
$9.99 – Blu-ray sale: Predator, Speed, Commando, Edward Scissorhands
$12.99 – Blu-ray sale: Serenity, Mr. and Mrs. Smith, Big Trouble in Little China, Final Fantasy: The Spirits Within

Exclusive: Buy both of The Godfather movies ($22.99 each) on Blu-ray and save $10.
$9.99 DVD or $14.99 Blu-ray – X-Men Origins: Wolverine, Ice Age: Dawn of the Dinosaurs, Night at the Museum: Battle of the Smithsonian, and more...
$12.99 – Blu-ray sale: Slumdog Millionaire, The Wrestler, Patton, Independence Day
$4.99 – Reservoir Dogs (15th Anniversary Edition), The Descent (Original Unrated Cut), American Psycho (Killer Collector's Edition), Requiem for a Dream, The Punisher (Extended Cut), Van Wilder, Crash, and more...

$5.99 – The Prestige, Armageddon, Good Will Hunting, Good Morning Vietnam
$9.99 – Pulp Fiction (Collector's Edition), Chicago (Two-Disc Collector's Edition), Pearl Harbor (2-Disc Edition), No Country for Old Men