Ong Bak 3 Teaser Trailer: It's All Elbows And Elephants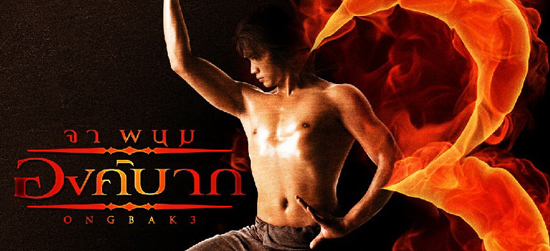 Back in October we ran a piece of promo art for Ong Bak 3. That's the second sequel to the sensational Thai kickboxing movie Ong Bak, which instantly established star Tony Jaa as an action film hero. When we ran that piece, we knew that the film was already almost done, after having gone into production rather quietly. The Ong Bak 2 shoot was a big story, as Jaa took over the directorial reigns and had a very public breakdown.
So Ong Bak 3 has been a more quiet affair, but now there's a great teaser trailer. It's full of elbow hits and elephant tusks. What more could you want?
When we first reported on this, we didn't know who was directing. Could have been Tony Jaa, or his mentor Panna Rittikrai. At the American Film Marker we learned that Jaa got back in the director's chair, and this teaser proudly displays his credit.
Here's the full synopsis, thanks to Twitch. When reading the following keep in mind that Petchai Wongkamlao is the formal name of Mum Jokmok, the massively popular Thai jokester who played duplicitous comedy relief character Humlae (or George, or Dirty Balls, depending on your subtitling) in the original Ong Bak:
The legend of Ong Bak 3 begins after Tien (Tony Jaa) has lost his fighting skills and his beloved step-father at the Garuda's Wing cliff from the raid led by Jom Rachan (Saranyu Wonggrajang).  Tien is brought back to life with the help from Pim (Primrata Dechudom) as well as Mhen (Petchai Wongkamlao) and the Kana Khone villagers.  Deep into the meditation taught by Phra Bua (Nirutti Sirijanya), Tien finally is able to achieve 'Nathayut'.  His talents are put to the test again when his rivals including the Golden-Armored King's Guard (Supakorn 'Tok' Kijusuwan), the mysterious killers in black, and Bhuti Sangkha (Dan Chupong) return for the final massive showdown.