Cemetery Junction Movie Trailer, Written And Directed By Ricky Gervais And Stephen Merchant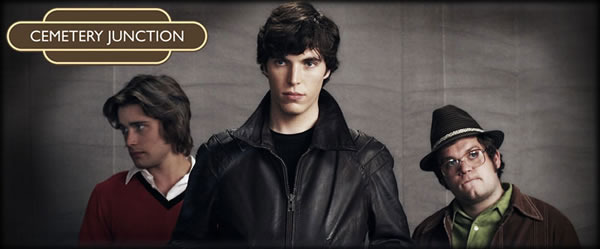 It's only been a few months since the release of Ricky Gervais' The Invention of Lying, so I was surprised to learn that his next feature, Cemetery Junction, is gearing up for an April 2010 UK release. We featured a teaser for the film back in July, as well as some comments from Gervais in September. Now we have our longest glimpse at the film yet with a full trailer. Co-written and co-directed by his frequent collaborator Stephen Merchant, Cemetery Junction looks to be as big a stylistic leap for Gervais as Judd Apatow's jump from 40 Year Old Virgin to Funny People.
The official synopsis:
CEMETERY JUNCTION Tells the funny, touching and universal story of being trapped in a small town and dreaming of escape. In 1970s England, three blue-collar friends spend their days joking, drinking, fighting and chasing girls. Freddie (Christian Cooke) wants to leave their working-class world but cool, charismatic Bruce (Tom Hughes) and lovable loser Snork (Jack Doolan) are happy with life the way it is. When Freddie gets a new job as a door-to-door salesman and bumps into his old school sweetheart Julie (Felicity Jones), the gang are forced to make choices that will change their lives for ever.
The film also co-stars Gervais, Ralph Fiennes, Emily Watson, and Matthew Goode. Judging from the trailer, it's definitely a more dramatic effort than Lying, but Gervais previously insisted that it's not a "depressing, gritty British movie about blue collar and working class."
Check out the trailer below:
When we reviewed The Invention of Lying on the /Filmcast, I praised the film for its attempts at bringing a daring "atheist agenda" to a mainstream comedy, but ultimately its traditional romantic comedy elements kept it from being truly great. From the short bit we've seen of Cemetery, it doesn't appear as if Gervais is attempting another grand philosophical experiment. Instead, it looks to be a simpler tale of small town hopes and dreams, and the people who make them possible.
There's no word on a U.S. release yet, but given that other Germany is getting it in October (with Belgium and the Netherlands to follow in November), I suspect we'll see it around then.
[via Collider]