Sundance Movie Review/Video Blog: David Michôd's Animal Kingdom - Australian Crime As Greek Tragedy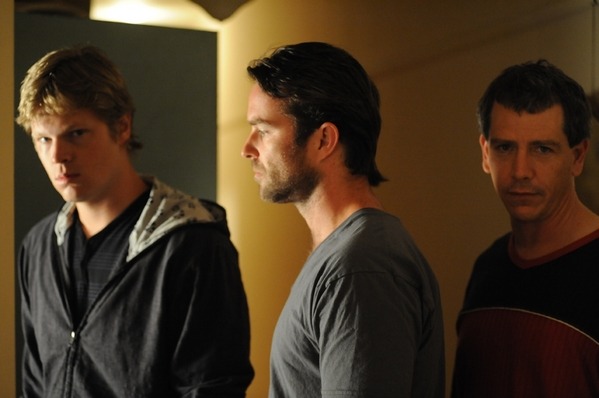 David Michôd has had a pretty big year at Sundance. Hesher, which he wrote along with director Spencer Susser, was one of the most anticipated films of the festival (read Peter's review here). He also directed Animal Kingdom, an Australian crime drama starring Guy Pearce, Ben Mendelsohn, and newcomer James Frecheville. I have no compunction about saying that Animal Kingdom was one of my most favorite films of Sundance. Hit the jump for some of my thoughts, as well as a video review I recorded with members of our blogger condo.
The first scene of the film introduces us to our teenage protagonist, Josh (Frecheville), as he's sitting in front of the television, slack-jawed, watching Dear or No Deal, with an unconscious woman sitting next to him. Moments later, paramedics arrive and we discover that the woman next to him is actually his mother, and that she's died from a heroin overdose. Josh is forced to go live with his uncles in Melbourne, including Baz (Joel Edgerton) and Darren (Luke Ford), as well as his wizened, loving, and slightly creepy grandmother (Jacki Weaver). The brothers have successfully robbed banks for some time, but Baz is trying to convince brother Pope (Mendelsohn) to get out of this high-risk, low-reward business. When one of the brothers is senselessly killed by police, it propels the entire family into an inextricable cycle of violence that threatens to unravel the entire family.
Animal Kingdom is what I'd call a slow, but worthwhile, burn. In tone, it's similar to David Chase's The Sopranos, with its brooding atmosphere, naturalistic dialogue, and brilliant use of soundtrack and score (You will never listen to "Air Supply" the same way again after this film, I promise you). Unlike other crime films, though, the film isn't heavy on the violence or action. In fact, so few are the number of gunshots/kills in this movie that whenever one occurred, I was quite startled and literally jumped in my seat. The violence in the Melbourne-based world that Michôd has created is always sudden, always unexpected, and always brutal.
Most of the movie rests on the shoulders of Frecheville, through whose eyes we witness the horrifying events that unfold throughout the film. I'll admit that at first I wasn't too taken with his performance; Frecheville spends much of the film looking completely catatonic and shell-shocked, and I questioned how much acting skill he was truly possessed of. However, I appreciated the fact that a lot of this was probably a result of Michôd's direction. Josh, called "J" by his family and friends, has undoubtedly lived a bizarre life constantly surrounded by violence. The detached way he behaves through most of the film is probably a result of this, a physical and emotional manifestation of the ravages of crime. Thus, he ends up successfully holding the film together.
Weaver and Mendelsohn also put in standout performances. Mendelsohn's character of Pope is absolutely terrifying, a seemingly innocuous brother who reveals more of his sociopathic tendencies as the film progresses. And Weaver is chilling as the loving grandmother. It's a character we've seen before in films like this, the unassuming maternal figure who also happens to pull all the strings, or at least, know where all the strings are. But Weaver wonderfully brings out the grandmother's character traits with subtlety (for example, she constantly kisses her sons on the lips, a strange yet telling sign of her near-pathological attachment to them), and towards the end of the film, she's given an opportunity to demonstrate her acting chops to great effect.
Thematically, Animal Kingdom recalls the work of Greek playwright Aeschylus, who wrote compellingly on the nature of revenge and its attendant tragedy. With its deliberate pacing and excellent direction, Animal Kingdom is riveting, thrilling, and in the end, heartbreaking.
On my last night at Sundance, I fired up the camera to discuss the movie with some other bloggers at our condo. You can watch that discussion below: