Takers International Movie Trailer: What Dirt Does Screen Gems Have On Matt Dillon?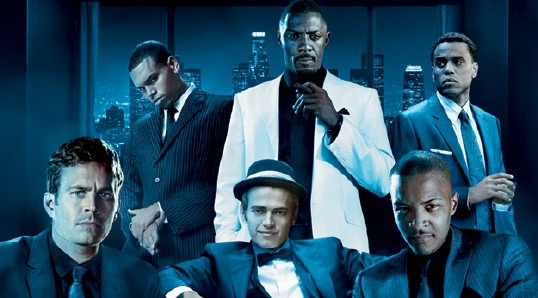 I'd love to know what the people at Screen Gems have on Matt Dillon. Photos of him naked with a shaved bear and a jar of Vaseline? Maybe a webcam video of him going all out dancing to 'A Stroke of Genie-us'? Could it be Dillon making the image above in Photoshop? It's got to be intense. How else to explain his presence in Takers, the heist movie that's a little bit Armored and a little bit Heat. We've seen one trailer already; now there's an international version that shows off a bit more of Dillon's presence in the film, but doesn't do a better job of selling it.
I was OK with Armored, which was probably a better idea in theory, but not the worst thing to hit screens. Crazy, though, that Screen Gems is releasing this so soon after that one, however. Between enduring memories of Heat, recent memories of Armored and the promise of The Losers on the horizon, Takers might not stand a chance.
Gotta say, though, there's a part of me that enjoys seeing Hayden Christensen go thug...he's like a cute little Ray Winstone. And I like Dillon enough in general that I'm willing to play along with him as he parallels Pacino's role in Heat. As long as he screams something about a woman having a great ass, at least. Also my favorite line? "Only so many people know how to use C4."
Synopsis madness:
Takers centers on a notorious group of criminals who continue to baffle police by pulling off perfectly executed bank robberies. They are in and out like clockwork, leaving no evidence behind and laying low in between heists. But when they attempt to pull off one last job with more money at stake than ever before, the crew may find their plans interrupted by a hardened detective (Matt Dillon) who is hell-bent on solving the case.