/Film UK - Scotland's Most Expensive Film, Richard Williams And Aardman, Youth In Revolt And Lots More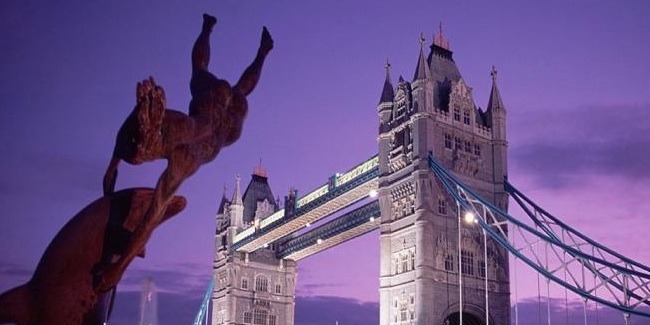 Coming to you weekly from my vantage point in good old Blighty, it's Slashfilm UK. Anglos and Anglophiles rejoice as every Friday I'll be bringing you a round up of news, links and coverage specific to the motion picture comings and goings here in the UK. Sometimes we'll be talking about films that have already played in the US, other times it will be films that won't make it to the US for a good while yet, and from time to time you'll read about films that will never make it to the US at all.
Despite Rope of Silicon's jokes about a 3D Vera Drake 2, I think stereoscopic dramas in the Mike Leigh vein are actually a very good idea. Meanwhile, in actual Mike Leigh news, a reader of The Playlist e-mailed them after attending a Q&A with the director in which he revealed the name of his upcoming film. It's going to be called Another Year. I only said it was actual news, not that it was big news.
Solomon Kane director Michael J. Bassett and star James Purefoy will be doing a signing at London's Forbidden Planet on February 20th. In the meantime, here's a behind-the-scenes feature on the film, heavily loaded with moody clippage.
Talking of Forbidden Planet signings – Peter Serafinowicz has his own on Monday evening. if you go, squeeze him for Yellow Submarine news, please.
As reported in The Guardian, the Institute of Contemporary Arts is in danger of imminent closure. For readers who live in (or at least go to the cinema in) London, this will mean the loss of one of the more idiosyncratic screening schedules I know of. But it gets even worse as the Institute is being immediately reordered, and that unfortunately means the closure of ICA Films, their distribution arm. According to Screen Daily, only Samantha Morton's The Unloved and another picture called The Ape remain on the schedule before the file is closed. A particularly sad state of affairs because a) The Unloved has already screened on TV and b) it was rather disappointing. Not the best way to go out.
Scotland's most expensive ever film is Sylvain Chomet's The Illusionist, his long-awaited follow up to Belleville Rendezvous. Herald Scotland pegging it's budget at "significantly north of £10 million" with "£8 million [spent] directly in Scotland". The article confirms that the film will premiere at the Berlin festival next month, and came complete with these two beautiful stills.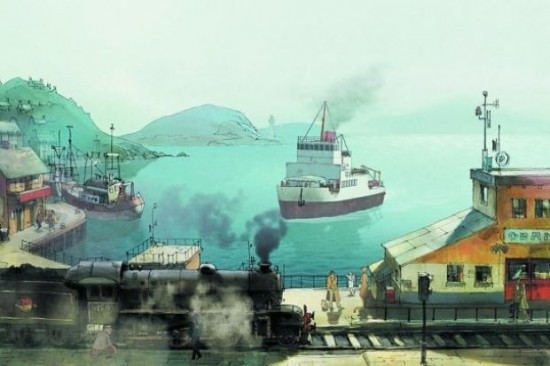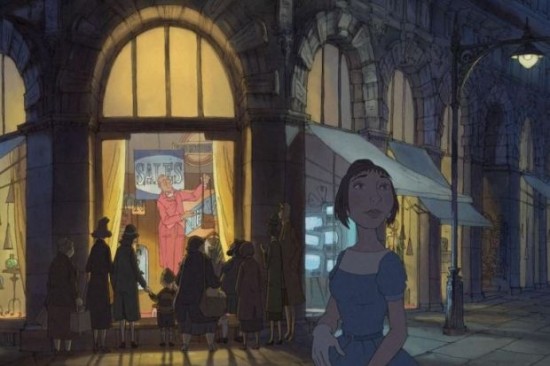 For a festival closer to home than Berlin, there's the Minghella Film Festival, named for the late Anthony, located in his native Isle of Wight, and hosted by members of his family. Variety have announced that this year's line-up will include "a live performance of [Minghella's] radio play Cigarettes and Chocolate and a concert by composer Barrington Pheloung", " films by filmmakers inspired by Minghella's work including Bruce Webb's The Be All and End All and Sam Taylor-Wood's short film, Love You More."
Lionsgate UK have launched an online magazine called Fright Club. It's just the sort of thing the iPad is made for, I think – or, to put it another way, I found it a touch unwieldy through a normal browser. But I still read it, which is worth something, eh?3D TV comes to the UK real soon. Like really soon. Like this weekend. The Independent have revealed that 40 or so  pubs around the country will give lucky punters the chance to see Arsenal and Manchester United in full stereo vision. Sky's full 3D channel launches in April, and at first will be free-to-air. Superb.
Here's the trailer for Dead Cert, a Vahhhmpires and Gahhhhngsters film set in Lahhndahhhn. This particular promo was cut for the AFM and uses footage only from the first seven days of shooting. Honestly, though, I still think it looks pretty poor. Luckily, I have it on pretty good authority that the film itself is a bona fide entertainment. Moral of this story? Either "Wait for more than eight days before cutting your trailer" or "Good authority is sometimes bad". Time will tell.
UK supermarket chain Tesco are going to start producing movies. For Americans, that's roughly equivalent to Walmart deciding they're going to be the next Focus Features. Their first film, says The Guardian, will be an adaptation of Jackie Collins' novel Paris Connections from Black Moon Rising and The Glitterball director Harley Cokliss.
The Guardian's report says, with some inherent contradiction, that the film "will go straight to DVD after a number of cinema preview screenings". This DVD will, unsurprisingly, be available exclusively in Tesco. On the slate for future filming are adaptations of Jacqueline Wilson's The Worry Website, a Dick Francis thriller, Judy Blume's Tiger Eyes and one of the novels from Philip Pullman's Sally Lockhart children's adventure series. I'm expecting either The Tiger in the Well or The Tin Princess because the BBC have already filmed the other two.
Here's a pair of UK trailers for you: I Love You Phillip Morris and The Girl With the Dragon Tattoo.
There's a Youth in Revolt toy-app-game thing that enables you to create your own evil-twin alter-ego, like Michael Cera's character does in the film. You can find that on the official UK Bad Yourself site, and then submit your official creations to the appropriate Facebook page.
I know that's not enough Revolt for Youths like us, though, so I can also offer you a goodie bag stuffed with nice things like a T-shirt, trucker cap, wallet and badge. Want one? Then e-mail me and tell me just how tall and heavy Nick Twisp is. The answer lurks in this UK trailer for the film:
Aardman Animation are looking for a senior compositor to come work on their upcoming stop-motion picture Pirates! I only mention it, really, as I have more Aardman news: Adventures in Primetime have revealed that Who Framed Roger Rabbit animation director Richard Williams is now working for the Bristol Animation studio. Here's what their post says about the great animator:
If you don't know anything about the man, have a search for his name and The Thief and the Cobbler. An extraordinary story. He's now working for Aardman, and he plays cornet as a hobby – he was in the band for Thursday evening's screening of The Navigator.
The writer then gets to meet Williams and it's all very sweet. Personally, I'm overjoyed that Williams is working again. He's my nomination for the greatest hand-drawn animator of all time and, though it's been kept pretty quiet that he's now at Aardman, I'm positively dizzy from the news.
Banksy's Exit Through the Giftshop documentary will hit UK cinema screens on March 5, courtesy of Revolver. As per Screen Daily's report, the deal was struck before the film's Sundance premiere.
The Guardian have a very simple, brief update on where the BFI and UK Film Council merger is at the moment.
The big UK launch for The Princess and the Frog was last weekend, ahead of a London release today and nationwide roll-out on February 5. Here's some coverage of their tea party "premiere" event:
The Princess and the Frog is an exceptionally good film, I think. But more on that next week.
If you follow @HaloScreeninguk on Twitter, you could win a pair of tickets to the only big screen showing of Halo Legends in the UK, set for Wednesday Feb 3rd. The location will be the Moving Picture Company on Wardour Street in London, so Geordies and Cumbrians might be a bit ticked off. If you do sign up to the Twitter feed, be sure and tell them who sent you.
Marc Craste is the man behind the new BBC Winter Olympics animation. It's half way between Sega's Mad World and the Journey to the West toon from the last Olympics proper but with that special Craste-iness baked in.
The UK Blu-ray of George A. Romero's Day of the Dead is to feature the original soundtrack, something that's missing from the US release. There's also over an hour of Joe Pilato-centric video features and a reversable cover. It reaches shelves on March 29th and my sweaty grip on... well, March 29th too, I'd imagine. I'll let you know if it's region coded as soon as I can.
The BBFC have passed The Wolfman as a 15 certificate. For our non-UK readers, the inference here is that it can't be particularly intense or gory and yet get that rating. The final run time is 102 mins and 12 secs – anybody clued in enough to know which version of the film this actually is? At the same time, The Crazies been granted the same 15 rating, which the BBFC substantiate thus:
The strong violence occurs in a number of scenes where the survivors have to fight the infected 'Crazies'. There is lots of blood and some gore and sight of deformed and decomposing corpses. However, in keeping with the '15' Guidelines, the violence does not 'dwell on the infliction of pain or injury'. Instead, the violence occurs in fast-paced action sequences and does not have a sadistic or sexualised element to it.
THE CRAZIES also contains strong language, with frequent uses of 'fuck' going beyond the 'infrequent' level permitted by the '12A'/'12' Guidelines.
Available exclusively in branches of HMV and the BFI Store is a £1.99 DVD called Kim Newman's Guide to the Flipside. It's essentially a promo for the BFI's range of cult films on DVD and Blu-ray but, in practice, it's a lot more exciting than most advertisements. Newman is a great host, and perfectly selected for this range of off-the-wall pictures. He speaks at length about the films, and recounts any number of interesting anecdotes and theories and reams of trivia. The disc also contains some shorts, one of which – Tomorrow Night in London – will be made exclusive to this release. All in all: bargain.
The Telegraph have quoted Nine Songs' Margo Stilley speaking in defense of fox hunting. She's an easy target, so be my guest and take as many shots as you like in the comment section.
Here's a teaser for Noel Clarke's 4.3.2.1 which tries just about every hype mongering trick in the book. Kevin Smith has a cameo in the film, and there's apparently a role for just about every British actor old enough to drive but not old enough to get insurance on a sports car. Judging from his hardcore, grass roots marketing tricks, Clarke has got the sound and fury down, so now let's just see if he can actually signify something.
Bloody Disgusting scored an exclusive on the trailer for Umbrage, a very low-budget British horror film that I saw during the last Halloween Frightfest All-Nighter. The film was a nice try, really, but it didn't come off at all. The production values were incredibly low and the acting insanely uneven. Anyway, the bare flesh kept the chap sitting next to me interested.
The high point of my home viewing this week was the Blu-ray of Sin Nombre. Revolver are releasing that in Monday and, not to put too fine a point on it, it's a very strong recommendation from me. I reckoned the film to be quite astonishing when I saw it in cinemas, and it made my best of the year list for 2009 quite easily. Happily, the impact survives on the smaller screen, thanks in no part to the rock solid transfer.
In dramatising the jeopardy faced by would-be illegal immigrants to the US, as they make their incredibly risky journeys across Central America, Sin Nombre succeeds in telling a very specific story, with very specific and well drawn characters, that also illuminates some truth of countless real ordeals. We're at once immersed in the immediate and moving stories of our main characters and introduced to the tragic realities found in these desperate situations. This balance, essentially between a plot and a context, is expertly handled and is what gives the film it's real sense of weight and scale.
The special features on the disc include some deleted scenes, unfortunately not in high definition, and a commentary from director Cary Fukanaga and producer Amy Kaufman. I found listening to their account of how challenging the shoot was as gripping, in its own fashion, as the film itself. For commentary buffs, this one comes strongly recommended as there's very little filler or repetition, some genuine details of great interest, and a thankful shortage of smugness.
The DVD contains all of the same material, just at a lower resolution.
I've been given a clip of the film for you to enjoy, and to show you something – just a little something – of how exciting and involving the whole movie actually is. Unfortunately, embedding is disabled at the moment, because YouTube's automatic sensors think the clip is in breach of copyright, but I'll try and fix that as soon as possible. While we wait, the clip can be seen on its YouTube page.
Before I get on to the low point of my week's viewing, let's take a break with a couple of posters for Shank. It's the future-set gang drama from Gunslinger, the new production arm of Revolver.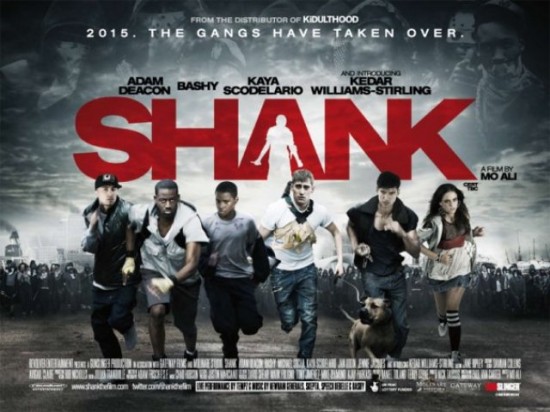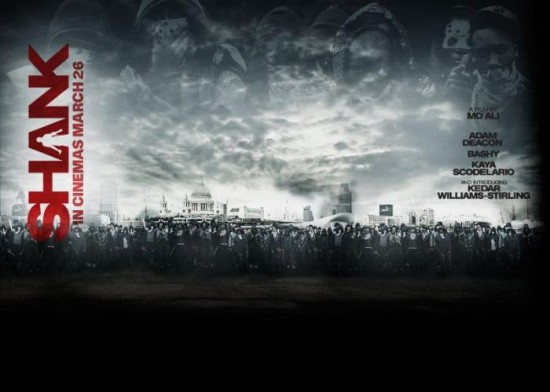 So, now – the nadir of my DVD screening of the week was Mr. Right, a self-described Hom-Com that seeks to twin the contemporary British rom-com with a variant that's a little more...er... well, gay. Which is not only all well and good, it's something verging on the essential – I just wish it had been done with more skill and wit.
The film has pretty low production values, feeling rather small screen throughout. The cinematography would seem, however, to be rather more professional-feeling than some of the writing and definitely more consistent than the acting, from a half-established, half lesser-known cast.
My wife compared Mr. Right to a TV soap opera, in the British style. I guess that's about right. She meant this not as an excuse for the film, exactly, but as a more useful set of expectations to have when watching it. Maybe she's spot on, but I'd still rather be able to hold any film to a very high standard.
On the plus side, it's a blessed relief to see a variety of representations of gay lifestyles on screen, and all in the same place too. I wish they'd been a lot less chaste – or maybe I even mean conservative. Let's be clear: Queer as Folk this is not. Who exactly it was designed to appeal to, I don't know. Is there a wave of comfy, boring gay men out there looking for a queered up, de-fanged riff on Richard Curtis?
Mr. Right was released this week on DVD. I'd be curious to hear from members of the gay community if there's something I'm missing here, some in-references that I just wasn't getting, a deeper level that would have injected some interest.
Below is a spoof Mastercard ad that promotes the film. Notice that the URL given at the end is spelled incorrectly and doesn't work – which pretty much sums the film up, I'm afraid.