Filmmakers On Stage: Trey Parker And Matt Stone Go Off-Broadway; In Bruges Director Martin McDonagh Teams Up With Tom Waits And Robert Wilson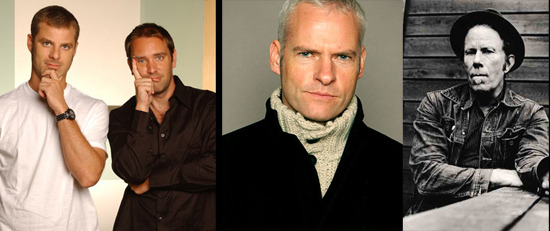 Two stories today about filmmakers hitting the stage. (Well, one of them is about a filmmaker returning to the stage, but close enough.) First, Trey Parker and Matt Stone are working with Robert Lopez on what is likely to be the musical about Mormons that the three guys have been working on for ages. Lopez was one of the composers and lyricists behind Avenue Q, the adult-themed 'update' of Sesame Street. That featured numbers about porn, racism and homosexuality, so it should be fun to see what the three come up with on the topic of Mormonism. Oh, people will probably be angry. An August-September run is planned for the New York Theater Workshop. [Variety]
After the break, the man behind In Bruges teams up with the avant-musical duo of Tom Waits and Robert Wilson.
Over the years musician and actor Tom Waits has teamed up with vanguard stage director Robert Wilson three times. The result of each collaboration has been an odd, wonderful stage musical. The first time was in 1990, when the pair worked with author William S. Burroughs to create The Black Rider: The Casting of the Magic Bullets. The second time was in 1992, when Waits and Wilson, with Paul Schmidt, reworked Alice in Wonderland. The third time was in 2000 for a new version of Georg Büchner's Woyzeck. (The same story spawned a great little Werner Herzog film starring Klaus Kinski.)
Now Waits and Wilson are teaming up a fourth time, and they've got an incredible talent on board to collaborate: Irish playwright and screenwriter Martin McDonagh. You might know McDonagh from plays like The Cripple of Inishmaan and The Pillowman. Many, however, know him as the writer and director of In Bruges, the gangster film that became a cult classic almost instantly upon release. So, yeah, this is a stage talent who became a filmmaker returning to the stage, but close enough. Waits and Wilson working with McDonagh? I can't fucking wait.
No title or subject matter is known for this new collaboration, but it is said to be slated to premiere in Paris in 2011. It's probably unrealistic to hope for a possible film, but each of the three plays to date has produced some great music from Waits. (Many of the better tunes he's written over the past 20 years have come out of Wilson collaborationss.) So even if this will be difficult to catch on stage, there'll likely be an audio record to spread the word. [Shauna Lee Lange]