Nicholas Hoult And Teresa Palmer Confirmed For Mad Max: Fury Road; Film Is A Sequel Rather Than Prequel?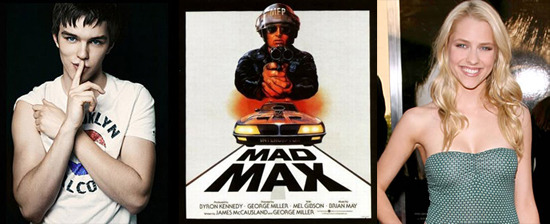 Just over a week ago word leaked out that Teresa Palmer might be in George Miller's upcoming Mad Max: Fury Road. That wasn't a huge surprise, as Miller had cast Palmer as Talia Ghul in his aborted Justice League movie. Now we've got confirmation that Palmer is in fact part of the Mad Max cast, along with another rumored actor, Nicholas Hoult. (Nick Hoult!)
Palmer will play a character whose name is currently unknown; Hoult will reportedly play a character named Nux. Also cast are Zoe Kravitz, whose character name is Five Wives, and Adelaide Clemens, whose character is unknown. Palmer, Kravitz and Clemens are all part of "a convoy being chased by bad guys." What would a Mad Max movie be without bad guys chasing a convoy?
In addition to confirming the new cast members, THR's report gives us a few more details on the impressively secretive details of Fury Road. The general line of late has been that the film is a prequel to the existing three Mad Max movies, rather than a sequel. THR's write-up contradicts that, saying  "The movie is set a short while after the story detailed in 1985's Mad Max Beyond Thunderdome, which keeps Mad Max, the character originated by Mel Gibson, relatively young."
Then there is the comment made by Jay Baruchel when he leaked Palmer's involvement. He said that Palmer would be playing "the main chick" in the film. That could leave Theron as a villain (shades of Tina Turner's Beyond Thunderdome character) or he could simply be hopeful about her prominence in the script. Theron could also have dropped out; we'll let you know as soon as any of those possibilities is confirmed.
Mad Max: Fury Road shoots this summer in Australia. The film might be in 3D, and it may be partially animated, and then again it might not. It will star Thomas Hardy, however, which is fantastic.