Avril Lavigne's Alice In Wonderland Song "Alice (Underground)" Released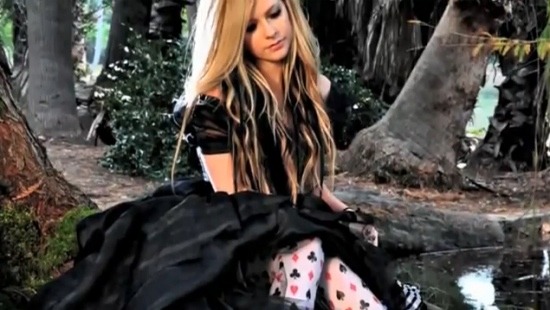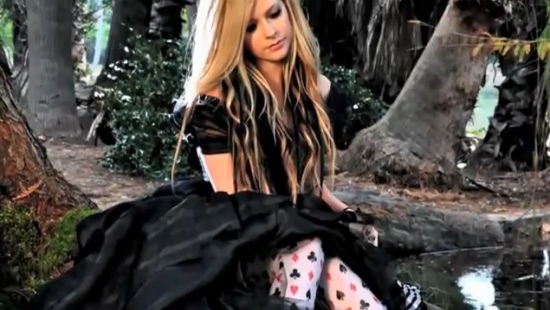 Earlier this month, Disney revealed the list of tracks/artists for the soundtracks for Tim Burton's Alice in Wonderland. The end credit track "Alice (Underground)" written by Avril Lavigne and produced by Butch Walker, is now online, and embedded after the jump. As always, leave your thoughts in the comments below.
ALMOST ALICE is a 16-song compilation featuring ALICE IN WONDERLAND'S end credit track "Alice (Underground)" written by Avril Lavigne and produced by Butch Walker. ALMOST ALICE boasts an eclectic array of recording artists with original songs based on some of the most charismatic characters in literary history, such as "In Transit" performed by Mark Hoppus and Pete Wentz. Other artists include The All-American Rejects, Shinedown, 3OH!3, Franz Ferdinand and All Time Low. "Very Good Advice" performed by Robert Smith, is the only song from Disney's 1951 animated film "Alice in Wonderland" that appears on the collection.
The track list for ALMOST ALICE is as follows:
1. Alice (Underground) Performed by Avril Lavigne
2. The Poison Performed by The All-American Rejects
3. The Technicolor Phase Performed by Owl City (previously released)
4. Her Name Is Alice Performed by Shinedown
5. Painting Flowers Performed by All Time Low
6. Where's My Angel Performed by Metro Station
7. Strange Performed by Tokio Hotel and Kerli
8. Follow Me Down Performed by 3OH!3 featuring Neon Hitch
9. Very Good Advice Performed by Robert Smith
10. In Transit Performed by Mark Hoppus with Pete Wentz
11. Welcome to Mystery Performed by Plain White T's
12. Tea Party Performed by Kerli
13. The Lobster Quadrille Performed by Franz Ferdinand
14. Running Out of Time Performed by Motion City Soundtrack
15. Fell Down a Hole Performed by Wolfmother
16. White Rabbit Performed by Grace Potter and the Nocturnals
ALMOST ALICE and the ALICE IN WONDERLAND Original Motion Picture Soundtrack will be available March 2, 2010 wherever music is sold.