Wall Street: Money Never Sleeps Teaser Trailer And Poster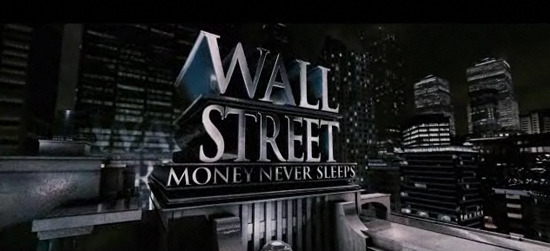 What a weird teaser this is. Pushed along by an unlikely chugging rock score, bookended by the Fox logo and movie title card (above) that are nearly identical, this is Oliver Stone's return to the world of Gordon Gekko? I wasn't sure what to expect when Stone moved forward with Wall Street: Money Never Sleeps, the long-dormant sequel to his landmark 1987 film Wall Street. But I didn't quite expect this.
Here we see Gekko (Michael Douglas) getting out of jail in a scene that's missing only Frank Oz and a used rubber to be a spot-on homage to The Blues Brothers. Gekko looks in wonder or disappointment at the world around him, spouting off cliches like "Someone reminded me I once said 'greed is good.' Now, it seems it's legal." We see filthy-rich Josh Brolin, Gekko's daughter played by Carey Mulligan, and her hotshot up and coming fiancé, played by Shia LaBeouf. He's obviously a bit more of a bad boy than former Gekko protege Charlie Sheen — look at Shia on that motorcycle!
I'm hoping that this clip is really just cut with the intent to remind audiences of Gordon Gekko and the world he once ruled. I'm a bit uncomfortable at the fact that the character gets a little hero moment at the end, though. ("Why don't you start calling me Gordon?") This isn't a guy we're supposed to like. Hopefully Stone has something good up his sleeve with respect to that.
Here's the synopsis. Click on the image below to be taken to the trailer page on IMDB. (Sorry, no embed yet — I'll have one in soon.) The poster is below, too.
Emerging from a lengthy prison stint, Gordon Gekko finds himself on the outside of a world he once dominated. Looking to repair his damaged relationship with his daughter, Gekko forms an alliance with her fiancé Jacob (Shia LaBeouf), and Jacob begins to see him as a father figure. But Jacob learns the hard way that Gekko – still a master manipulator and player – is after something very different from redemption.