David Fincher And Charlize Theron At Work On New HBO Show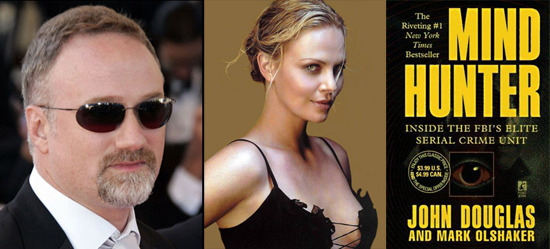 Any time I learn about a new David Fincher project I take the news with a certain degree of skepticism. Fincher is a filmmaker who gets involved with projects left and right, but many never go beyond the development stage. It's the way the town works in general, but Fincher likes to develop a lot more stuff at once than the average producer/director.
So take the word that he and Charlize Theron are  developing Mind Hunter, an HBO series based on the John Douglas and Mark Olshaker book Mind Hunter: Inside the FBI's Elite Serial Crime Unit, with a basic 'wait and see' attitude. 
Variety reports that Mind Hunter is at the script stage at Fox 21, which is producing for HBO. The pilot is being written by Dexter exec producer Scott Buck. The book is based on the experience John Douglas gained with the FBI, where he developed profiling techniques to catch rapists and serial killers. Theron, Fincher, Buck and Jennifer Orme Erwin, who brought the book to Theron in the first place, are exec producing. No word on whether Fincher might direct any installment. Obviously that's the intriguing possibility, but I wouldn't get your hopes up.
Remember that Fincher is also working as producer on an adaptation of the UK mini-series House of Cards. That one is a partnership with his The Curious Case of Benjamin Button screenwriter Eric Roth.
This, by the way, has nothing to do with the 2004 Renny Harlin movie Mindhunters. Despite the title, that was based on a Wayne Kramer spec script called Unsub. Kramer was reportedly less than pleased with the name change to Mindhunters, because of the existing book. Too bad about the lack of relation, as I was hoping to see a cameo appearance from frozen Christian Slater.