Harry Potter's Last Two Films To Be 3D? Clash Of The Titans 3D Conversion Speeding Along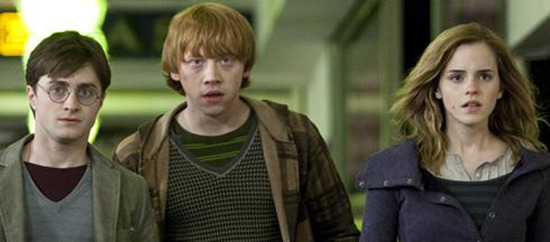 With the price of 3D tickets playing no small part in the record-setting performance of Avatar, it's no surprise that other studios are jumping into the 3D tentpole business in a big way. What is a bit surprising is that some, like Warner Bros., are evidently jumping at the chance to convert films shot in 2D into 3D before release. There have been back and forth reports about Louis Leterrier's Clash of the Titans going 3D, and now we're told that WB will refit the last two Harry Potter films in three dimensions as well.
THR reports on the move, which Warner Bros. currently refuses to confirm. Despite WB's silence, THR's Heat Vision blog says that conversion efforts on Clash of the Titans are going so well that the studio wants to forge ahead with a 3D version of Harry Potter and the Deathly Hallows. Both chapters of that film, set to release on November 19, 2010 and July 15, 2011, respectively, will be converted to 3D.
The report says that WB will be issuing news about Clash of the Titans later this week, along with a release date push, to accommodate the work. The new date for Titans will be April 2. Official word on the Potter conversion is expected shortly.
Even with a slight push, that seems like a really short time to get Clash properly converted. Louis Leterrier had previously said they didn't have time to make the conversion, which Sam Worthington later contradicted. I'm disappointed in this, as I was curious about Clash as a 2D film, but not as a retro-fitted 3D experiment. We can probably expect a joint 2D and 3D release for these, at least.
Argue the merits of shooting in 3D, fine. But the idea of converting a 2D film to 3D is about as appealing as the old impulse to colorize black and white movies. Not that Clash of the Titans is a new classic or anything, but still. (I'm sure someone will point to the successful conversion of the Toy Story movies, but since those are entirely digital affairs, I'd say the process is different from creating stereoscopic elements from a flat film.)