Four Lions Clip: Check Out The 'Jihadist Comedy' Gathering Buzz At Sundance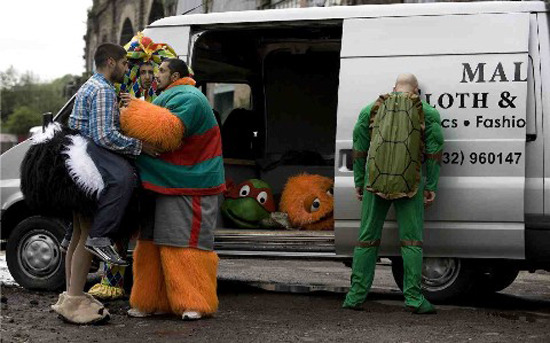 Some of the films at this year's Sundance are obviously ones to pay attention to, but that doesn't make them any less interesting. Four Lions, the 'Jihadist comedy' that is also the directorial debut of Chris Morris (more of a name in the UK than in the States) has been one of the must-sees. It's a comedy about four British would-be suicide bombers who plot a path of destruction, and it's already being compared to classic Ealing comedies like Kind Hearts & Coronets and The Ladykillers, as well as to recent stuff like In the Loop.
There's now a great clip showing the hapless terrorists as they prepare for an attack. Check out the clip after the break, then read some of the review buzz.
There is common talent between this and In the Loop, but comparisons to that movie seem to be coming about more based on the joint facts that the film uses a handheld style to capture fast-moving dialogue and that it merges comedy and topical, political subject matter. The notion that it is comparable to the old Ealing comedies is a lot more interesting to me. The reviews so far demonstrate why that comparison might be apt.
IndieWire calls the film "almost a masterpiece" and says the "tragicomic portrait of jihad gone awry zips along...yet pulls off an unlikely feat by avoiding any kind of outright spoof. The characters are no laughing matter; instead, their bumbling tendencies suggest a universal human fragility: The joke is on all of us."
The Guardian isn't fully convinced that the tonal shifts between "Ealing comedy, tragedy, thriller, buddy movie and satire" always work, but says Four Lions is "always watchable for the performances of Riz Ahmed, Kayvan Novak, Arsher Ali, Nigel Lindsay and Adeel Akhtar as the jihadis. Their internecine warfare brings the biggest laughs."
More than anything else, I'm curious to see how the portrait of would-be suicide bombers really plays out once we see that they're for real, at least in their own heads. There's great potential for serious tension and uncomfortable moments if the film goes as far as the concept suggests that it might.
Empire says it "really is a film about terrorists, and not in a pussyfoot way. Though the style is low-key and the comedy deadpan, what these guys are about is absolutely real: nail bombs, explosives, collateral damage, the whole nine yards. But the genius of this film is to take us into their world; we don't know what the motives are, or how they came to be radicalised, but we do know that they've assembled into a half-arsed cell."