Sundance Movie Review: Hesher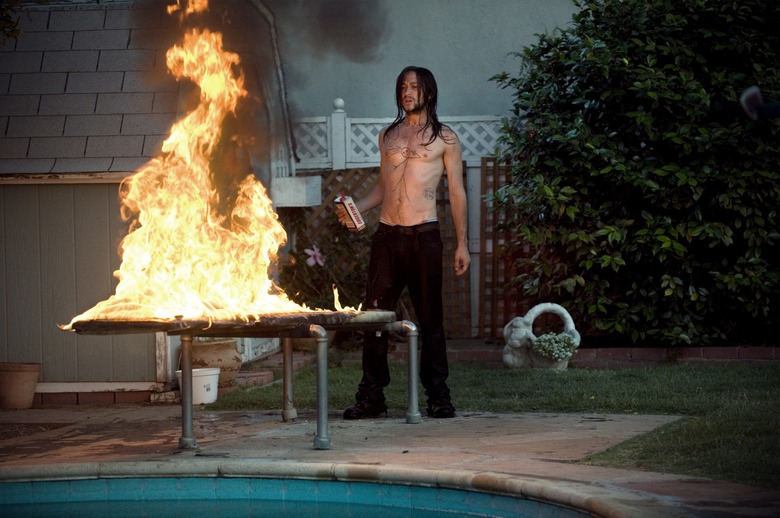 In 2008, I discovered a wonderful short film titled I Love Sarah Jane by commercial and music video director Spencer Susser. I loved it so much, I even featured it on /Film (you can watch it here — and if you haven't yet, you really need to). The short was a very different kind of zombie film, nothing like you've ever seen before — in the same way Let The Right One In was a different kind of vampire film than you've ever seen before. After seeing this short film, I definitely was in to see anything Susser was to produce.
The fact that his feature directorial debut, Hesher, features an amazing cast: Joseph Gordon-Levitt, Rainn Wilson, and Natalie Portman only further cemented this as my most anticipated film of the 2010 Sundance Film Festival. So to say that my expectations were high, might be a bit of an understatement.Susser has been developing Hesher for the last four years, so I went into the film expecting to feel the years of labor. Unfortunately the story feels more like a first draft than something that has been brewing in Sussers head for nearly half a decade.
The story follows a 13-year-old kid named T.J. who is living in his elderly Grandmother's house, along with his depressed pill popping out-of-work father (Wilson). The death of TJ's mother hit his father very hard, yet TJ seems unaffected, and confused/embarrassed of his father's emotion-filled state. Through a series of events, TJ meets a young man named Hesher (Levitt), a long haired tattooed head-banging badass, who inserts himself unwillingly into T.J.'s life. The uninvited house guest torments the young teenager while also assuming the role of a troubled mentor. But Hesher is only one of three or four bullies in T.J.'s life. The subplot of the film involves TJ's relationship with a young grocery story clerk named Nicole (Portman) who saved him during an attack in the store's parking lot, and becomes the object of TJ's fantasies.
If the plot sounds like it is all over the place, that's because it is. Joseph Gordon-Levitt again transforms himself into a character like-nothing you've seen him play before. Portman is as cute as ever, but her character seems a bit lacking. Wilson is almost unrecognizable in this dramatic, but somewhat one-note role. What Susser gets right are the emotional moments between the characters. Small side note: I also noticed that TJ rides his bicycle around the neighborhood, an image Susser has recycled from his short film Sarah Jane.
At the core, the film is one of the most fucked up "traveling angel" stories I've ever seen on the big screen. TJ and his father are both devastated by the loss of TJ's mother (despite the varied extremes of their emotional display), and this film is about their journey to acceptance. I lost my mother when I was young, and could definitely relate with the core of this film, it seems, more than most. But I expect that people who haven't experienced a parental death as a child, might have less to relate/connect with.
This is a solid first independent film, and I can't wait to see how Susser grows as a storyteller. For the past few years, Susser has also been writing a feature film adaptation of Sarah Jane. I hope to one day see that film on the big screen.
/Film Rating: 7.5 out of 10