Sundance Review/Video Blog: Nowhere Boy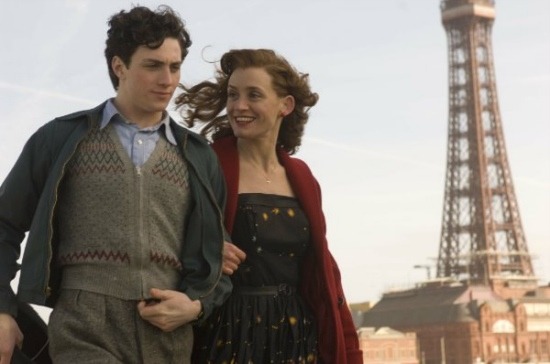 The first film I saw on Day 2 of the Sundance Film Festival was Nowhere Boy, the feature-film directorial debut of Sam Taylor Wood. Nowhere Boy depicts a brief portion of John Lennon's life, as he struggles to define his relationships with his estranged mother and his domineering aunt. The film stars Aaron Johnson (who'll light up the screens later this year in Kick Ass) as John Lennon and also features Kristen Scott Thomas as Lennon's aunt Mimi and Anne-Marie Duff as Lennon's estranged mother. Matthew Greenhalgh, screenwriter of Control, wrote the script.
With the immense talent behind the film, did Nowhere Boy end up being any good? Hit the jump for some of my written thoughts. I was also able to record a video review with Quint and Aaron from Aint It Cool News, Katey Rich from Cinemablend, and Adam Roffman from IFFboston, which you can find after the break.
Nowhere Boy opts not to depict the origin, rise, and fall of Lennon, but rather, to delve in depth into Lennon's upbringing. Lennon's troubled childhood is brought to light bit by bit, and Lennon's resultant rebellion is put on full display here. It's the relationships in the film that make it work, and I'd argue that if the film's protagonist wasn't named John Lennon, what we'd have left is a well-written, well-acted family drama, which is, admittedly, probably a lot less interesting (and a lot less marketable).
As a matter of fact, the parts of the film I found least effective were those relating to Beatles mythology. Here, the film retreads the path seen in many other musician biopics, complete with musical training montages, thrilling opening-night/day performances, and the moral degeneration that often accompanies success. The film also never seems to come to terms with Lennon's musical greatness. Lennon's character is, quite frankly, kind of a dick throughout much of the film, and the movie struggles to make him sympathetic, likable, and/or source of awe. I realize that part of the film's purpose is to humanize Lennon and show his humble musical beginnings, but there is rarely a sense that this is the man who would help change rock and roll forever. The insight we get is less into Lennon's music, and more the emotional turmoil of a troubled young British teen. To that extent, the film succeeds, but those looking for a satisfying exploration of the Beatles mythos will probably not be pleased.
The film is steeped in melodrama, but the performances here are so magnificent as to completely subsume the minor shortcomings of Greenhalgh's script. Greenberg proves he can hold his own playing one of the most influential figures in the history of music, while Anne-Marie Duff helps the film to capture the uneasy relationship between Lennon and his mother, playing the maternal equivalent of a Manic Pixie Dream Girl, inspiring and hurting Lennon in equal parts. But my favorite performance in the film is probably Kristin Scott Thomas, who plays Lennon's aunt, Mimi. It's a thankless role, as Thomas spends most of the movie embodying one characteristic ("strict") and delivering exposition. That the film manages to make Mimi a source of comfort to Lennon is a testament to Thomas's skill as an actress.
Life and familial relationships are messy. People don't always tell you what they're thinking, and both love and hate for our family members can frequently co-exist inside us in unexpected ways. At its best, Nowhere Boy captures these tensions and ambiguities, the moments between moments that fill our lives with unpredictability, passion, and excitement.
Here are a few more thoughts about the film in the form of a video blog I made inside the press tent outside the theater: